I came from a poor family, so did my husband and our parents. We never looked for charity at Christmas or any other time. I think people need to really think about what is most important, not a ton of toys, getting a video game or all that other popular stuff. I've found most children delight to getting anything, from a homemade doll, even a made doll bed.

My mother did that, she said one year that money was tight, so she got me the doll, but made the doll bed from a oatmeal container and a box. It was beautiful, she covered it with fabric and trim.

There are many simple games and toys that kids still like, coloring books, cars, trucks, dolls, crayons, etc. No child NEEDS everything he or she sees or wants. It doesn't teach them the TRUE meaning of Christmas nor does it teach them to be appreciative.

I wrote this is response to your article about parents not having the money for Christmas. This is a throw-away society we have now, people need to learn to conserve and make do with what their budget allows.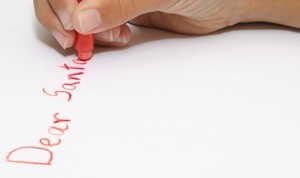 I planned so hard for my baby's first Christmas. I individually wrapped everything in tissue paper with lots of sparkly ribbon. I divided things so it would look like more presents. There was a gigantic pile of gifts under the tree for my little guy!
Unfortunately, it was too much for his 9 month old brain. He didn't understand about opening the presents and wanted to play with each one when I wanted him to open the next one. I wound up spending a frustrating hour or more unwrapping all those glittery presents and cleaning up the mess while he played with that first toy.
Now, I have two young boys that look forward to that magical Christmas season. They understand all about receiving and opening gifts, maybe too well. The wish list gets longer and more expensive every year. Here are some tips that I use to keep Christmas manageable, affordable and memorable for all of us.
Plan Ahead
Make a spreadsheet or list including budget. If you have 3 children and you are planning on spending $100.00 each, that is already quite a bit of money. Start a Christmas savings account so that you don't have to use credit to buy presents at the last minute, costing even more.
Buy things and hide them throughout the year, whenever you see a bargain. This is much easier for young children. Don't forget about these presents, keep a list so you don't overbuy in the last rush before Christmas.
Limit The Wish List
Have your children make a wish list or a letter to Santa and have them limit their choices and prioritize them, say 1-5. If you send out wish lists to your family, you may want to do more.
Several shopping sites have wish list options and there may be other places on the internet to have a really organized list. Look around and use the organizational help that is out there for you.
Talk About Costs and Advertising
Children see TV commercials that are geared directly to them. Talk to your children about advertising and how it is trying to get you to buy something. For older kids, talk about the "dud" present that they wanted so bad in years past.
If possible, avoid buying the "hot new thing" until after the holiday season. The stores should have them in stock and they might even be on sale.
Also make sure that they are aware of the relative costs of items. For example, my boys know that Wii games cost about $50.00. They also know that $50 is a pretty substantial amount of money for a gift. You can find an approximate price for just about anything online.
Quality Not Quantity
Last Christmas, there was a push toward handmade and US manufactured toys and products because of the Chinese recalls. This is still a major concern, especially for families with young children. Instead of buying a bunch of little presents, take that money and buy something that will last. I know that my boys have received presents from the dollar store that break as soon as you start to play with them. This is disappointing to the children and the gift giver.
Instead, try to steer toward gifts that have a reputation for high quality. Lego and Playmobile are not Chinese made and also can be played with again and again. You can often find brand names on sale, especially if it is last year's design or off season.
Give Experiences, Not Stuff
A close friend recently gave her daughter a High School Musical day as a birthday present. She took her to the new movie in the theatre, took her shopping and out to lunch, then went to see High School Musical on Ice. Her daughter said, "This has been the best day of my life, so far!". She will remember this birthday present for the rest of her life whereas she has probably already forgotten about the Bratz doll she received for her last birthday.
So instead of buying a toy, give your children an event! Concerts, movies, and sporting events are good choices but think about your child's interests. An experience doesn't have to cost a lot of money but can be priceless in the memories it creates.
Put The Power In Their Hands
If a child really wants a big ticket item, talk to your extended family about a joint gift or multiple gift cards toward it's purchase. Then they can go and choose whether or not they want to actually spend "their" money on that item.
For older children, unless they specifically tell you what they want, it is better to just go the gift card route. ITunes, Target or Amazon.com are all good choices for teens. Keep in mind that small purchases online often have hefty shipping charges. Pad your gift appropriately to help cover these.
Christmas is right around the corner. If you haven't already started planning, the time is here. Start talking to your kids about their expectations and their wishes. Make this Christmas the one that they will remember as they look back at their own childhood.