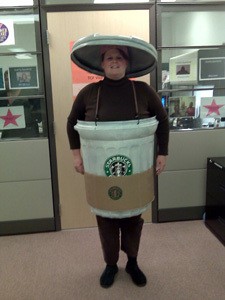 This idea came to me because I admit, I love coffee. So much in fact, that I turned into one. I bought a very lightweight garbage can from the hardware store. It came with a lid. I cut out the bottom of the garbage can so that my legs would be able to come through.
I then spray painted the can and lid completely white. I then as best as I could, I drew the lady on the front of the can with green and black paint. I did the same on an open cardboard box.
I wrapped the cardboard around the can and, using a lot of hot glue as well as Gorilla Glue, glued it on to the can. I then cut out the hole on the lid to represent the sipping hole. I glued the lid to a baseball cap with the bill cut off. The last thing I did was to cut out holes to attach bungee cords so that I could carry it on my shoulders.
Laura from Chicago
Comments
November 6, 2009
0

found this helpful
Outstanding costume!
November 7, 2009
0

found this helpful
2 cool 4 school! I think I will go brew me some joe right now! PBP
November 18, 2009
0

found this helpful
I love this one, I had to share it with my BFF as a potential costume idea for next year. We love our 'bucks!
November 18, 2009
0

found this helpful
How creative and original. You did a lot of work and the results were worth it. I love this costume and how you achieved it.
Read More Comments