I am looking for something to do with the greeting cards I received when my mom died. Do any of you have any ideas? I would appreciate any help that you could give.
Thyme In Gods Garden from Perkins, OK
Answers:
Crafts Using Greeting Cards
Why don't you get some frames and matting and frame the cards. Or you could make a collage. Maybe frame one with another piece of something of your Mom's; a small piece of jewelry or piece of lace.
Val (03/27/2006)
By valery
Crafts Using Greeting Cards
I used the cards from when I got married in my wedding photo album. I cut them up to use as frames, mats, borders, wordings, and some of the little pictures on them were real nice. (03/27/2006)

By fara
Crafts Using Greeting Cards
How about making a collage and having it laminated and cut into placemats? (03/27/2006)

By Paula
Crafts Using Greeting Cards
Two ideas came to mind, first you could cut out the pictures and use them on a book cover and cover with heavy clear plastic. (use for photo album, bible, etc,)
second idea, you could glue it around a round mirror and get to enjoy it every day. (03/27/2006)

By rosi
Crafts Using Greeting Cards
I use mine to make litle boxes. The front is the top and the back is the bottom. I am not good at drawing pictures on the computer ( I actually don't know how but perhaps it could be found on the internet). (03/27/2006)
By Gladys
Crafts Using Greeting Cards
I knew an elderly woman who took a photo album(scrapbook would work great too) and she put a photo of her hubby in the front, along with several pics from throughout the years, then his obituary, and the condolences cards at the end. it was a nice tribute to his life, i thought.
brenda-ohio (03/27/2006)

Crafts Using Greeting Cards
I've made christmas ornaments out of several greeting cards. To do this you cut the front of a card length wise into uniform strips and put a hole in the top and bottom of each strip. Stack your strips and put a brass fastener in the top and bottom stack. Fan your strips out until you have a Christmas ball ornament. If you put your strips in order you will end up with the picture of your card. On the top of the ball around the fastener I add thread or ribbon for hanging. (03/28/2006)
By Biffy
Crafts Using Greeting Cards
I made this old window frame into a wall hanging. I used some cards I had gotten from my children. I hope this idea helps you a little bit.
mary (03/28/2006)

By Mary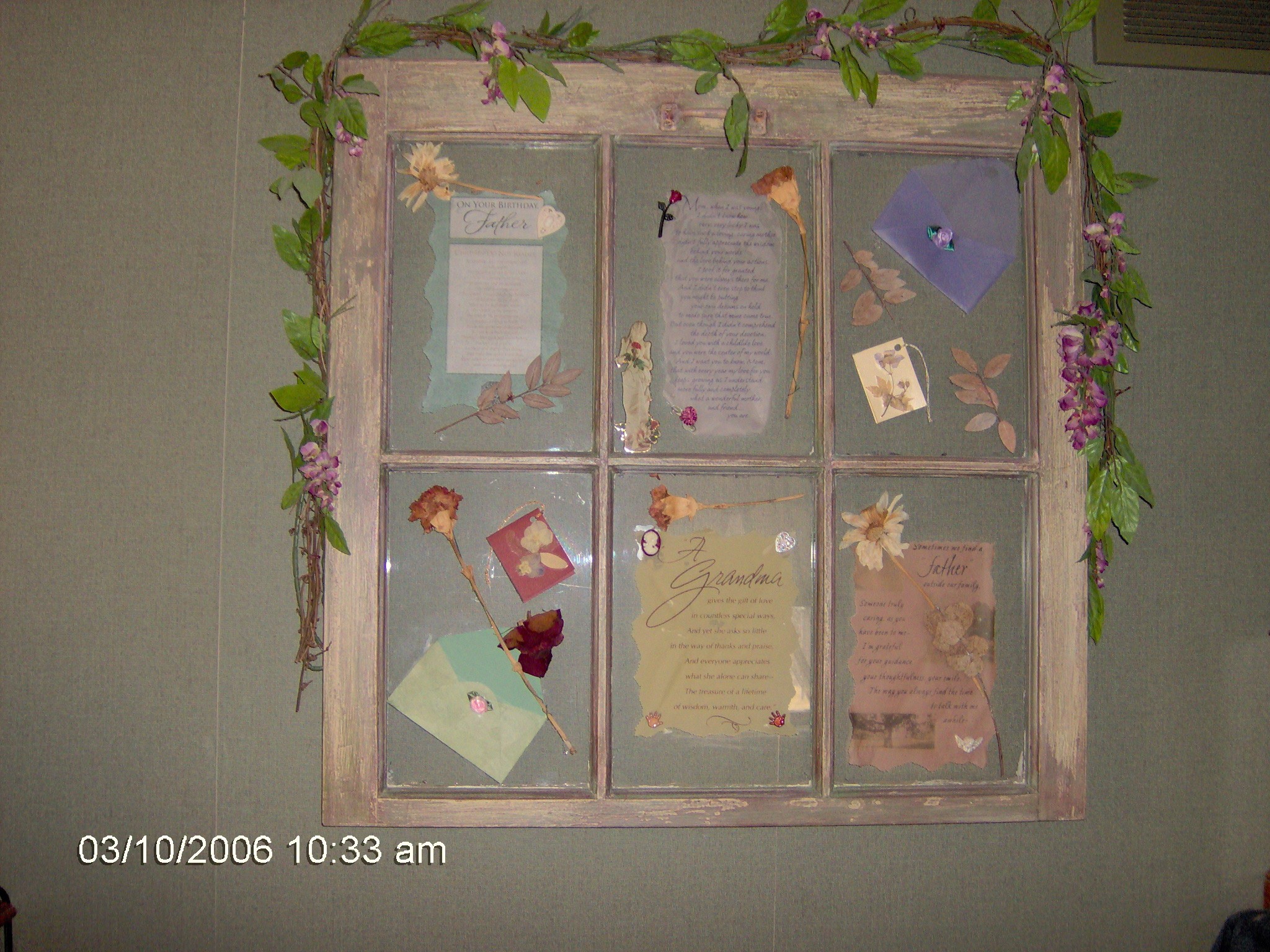 Crafts Using Greeting Cards
Here are some of my ideas for reuses of pictured greeting cards.
1-carefully using small cookie cutters create jigsaw pieces leaving the rest of the card including the back intact and glues together for a frame.(or you could just cut the card into small say 2 inch bye 1 inch panels all the same size).
2-cut out some of your favorite card pictures and paste them onto just regular plain gift boses and also add your own personal greeting with magic markers,
3- Make an inside door christmas cover using just the pictures of the cards and completely cover a piece of thick plastic . Stapling the cards would be best and frame them out with somekind of colorful material, .( Saving this Door thing from year to year not likely but you can salvage the cards for other projects.
4-cut the characters out of the cards to use as and everchanging seasonal picture hung in your kitchen or close bye. I see a deer from a Christmas card walking by a pond with green trees around him and the sun a shining bright. Just use your immagination.You only have to please yourself.
5-I am looking at a card right now that aat the top is written especially for you. The otherside is blank so I just made a package tag attached to a ribbon fill out the recipents name and put from Mike.
Some of the bigger sayiings could padsted and hung on doors windows mirrors whatever during the holiday.
6-I see bookmarks coming from the longer cards with complete pictures intact
7-Most cards leave one area with little or nothing oon it, this area can be ussed to create youur own card Artwork sayings whatever and stick glue it to anther side that is clean and do the same thing.
8- I have a religious card here that I am going to buy a plane cheap clear plastic frame that will set on a nightstand . for my wife. Can get the frame at most dollar stores .
9-Oh here is a neat idea the bigger cards can be made into fans just use an old plastic flyswater handle complete with hole to hand fan on a nail. Hey the flies laugh at those plastic swaters anyway. Just attach about 3 bread wrapper ties to the back of the card then glue on another card scene to cover it, Stick glue the card and if you can hide them staple the card a few times.
10-Last I don't know if you are aware of this ,but the paper sturdiness of these cards make them capable of being used for making paper houses I made a flying airplane out of one . No it didn't break any records bout it did fly across the room. There are many oother craft possibilities in those in Greeting cards
Imagination is the key to unlocking them.
GREETINGS FROM MR. THRIFTY (07/13/2006)