A cute recycled crochet treat cup for Halloween that measures 3 inches wide and 3 inches tall with 9 inch handle strap.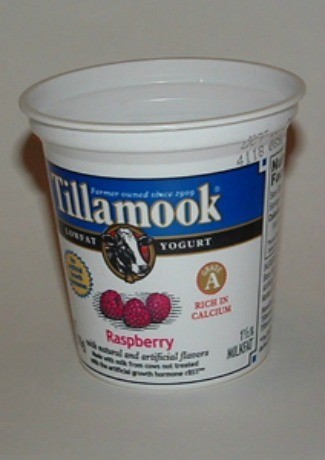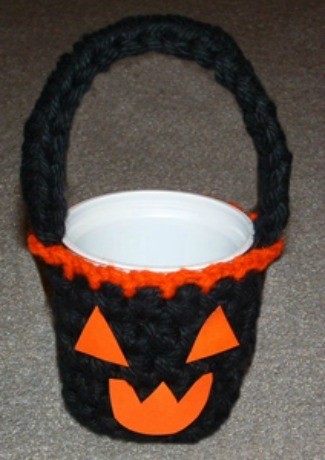 Supplies:
1 oz. black yarn
Small amount of orange yarn
yogurt cup
orange sheet of construction paper
craft glue
"N" US size metal crochet hook
Instructions:
Rnd 1
Holding two strands of black yarn together, Ch 4 and join with a Sl St to form a ring.
Rnd 2
Ch 2, then work 6 Hdc in ring, join with a Sl St to top of Ch 2. (7 sts)
Rnd 3
Ch 2, Hdc in same st, *2 Hdc in ea st*. Repeat between * - * to end of round. Work 2 Hdc in st before joining with a Sl St to top of Ch 2. (16 sts)
Rnd 4
Ch 2, working in BLO, Hdc in ea st and join with Sl St to top of Ch 2.
Rnds 5-9
Ch 2. working in both loops now, Hdc in sm st and then Hdc in ea st around. Join with a Sl St to top of Ch 2.
Leave yarn attached to begin handle.
Handle:
Using yarn still attached from last round, chain 17 for handle. Attach with a Sl St into opposite side so handle in centered and matches other side.
Turn and working back up chain with a Sc around the chain evenly. (Approx. 23 sts)
Finish with a Sl St into base of handle at other side.
FO and weave ends under. Cut and trim any loose ends too.
Edging:
Attach orange yarn in st near handle along the top edge, *Ch 3, Sl St into next st*. Repeat between * - * along top edge of cup holder. Finish with Sl St into base of beginning Ch 3.
Cut triangle eyes and mouth out of orange construction paper. Use craft glue to paste on to holder as shown.
Insert cleaned yogurt cup inside and stretch as needed to make fit inside the cup holder you crocheted.
Fill with treats!
Abbreviations:
BLO: Back Loop Only
Ch: Chain
Dc: Double Crochet
Dec: Decrease
Ea: Each
FLO: Front Loop Only
Hdc: Half Double Crochet
Plarn: Plastic Bag Yarn
Rnd: Round
Sc: Single Crochet
Sk: Skip
Sl St: Slip Stitch
Sm: Same
St: Stitch
Tog: Together
By Cindy from MyReycledBags.com
Comments
October 21, 2009
0

found this helpful
That's wonderful!