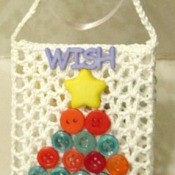 You can hang this from a tree, on a door, on a wall, from a car mirror or more. It's a mini purse that can have sprigs of fir, ornaments, mini bears, tiny treasures or more from the top and hung wherever you like.
Approximate Time: about 2-3 hours
Supplies:
white or colored crochet thread
crochet hook to achieve the desired gauge
scrap buttons
ribbon
starch or sugar water
darning needle
Instructions:
From loop, crochet a chain of 50. Join for a loop. Chain 3, and make a double crochet in that stitch and each of the rest of the loop. Join. This is your base row.
Chain 3 and make a double crochet, chain 1, and another double crochet in the first stitch. This is your first cluster. Skip two stitches on the base row, but "do not" make a chain between your clusters.
Make another cluster in the third chain from the base of the last cluster so you have a cluster that is wider on the top than the bottom.
Continue this pattern to the beginning of the row, join, chain 3 and continue this pattern around.
You should have 18 clusters.
Continue this cluster pattern till you have made 9 rows.
Your last row should be single crochet in each stitch around, and join.
Chain 50 and slip stitch the loop to the opposite side of the opening of the purse.
NOTE: Your "half way mark" is stitch 25. Break off and weave in tail.
I made some little tassles on the bottom, whip stitched the bottom closed and dipped it in sugar water. This basically folds it in half, along with the loop on top.
I decorated with buttons like a tree, but you can thread through some ribbons, (pre-dipping) ripped rap for a country look or something sparkling.
N-JOY
By Sandra from Yorktown, VA
Comments
Read More Comments