Does anyone have any ideas on dealing with cats that tend to get feline cystitis?Can't afford the vets these days. A bit late I know, but I've realized having a cat comes in the "luxury" bracket!
thegratewun
Answers:
Cystitis in Cats
My male cat had cystitis. The vet told me that this is a problem that mostly occurs in male cats. I had to keep my kitty on a low ash (magnesium) content cat food diet or it would reoccur. Low ash food can be obtained at the vet's office. I just got mine from any vet's office by asking the receptionist to direct me to the special low ash cat food. I think there is also a brand on the market that can be bought at pet food stores as well as some grocery stores. Purina or Friskies might be the brand, can't recall but, I do remember that it clearly states on the box, "Low Ash". You could check at Purina.com or Friskies.com or check Google.com to search.

Here are links to information on bladder infections in cats www.dgp.toronto.edu/people/TabathaHoltz/cats/feed_more.html
www.hdw-inc.com/healthfus.htm(/weblink)
Good luck. I took my cat off the special food for a week and, he ended up completely blocked up and in the vet emergency room! Crystals form in the bladder and block the urethra so that they can't urinate. Apparently the older the cat gets, the more they need that special diet. I had him on this special diet until he passed away from old age. He was an expensive cat to feed!

Alexandra (07/29/2003)

By alexandra
Cystitis in Cats
Another good thing to keep urinary problems at bay is to buy acidifier. I bought mine from Foster & Smith and add it to the cat and dog food. It comes in tablets that you can crush up and add to their food. I've added the link here for that product. I've ordered from Drs. Foster & Smith for years and had good luck with all of their products for fish, cats and dogs including vaccinations!
www.drsfostersmith.com/product/prod_Display.cfm?siteid=12&pCatId=3539(/weblink)
Susan (07/31/2003)

By ThriftyFun
Cystitis in Cats
You're fighting a difficult battle. 30 years ago I lost a cat to cystitis. I went to the vet four times to clear his urethra and the fourth time he died on the table. He was an adopted stray so I changed his diet too late. However, I see the protocol is the same: a low ash diet.

Also keep your cat inside so as to see when he becomes blocked. He will die a painful death if you don't. If the whole thing is beyond you, talk to a knowledgeable vet about what to do or go to the local humane society and ask people who are well trained in cats and cat management what to do.

If you simply can't handle it, there are groups that will take him but you have to search for them. If he's a particular breed check the internet for that breed rescue group and talk to them. The internet may be your best bet if money and time are critical.
One last comment. I adore cats and have rescued and placed many in homes. I always have one that is "mine". Since that cat that had cystitis I've never had a cat problem. All my cats lived to be 16 or older with little or no vet bills. I'll be glad to talk with you if you like.
- ATB (07/31/2003)

By ThriftyFun
Cystitis in Cats
I had a cat 30 years ago which got cystitis or urinary tract infections (UTIs) and have one now which also gets UTIs and, thankfully, there is a world of difference in the treatment of this disease. Much more is known about this problem and, therefore, owners of cats which are prone to cystitis can have hope that the problem is not necessarily the death sentence it once was. This is not to say it isn't a serious problem, but with proper care it can be treated without too much difficulty.
We currently have 8 dogs, 5 cats, two 2-week-old foster kittens, a cockatiel and a Savannah monitor. All of the dogs and cats are rescued. This creates quite a strain on our already stretched budget, so I do everything I can to help keep our pet costs to a minimum. We have a fabulous, extremely knowledgeable vet who works with us in many ways and generously shares his knowledge. He believes that most of the quality pet foods available today have a low ash content because the high ash content is a major source of cystitis; therefore, most people will not buy a product with a high ash content.
I have found that Purina One Special Care Urinary Tract Health Formula for Adult Cats is the best yet least expensive food I can buy to treat this problem. Another vet, who used to be an associate in the office with our regular vet, told us about Maxximum Nutrition Super Premium Cat Food Chicken & Rice Formula. This is a product marketed by Wal-Mart, which he believes is comparable in quality to products such as Iams and Science Diet, but at a much reduced cost. I mix these two products 1:1 and have not had a return of the UTI in our male cat; however, I would talk with your vet before using the Maxximum Nutrition.
Alexandra is correct in that this problem mainly occurs in male cats. Last month, we had our male cat who has had the UTIs neutered. The tech at the Humane Society's Spay & Neuter Clinic told us it would decrease the chance of his getting anymore infections (urinary tract). This was news to me.

You're right, owning pets is expensive. Many years ago, I heard that a good estimate of the price of having a pet is $500 annually per cat and $1,000 annually per dog. And that's for a healthy animal! That estimate may be slightly higher today, too.

I think it's very important to have animals spayed or neutered. Not only is this healthier for the animal, but it is also cost effective in the long run. Among other things, it helps decrease the risk of various cancers (which are horrendously expensive to treat). Of course, shop around for the lowest cost for this procedure. After calling all the vets in our county, I found that $95.00 was the best price any of them offered. However, our vet has a special clinic twice a year in which he spays/neuters animals for $35.00 per pet.
There is another vet in our area who does the surgery one day each week for $25.00 per stray cat. He doesn't offer the service for dogs and it only applies to stray cats. We found our best deal in a neighboring county. They spay/neuter dogs or cats for $20.00 per animal. It is a county subsidized and federally funded program so we pay an additional $5.00 since we are from another county. Also, in their county both dogs and cats must be tagged. Their tag cost for any animal which has not been spayed or neutered is $25.00 BUT for any animal which has been altered, the cost is just $5.00.

Our vet is great about answering questions by phone, too (as I think any vet should). Although I never talk to him directly, one of his techs or office assistants will call me back with an answer. Don't hesitate to use this freeservice.

In our area, we have two traveling vet services. PetVets and a group which is part of our PetSupermarket. Although our two groups do not offer intensive care, I've found this is a cost-effective way to get our animals tested for heartworm and get the rabies and other annual vaccinations. However, it again pays to ask questions and assume nothing. My vet feels these services over vaccinate. I can take our pets to one of his techs (without seeing the veterinarian) for their annual vaccinations for less than the cost of the pack of vaccinations these groups like to sell.

I've found the Internet is our best source for products like Advantage and Frontline. Most recently, I bought Advantage from SHOP THE ZOO (weblink) http://www.shopthezoo.com(/weblink) but I search eBay for the best price every time I need one of these flea control products. It seems there is always someone new with a better price competing for business.

Another way I save money on our animals is by trying to research and find answers to as many problems as I can without or before going to our vet. I recommend looking for a good pet health care book at yard sales, thrift shops and/or library sales. I also search the Internet for answers and advice. When we got this last pair of orphan kittens, for instance, they were only days old and were the youngest kittens I've ever cared for on my own.
The Internet provided tons of fabulous advice and gave me the confidence to know I could raise healthy, happy kittens. (They are beautiful and adorable, by the way.) When searching the Internet, don't forget to use the dozens (if not hundreds) of frugal web sites for money-saving pet tips. These sites don't normally show up when I search specifically for feline cystitis or fleas or dog food but they contain loads of good tips and helpful information.
Below are some more links to information about and help with "feline cystitis":

www.drpetra.com/Cats/Cystitis%20in%20Cats.htm(/weblink)
www.homevet.com/petcare/cystitis.html(/weblink)
www.sniksnak.com/cathealth/cystitis.html(/weblink)
www.fabcats.org/is61.html(/weblink)
www.hdw-inc.com/healthfus.htm(/weblink)
www.theanimalmedicalclinic.com/cystitis.htm(/weblink)
www.redveterinaria.com/cyber/nefrouro2.php(/weblink)
www.bigtome.com/big/page/Cystitis(/weblink)
www.parkvets.com/microsite/flutdoverview.html(/weblink)

I apologize for the lengthy (but hopefully not too boring) reply but hope some of this information is helpful. Good luck and I hope you have many, MANY years of love and enjoyment with your cat.
(08/07/2003)

Cystitis in Cats
I currently am dealing with this difficult problem. From what I have learned, the ash content of food is no longer the key, its the pH of the urine. A food that acidifies the urine helps prevent the formation of struvite crystals. My cat was put on a prescription diet to acidify his urine 7 years ago after his first bout of cystitis - only to block completely 7 years later! His pH wasn't good and he had crystals even after being on the special diet for so long - we switched to another acidifying food and changed to all canned (wet) food - he had been on the dry special food all those years. I also add water to his already wet food.
This is the second simple step to a solution: after you get the urine the right pH, dilute it. I bought the $60 water fountain, cat wouldn't go near it, so adding water to wet food is pretty much my only option. Despite these changes the cat continues to have cystitis episodes (8 in the last year!). He also blocked a second time, but the vets thought that a spasming of his urethra was more the culprit than a plug, so now he is on phenoxybenzamine ($70/month) it looks like for good, since every time we've weaned him off it, he starts having trouble again. An ultrasound is probably our next step, and I am considering the surgery, although I'm not sure it helps with spasming and am not sure whether it will help any with the cystitis.

As a first line of defense, though, I suggest that you put your cat on wet food that lowers the pH (acidifies). the more he/she urinates (assuming there's no problem) the better. My cat is often a once a day urinator, which doesn't help.
Good luck! (09/07/2004)

By Diana
Cystitis in Cats
Tomato juice is good for cystitis. I would see if you could add a little to your cat's food each day. (09/10/2004)

By Toni K.
Cystitis in Cats
I just got my cat back from the vet's after hospitalization and cauterization for blockage. He is not out of the woods yet. $$$$ I had been feeding him Nutro Natural Choice for Adults for a long time and he really liked it. Then I switched to the WalMart Maxximum Nutrition Super Premium Cat Food which had good ingredients and was cheaper. I had just bought my second bag of the Walmart brand when my cat had the blockage. I realize now he had been showing discomfort (mistaken for crabbiness) for some time. But the crabbiness had been only after I switched him to the Walmart.
I kick myself now because we barely had enough money to pay for treatment. If he blocks again we may not be able to help him. It might have just been my cat had special needs, or couldn't adjust, but I would warn people to be careful about switching cat food brands. Watch your cat closely. If he is crabby, skittish, hides or changes behaviour, go back to the old brand for a while. I hope my buddy makes it. Best wishes to all (09/11/2004)

By Marilyn
Cystitis in Cats
I got the book "Herbs for Pets" by Mary L. Wulff-Tilford and Gregory L. Tilford from Amazon (purchased a used copy). On page 350 "Urinary System Infections (Cystitis)" is discussed. On page 352 a Basic Formula for Urinary Infections and Stones is presented. I gave this formula for my cat, and it has really helped. (12/29/2004)

By A Cat Lover
Cystitis in Cats
My cat Leo is in the hospital right now for cystitis. Had we waited another 24 hours he would have been in a coma! He has been in the hospital now for 2 days & most likely another 2. He eats Iams cat food, both canned & crunchy. He is a neutered male (of course) & had X-rays showing no stones. He has no bacterial infection but plenty of blood in his urine. He is literally fighting for his life, but the vet says because he is a healthy cat he will probably make it.
The vet is going to change his diet & put him on amitriptyline in the liquid form (they spit out the tiny red pills). In liquid form amitriptyline's dosage is more easily controlled thereby preventing the overdrugged state that you want to avoid. You don't want him sleeping all the time - you want your cat back! Tests of cats on amitriptyline show that it has a positive effect on 9 of 12 cats if used regularly. It's weird stuff but I must admit that when Leo was on it he was not exhibiting cystitis symtoms.
When I took him off A. he went back into a cystitis episode so strong that it took him down in hours! Distressing to all concerned - especially him.
After reading all this feedback online I believe I will take him off dry completely, add H2O to his canned food & investigate an acidifier food additive. I've lot to learn about preventative medicine here so this doesn't happen to him again. (02/23/2005)

By Wanda
Cystitis in Cats
Two off my tom cats suffer with cystitis I give them three drops of cranberry extract a day in a drop of water and that seems to help I also give them one cystease tabs every other day. (03/24/2005)

By elaine
Cystitis in Cats
Cat foods that I have found to be low in ash are Felidae, and Chicken Soup for the Pet Lovers Soul, as well as Purina urinary tract formula "Special Diet" or food you get at the vet. All cost is similar. It is better to spend the money on the food than to see you cat suffering and pay the huge vet fees.
Zantium (09/20/2005)

By Jamie
my baby
My kitty, Asher, has a urinary blockage and had to be catheterized 3 times, he just had a procedure today where they actually had to take his penis off and make his urethra wider so he will be able to pee on his own. I'm so worried right now. Goes anyone know if this procedure is successful? I don't want to lose my baby). (10/27/2005)

By Josie
Cystitis in Cats
I have a cat with cystitis. We found out that the food that they sell at stores like "Deli-Cat" is the worst thing you can feed your cat. We have been feeding him Royal Canin Urinary SO canned food for several years and mixing it with water. He is very well. He is a black cat and I remember when he had the episodes, his fur would turn white. So he was gray for a while and in extreme pain. Very sad. Don't let your cats, especially your male cats, go through this by feeding them bad food. (11/13/2005)

By Fernando
Cystitis in Cats
Just had my cat to the vet for crystals too, he spent the one night, took x-rays, he was on special dry food from the vet, he had stones removed about 2 yrs. ago. I am now giving him the canned food, from some research I think the can food is better. Good luck to everyone. (02/01/2007)

By D. Dunn
Cystitis in Cats
Don't feed any dry food. Canned food is the best treatment. Need to go to as vet to see how severe the condition it. Cat may need special canned food until condition is drastically changed.
Check with shelters, rescues and humane societies for low cost vet service. (02/13/2007)
Cystitis in Cats
My 6 year old male, neutered cat, Cash, was hospitalized for 5 days due to a severe blockage/renal failure 2 weeks ago. A couple of days after he came home he was urinating all over the house, with small traces of blood in his urine. He went back to the vet last week for another 1.5 days and was released as having developed a "litter box aversion" associating peeing in the box with pain.
Reading more on cystitis/FLUTD, his urinating outside the box is a very normal symptom of this disease that was cavalierly mentioned to me in passing. I was under the impression it was behavioral, not an actual disease that 30% of cats experience.
This is all new to me. Although he was put on a prescription diet, it was primarily dry food (Hill's Prescription Diet CD). He wasn't eating the prescription wet and I was told that was ok, just keep giving him dry. I also didn't know the importance of water/fluids. I feel like I have gone round and round with my vet, 6 prescriptions and $1700 later.
Cash has been confined in a small bathroom now for a week, still urinating both in and out of the box, still looks like he's straining and I am 100% on my own with this as my husband can not take it anymore. Yesterday I removed his dry food and started feeding him wet (mixed with water) twice a day. Is there any light at the end of the tunnel?
I don't know how much longer I (me and my kitty) can handle locking my cat in a bathroom and cleaning up urine constantly. I am beyond the end of my rope Any words of wisdom/support would be so appreciated. Ashly S.

Editor's Note: The dry Hill's Prescription Diet cat food is part of the recall. Here is a link to the FDA site

http://www.accessdata.fda.gov/scripts/petfoodrecall/
(04/24/2007)

By Ashly
Cystitis in Cats
I have been going through this with my 12 year old male cats for about 6 months, and now am having same problem with 17 year old female. My new vet has been great, he only checked stool (pancreas problems with female) once and urine (in both) twice for the male. Anyway, my old vet had to see him every time, etc., etc. He was just too expensive and would not work with me. Now, I just call my new vet and explain their behaviors and they give me more medicine until hopefully the special food we have them on will kick in to dissolve the crystals. Please try and find a vet that will work with you. There are ones out there that care more about the animals instead of the dollar.

I am now working on switching them both to the Hills Prescription Diet C/D food - very important - because the food dissolves both types of crystals. The crystals irritate their bladder. Neither one has eaten the canned food, but I am gradually adding the dry. Also, I bought a fountain they like - the dr. one to encourage more drinking - and they do drink more.
Hope you find what you need. (05/03/2007)

By Cat Lover
Cystitis in Cats
I posted under Cat Lover, and also forgot to add that my wonderful vet prescribed Methigel daily, a urinary acidifier for my male cat. I also have him a daily vitamin with taurine. And every other day or so I give laxatone to keep bowels moving good.

These are all in tubes, you just put it on your finger and they will either lick it off or I just open his mouth and stick it on his tongue. They are supposedly highly palatable to cats. (05/03/2007)

By Cat Lover2
Cystitis in Cats
Check with your local veterinary school. I recently was in the same situation and they treated by cat for free for the research data. I only had to pay for the meds.
(05/05/2007)

By Liz
Cystitis in Cats
We did all we could for our cat and he just died. The vet is doing an autopsy to see what happened. This is rare for a cat to die from. My vet office were all in shock. My cat was only 3yrs old. This is an awful disease so be careful out there.

Editor's Note: Marie, we send our condolences here from the staff at ThriftyFun. It is so sad to lose a pet, especially one in the prime of life. Because of all of the pet food recalls, make sure you make not of what types of food you have been feeding him. He may be a casualty of the melamine in the pet food. (05/08/2007)

By Marie
Cystitis in Cats
I have a 6 year old male who has developed cystitis. We've had great luck in treating this life long disease by recognizing the symptoms before it results into a dreaded blockage. Our vet has him on a high acidic diet (Science Diet c/d multicare formula) along with a daily capsul of Cosiquin and a couple of prescriptions. When we notice him licking excessively or straining to urinate usually with the presence of blood we start him on this prescription regimen ASAP, 25mg of Zeniquin (Antibiotic) and 5mg of Torbutrol (For pain and inflammation) and LOTS OF WATER.

His symptoms are mostly brought on by lack of water or stress, like having guests over or any sudden household changes. Always make sure to have plenty of fresh water available and a clean litter box. Cats tend to seek out corners or quiet areas to try and relieve themselves, also keep in mind during this painful ordeal they often associate the litter box with the discomfort of urinating so you may have to confine them to a small area with a litter box. Please consult your vet before using any of the listed medication!
(11/23/2007)

By Serena
Cystitis in Cats
Back in April, I took my cat to the vet and they ran every test under the sun and found no cause for the cystitis. Finally, my vet called a professor at the University of TN and they suggested pain medication. I couldn't understand how this could help and they explained it as similar to a sprained ankle. In order for the inflammation to go away, my cat had to stop straining. Now whenever she has a flair up, I give her the meds for 2 days and then shes fine for about 4 months. (12/17/2007)

By Kelly
Cystitis in male cats (my cat Grady)
My cat Grady was meowing for about 10 hours non-stop. We knew something was up with him. We went to the vet's and she told us he had cystitis. For male cats cystitis is a death sentence and if you don't get help in the 38 hours of being diagnosed then your cats a gonner. We got help but he was in great pain. Hes okay but we now feed him wet cat food. If your male cat gets cystitis and you have to feed him wet food add some hot water to make a gravy. This will help your cat get the food down easily.

Good Luck! Maggie and Caroline
(01/20/2008)

By Maggie and Caroline
my poor cat, he has cystitis too
I just took my cat today from the emergency vet clinic. It was a bad day for me and my cat. My cat is a 2-year-old white male cat. He never had any problem until 3 weeks ago. He started using bathroom everywhere in the house and staining really hard, so I took him to the vet, and the vet told me that my poor cat has cystitis. He recommend Science Diet C/D, and I changed his diet completely to dry and wet Science Diet C/D same day, and give him 3 days of progestrone.
Yesterday he started having difficult time peeing again, and he was not able to use bathroom at all and dribble blood drops this morning. So I immediately took him to the vet (my wallet is hurting right now), vet give him a local anesthesia and passed a catheter. it was partially blocked. Anyways, I am now giving him one cranberry capsule daily, which vet said it will be beneficial. I will continue his anti inflammatory medication for couple day. Good luck to everyone whose cat has cystitis also. (03/23/2008)

By Carol
Cystitis in Cats
I"ve had multiple issues with multiple cats throughout my life. Cats, like humans, get a majority of their issues from poor food intake. We must realize, just because a big names on it, doesn't insure it is good food. Look for companies who specialize and profit from actual cat health, not from selling cat food.

Anyone can bag and sell food and call it cat food, but a few actually care about, and profit insuring their studies in cat health are continuous. Also, blocked cats are very common, we need to ask ourselves why? It has to be mostly due to our feeding and watering, mixed in with our catcare, lack of knowledge and ignorant of their true needs.

A good quality food, along with "real water" (distilled) can go a long way. If it's not certified distilled, it's dirty water. It may be good enough to drink, but if it's not clean enough for your car or an iron, why would you want to give it to your cat? Knowing that each cat is different and can have smaller insides, also may be cause of future blockage- but again food, water and exercise are key to cat health.

I could never recommend a store brand food, as usually those are trash foods, but have had luck in certain cats using Friskies special diet. Do your research and talk to multiple vets and specialists, and be a productive cat specialist yourself, keep learning, and never become complacent.

Sometimes you can do all you know, and it happens anyway. A vet, with experience, is usually the only savior- and a high cost may be what is needed to remedy the cat, but also, so you feel you did your all. I have had to go all the way, and the costs are very high, so have a credit source ready, so you never have to make the irresponsible choice to ignore the issue. There are credit companies in many vets offices, some can be beneficial at ones time of need, and some actually don't rip you off. Also, get to know all the vets, so you have a place to go at a moments notice. And remember, animals, like human children, require more than love to insure they live long and happy lives.
(04/19/2008)

By Ericksono
Cystitis in Cats
Our 5 year old male indoor neutered cat had his first bout with cysitis 3 weeks ago and has been to the vet twice to be catheterized and given iv fluids. We are in the process of switching him over to Royal Canin SO diet and he is now taking phenoxybenzamine to help relax his bladder.
He is now peeing, but only a little quarter size pee each time. He has been so stressed from being at the vet so much! I have never had a cat with this problem, but now I realize how common it is. We will pay any amount to have our cat better, but a cure seems to be kind of a vague thing. Really there is no cure, I guess, only preventative care. (04/25/2008)

By Lego's mom
Cystitis in Cats
My cat died a few minutes after noon Dec 2, of heart failure. The vet catheterized him, but all that came out was blood, then he went into respiratory arrest, and finally his heart failed. For anyone whose cat exhibits symptoms for cystitis, get your cat to the vet IMMEDIATELY! The quicker you catch it, the better the chance of the cat's body giving into it, and dying. You and your cat will be thankful for a quick reaction. Zai (12/02/2008)

By Zai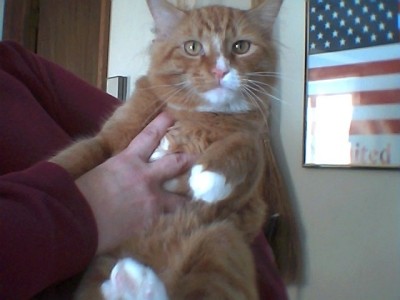 Cystitis in Cats
Feed a diet of "urinary tract" cat food. Purina One has one that the cats are happy to eat. Do not feed any other food. Cats love clean and cool water to drink. Keep water cooler by using a stainless steel or ceramic bowl - and change water twice per day.

Read this: IF your pet stops urinating it is a medical emergency! (How long does it take for your bladder to fill up?) take the animal to the vet ASAP - If you don't have the $$$ for the vet then take it to the shelter to be euthanized because it is cruel to let an animal suffer and die from a urinary blockage.
(12/03/2008)

By Susie
Cystitis in Cats
My Siamese, Ming, is prone to cystitis with partial and complete blockages. After many vet visits in the past three years, my vet put him on a special diet that he wouldn't eat. So I went out and bought him the Purina brand dry food for urinary health. I also give him much canned food, the higher end Fancy Feast cans that contain a great deal of water. This only worked partially. My vet, bless her heart, put him on amitriptyline and he is doing so much better! This medication is not expensive and has helped my kitty so much. He tolerates it well and so far, no straining or pain. Thank God! (12/23/2008)

By Debbi
Cystitis in Cats
Cystisis is 100% caused by the cats diet. Most cats who develop this disease eat dry cat food 80 - 100% of the time.

Dry cat food is the problem, the lack of moisture causes the cats urine to be too alkaline which in turn causes the bladder problems. You can reverse the problem in most cases by simply putting the cat on a wet/canned food or raw food diet (best).

Dry food is absolutely horrible for a cat, please educate yourselves about the many diseases caused by dry cat food. Cats need meat, like lions they are meat eaters, not vegetarians, so get the cat off the dry food and you won't have any more surprise medical bills.
http://www.catinfo.org/
(01/21/2009)

By Michelle
Cystitis in Cats
My 3 year old cat has been suffering from cystitis since October 2008. My new vet has had him on Purina UR since November and he has not been blocked and he still does small amounts of urine. We had abdominal ulrasound done and that's how we got diagnosis of cystitis.
My cat had been on antibiotics, steroids the Phenoxybenzamine and Diazapam. My vet did tell me that if he stays on Purina UR he will not get blocked. I give him the dry and wet Purina UR. My vet is now trying to come up with treatment that will help my cat. (01/22/2009)

By Janice
Cystitis in Cats
Ok, I just had surgery on my 5yr. old male cat to widen his urethra. He developed crystals after I switched my cat to a cheap store brand. Please don't ever skimp on price. Buy the good cat food! And I was told they also need canned food once in a while for the moisture. I paid over $2,ooo to save my cat and he is now on a special diet of Science Diet cat food for the rest of his life.
He has a cone on to keep from licking his stitches and is very unhappy at times. I will never buy cheap cat food again. Have you ever tried giving an already unhappy cat three pills a day? It sucks. And even though it is stressful, and some days I feel overwhelmed with it all, My poor guy is worth it. (02/12/2010)

By Laura