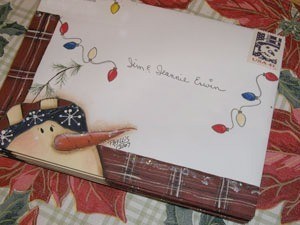 I sent in my Christmas card envelope that I painted last year, so thought you might be interested in this year's. The card had a snowman with a string of lights and he had a cap in red, white and blue so I made the envelope to match, hope you enjoy.

By Phyllis from Roseburg, Oregon
Comments
By Judy (Guest Post)
December 21, 2007
0

found this helpful
That is just the cutest thing! I love getting Christmas cards. don't get many though. Yours would sure hold a special place! =) Merry Christmas! Thanks for sharing that. HUGS, Judy
December 21, 2007
0

found this helpful
Directions..step by step, and a list of materials? Thank you!
December 22, 2007
0

found this helpful
Thank you for your request of supplies and instructions.
Supplies-Pattern, tracing paper, carbon paper, palate paper, brushes, acrylic paint, water, black pen, gold pen.
I find a pattern I want to use, usually from a painting book, sometimes you can get a pattern from the card you are sending so it will match really well. I trace it and then trace it onto the envelope with carbon paper, then the fun begins, paint one item at a time on each envelope(that way you will not have to change colors all the time) you will have to lay them out on the table to dry, does not take long but you do not want to lay them on top of each other until totally dry. I sometimes outline with a black pencil and sign my name to all of the envelopes with the black pen. I use a gold sparkle pen to add highlights to parts of the design, you decide what you like. The string of lights on this envelope was a rubber stamp and then I just filled in the light bulbs with my paints. Have fun..Phyllis
December 23, 2007
0

found this helpful
So creative!!!!
Read More Comments