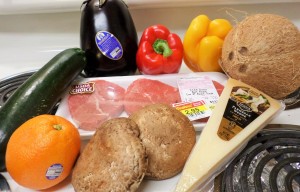 It seems like I've posted online a lot lately about healthy food being cheaper than "fast food," but I get the feeling that many remain unconvinced. To illustrate, I'd like to share a purchase I made recently at my local grocery store. Here are the items I bought:
4 small, trimmed round steaks, marked down but still bright red: $3.95
bunch of fresh spinach: 99 cents
wedge of aged Parmesan: $3.99
3 large portobella mushrooms: $3.48
1 large red and 1 large yellow bell pepper: 88 cents each
large handful of shallots: 66 cents
1 fresh coconut: $1.99
3 navel oranges: $1.50
I realize that steak, aged Parmesan and fresh coconut are things many people would not consider within their weekly food budget. But bear with me here. Altogether this would make spinach salad with shallots and shaved Parmesan, grilled steak with portobella mushrooms and bell peppers, and a fruit dish of oranges and coconut for four people.
This costs $18.32. Does it seem expensive? For comparison, this is what you can get at McDonald's for the same price:

Big Mac Meal: $5.69
Premium Bacon Ranch Salad, water: $4.59
Daily Double, small fries and small drink: $4.18
6 piece chicken nuggets Mighty Kids meal: $3.99
The total is $18.45. As you can see, a family of two adults and two kids can easily spend this on one meal at McDonald's.
If you're going to treat yourself, why not treat yourself to fresh, good quality food? I'd rather have a steak and Portobellas than a Big Mac and fries.