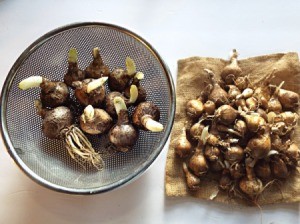 Just because a garden center marks down bulbs to clear the inventory doesn't mean it's too late to plant the bulbs. Bulbs can be planted any time. Sometimes though, if planted very late, they might not bloom til the second year.
Three years ago, I bought a bag of 3 Peruvian daffodil bulbs. They had been marked down from $4.98 to $2.00. They have multiplied to the point I now have 4 times as many bloom size bulbs and about a hundred bulblets of various sizes.
I'll put all the larger bulbs in a decorative container. They should provide a very nice display in late summer. The bulblets will be placed elsewhere so they can continue to mature.
A nice investment, I'd say!