Halloween is coming! Here are some inexpensive costume ideas and a recipe for face paint. Hope you all have a safe and happy Halloween.

Ghost: This is always an inexpensive costume. Just cut holes in an old sheet. If you don't have an old one, I found a twin size one at a discount store for $3.00. We cut holes in it, drew on some chains, spider web, etc.. with a permanent marker.


Angel: Use a sheet like for the ghost, spray it lightly with some clear spray paint and toss glitter on it before the paint has a chance to dry. Make a halo and the wings out of clothes hangers covered with aluminum foil.


Nerd: My son won first place last year with this costume. Too small pants, shirt buttoned up wrong, hair slicked back, old pair of glasses with tape, white socks, BIG book to carry under his arm. Cost was ZERO.


Bum or Hobo: Old clothes, dad's garden or old work clothes are great, old hat, use watercolor paint to put beard on him.


Clown: Use mismatched over sized or too small clothes from everyone's closet...to escape the cost of a wig, make a hat from construction paper or use an old one, decorate it outlandishly with flowers, pins, etc...


Ninja: Black clothes, my son who is eleven used a pair of stretch pants of mine that were to small for me, they were baggy just like ninja clothes. Make a ninja mask out of a small scrap of black cloth. Instead of buying make believe weapons, make them out of card- board and color and cover with aluminum foil - easy to make Ninja stars, knife. Use long stick or old broom handle for a bow, take two paper towel rolls, connect with piece of twine, cover them with black construction paper and you have num-chucks.


Tourist: loud clothes, camera, hat, maps sticking out of every pocket, use your imagination.


Princess: Use one of mom's old slips, hem and take up enough to fit little girl. You can get sparkly netting at a discount store for between 75 cents and $1 a yard. 2 or 3 yards attached to the bottom half of the slip will make a billowy skirt. Use a long length of it doubled and wrap around the shoulders, clasp it with a pretty pin. Mom's jewelry and makeup add the finishing touch.


Soldier or Hunter: Living in the south, everyone we know has camouflage clothing, just piece together what ever combination you want, apply some paint to the face. We borrowed a canteen, compass and backpack from a friend we was a boy scout.


Rock Star: Torn clothes, spike their hair using hair spray. Make jewelry with safety pins, clip on earrings, the dog's collar :)....paint their face with makeup... Only thing we bought was some spray on hair coloring.


Hippie: old clothes, sandals. We dyed our own shirt by using some old fabric paint that would not squeeze out of the bottle good, cut the top off and mixed it with water and dipped the shirt in then drew symbols on it with a permanent marker. Top off the outfit with a bandanna, sun glasses and a pack of cigarettes (deck of cards) rolled up in the sleeve.


The above are printed with kind permission from Dollar Stretcher (http://www.thedollarstretcher.com).



Dorothy from the Wizard of Oz: I scoured the local thrift shops for a blue and white dress, took two lengths of doll hair for hair extensions, emptied the yarn out of my knitting basket and stuck a stuffed dog toy in it. Not authentic, but it suggested the character enough that everyone knew who I supposed to be


Sea Urchin: Green Army T shirt and rummaged old green material. I tore the material in strips, and either tied the strips on or attached them with safety pins. I smeared green make-up on my face and arms, put my hair in little pigtails, and I was a sea urchin.


The Energizer Bunny: I borrowed my roommate's huge Tupperware cake holder for a drum, and used my cat's harness and leash to hold the harness. I made drumsticks using two pencils and two wooden beads. My only purchase was the bunny ears.


Skeleton: They wore black sweatsuits and white gloves. I cut bones out of white contact paper, peeled the back paper off and just stuck them on. Painted their faces white and black, and off they went! When they were done, I peeled the "bones" off the sweatsuit and they wore the suits all winter! I also used the same "bone" pattern to cut bones from paper plates (the cheap, 100 plates for 99 cents kind) and taped them to our front door to make a skeleton. I "laminated" them with clear contact paper just because I don't like to cut them out every year, but they are so inexpensive, you can consider them disposable.


A Present: The easiest costume (and cheapest) I ever made was when my daughter was about seven. I got a big box, took off the bottom, cut holes for arms and head, and wrapped in in gift wrap. Then I taped ribbon around it, and tied lots of curly ribbons in her hair. She went as a present. Everyone raved about how cute and clever the costume was. I was thrilled that, after years of sewing, one with so little effort got such a result!


Witch: Here's a quick and easy tip for a cheap Halloween costume that I learned years ago. To create a witch: Mix a drop or two of green food coloring with any light to medium shade of base makeup and mix. Apply to face. This also works well when creating an alien face. To finish the witch cheaply, you can use a black plastic garbage bag with a hole cut for arms and legs and cinched at the waist. Add your own witch's hat, a broom, some black boots and you're ready.


Alien: Add any glittery shirt to leggings or use a one piece jumpsuit. Add alien ears of your choice.


Dr. Seuss: We got a "Cat in the Hat" hat from a local carnival (friends may have these laying around), used a black sweat suit as a base, add white gloves and a white piece of felt attached to the neck area: all done at a reasonable price and we can reuse most of it.


The Little Ghost: Another cute costume I made to fit a toddler. I took a white piece of cloth, cut a neck hole and used fabric Halloween appliques and fabric paint to make a friendly ghost. The costume fit over a winter coat, a plus in the unpredictable mid-west, and fit for several years


Evita Peron: Blonde hair slicked back into a tight bun, twin set sweater, simple skirt, high heels and make-up. Feign a Spanish accent.


Fidel Castro: Army fatigue, salt-n-pepper beard, cigar, army boots, green cap. A copy of an appropriate book by Marx or Mao is helpful.


Crayon: Dress in matching leotard and tights. Get a piece of poster paper and create the paper "wrapper". Spray paint a flower pot as the crayon "point" to wear as a hat. The only down side of this outfit is that you can't sit down in the crayon once you put on the wrapper!


Unicorn: I am making a yarn "mane", "tail" and a fabric horn to wear on her head (kind of like a skinny party hat!) Total cost: $5 for yarn and remnant for horn, and a new pair of tights.


Three Blind Mice: Got some old gray sweats? How about baseball caps? Sew long tails on the sweatpants, glue a couple of ears on each cap and get 3 pair of cheapo dime store plastic sunglasses, and voila! Three blind mice! If you do any hiking, you can use your staff for a "cane".


Tony the Tiger: Two years ago when my son was three, he said he wanted to be a tiger. I went to the local consignment store and bought a yellow shirt with hood about 5 sizes too big (it went past his knees). I sewed ears on the hood and made a yellow tail which I stuffed and attached in the logical place. I also sewed on a white muslin piece on his chest. I took black permanent marker and made tiger markings over the whole thing. He wore a black turtle neck under it and black sweat pants and was too cute!


Batman: Use either a black or blue sweat shirt and add Batman insignia and a blue or black cape


Parrot: I am starting with a yellow sweatshirt and will sew on "feathers".


A Snowman: I bought a white sweatshirt and pants. We painted his face white, black around eyes and an orange nose.He wore mittens and a matching knit hat. For "coal" buttons, I cut circles of sticky backed black felt that could be removed easily off of his sweat shirt after Halloween. This costume worked well because he stayed warm all night while trick or treating and then we were able to use everything all winter.


The Baby New Year: All you need is a diaper and a banner with the current year.


A Baby: A pair of footie pajamas, a baby bottle and a pacifier on some ribbon around the neck.


The Ace Of Spades Or Dice: Two pieces of poster board held together by a piece of String. Draw on and color in the Ace or a pair of Dice. Underneath, you can wear a white sweat-suit.


The Tin Man: Some cardboard tubes to fit around legs and arms. A tube large enough to fit around the body, all of these should be painted silver. A funnel for a hat and some silver face paint and there you go. Don't forget his heart, paint it right on the front of the body tube.


Mad Scientist: Old lab coat, pocket protector, hair that is teased until it stands on end, calculator. The effect is better is you wear a dress shirt and tie and dress pants. Also mis-match socks and dress shoes.


Hula Dancer: Take an old sheet and dye it green or if you have a green sheet, even better. Cut the old sheet in strips and tie strips onto a piece of rope. If this costume is to be used for a child, make sure that the strips are only long enough to cover the ankle. A tie-dyed tee shirt and a flower lei complete the outfit.


Graduate: Shop your local thrift store or talk to your latest graduate and get their cap and gown. Add your own tassel if you are an adult or make one out of yarn for a youngster. A scroll made out of a piece of paper rolled up and tied with a ribbon completes this costume.


Pirate: A cut off pair of jeans, a bandanna or bandanna type fabric to tie around the head, a white long sleeve shirt (girl tied up, boy tucked in), a pair of high topped boots, a piece of fabric to put through belt loops to use as a sash. A sword cut out of cardboard and painted silver and brown.
Leotards
Use leotards for girls as a costume base.
Black: cats, cow, dogs, panther
White: cat, horse, unicorn
Brown: puppy, rabbit, butterfly or moth, caterpillar
Face Paint
2 Tbsp. white shortening
5 Tbsp. cornstarch
1 Tbsp. white flour
3-4 drops of glycerin (see note below)
a few drops of food coloring
Use a rubber spatula to blend the first 3 ingredients on a plate to form a smooth paste. Add 3-4 drops of glycerin to make a creamy consistency. Divide mixture into batches to color as needed.

For dark beards, mustaches, etc. add 2 1/2 tsp. of cocoa to above mixture. Heat is an enemy for this type of face paint as it will melt if child gets sweaty, but it *is* fast, easy and cheap. Remove with a little soap and water.

NOTE: Glycerin is available in pharmacy departments. It's in a small brown bottle, often located in the first aid section. It's quite inexpensive and can be used to make a very good homemade bubble solution.

*** I checked with Poison Control about the "lick-ability" of the glycerin in this recipe and they say that though glycerin has a laxative effect in quantity, a few drops wouldn't hurt a child even if he/she eats the entire batch! It's smart, however, to avoid the area around eyes and mouth.

By Debra from Colorado Springs, CO

Answers:
Frugal Costume Ideas
What amazing idea for costumes! Thanks for taking the time to write it all out. (10/28/2006)

By Brigitte
Frugal Costume Ideas
Wow, no one came up with a nun costume? Wear all black, carry a ruler, and stick a skirt on your head. ;) (10/29/2006)

By Viv
Frugal Costume Ideas
All good ideas! (10/21/2007)

By betty
Frugal Costume Ideas
Sheer curtains over white or gray sweats make an ethereal and safe (see through) ghost costume. Use safety pins to tack the curtain, in folds, to the sweats. (10/22/2007)

By Doris
Frugal Costume Ideas
Hickory Dickory Dock, the rhyme. Take one box, spray paint with brown paint a few days in advance, add numbers that can be bought from dollar store, make into clock shape, add small mice that are cat nip toys and do up and down the clock. On the back say the rhyme. Big hit at my sons pre-k. (01/14/2008)

By amy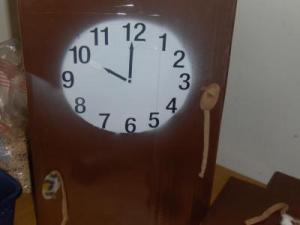 Frugal Costume Ideas
My 10-year-old wanted to be Wednesday Addams for Halloween, but I didn't feel like shelling out $30 for the costume in the store. We found a short black flippy skirt of her sister's, a black long-sleeved shirt and put a white pointy-collar top underneath. Black tights, black flats and her hair in braids completed the costume. I also basted some silver buttons down the front of the black top and painted her fingernails black. (10/29/2008)

By Leigh Sasser