Getting Rid of Little Black Biting Bugs?
I have these little black bugs in my condo. There doesn't seem to be a lot of them. They crawl on the floor coming out from the baseboard. I see them in the bathroom, hallway, and living room. They are not in the bed, but I get bites not all together. There is one on my arm, or my leg, or chest, not at the same time. I don't know if these bites are related. They are small and black and look like a little black bean that craws around on the floor. What kind of bugs are these? and how can I get rid of them?
By Rodney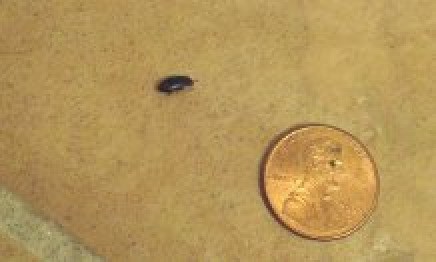 Add your voice! Click below to answer. ThriftyFun is powered by your wisdom!
July 19, 2014
0

found this helpful
Best Answer
they look like carpet beetles, vacuuming daily helps to get rid of them, google them and see what other things one can do to eliminate them
January 14, 2015
1

found this helpful
How do I get rid of these things? What are they called? Where do they come from? That's a picture of them.
May 1, 2017
0

found this helpful
Best Answer
Believe it is of the beetle family some sort of a carpet, fungus or grain eating variety. Relatively harmless as an adult. More destructive as larvae but usually a sign of bigger fish to fry.
Find their source of food and remove if you want a resolution. I.E. find and prepare water leak for fungus beetle, find old dog biscuits or steel oats not being used in pantry may be sources.
October 4, 2018
0

found this helpful
I also believe there some type of beetle.small tiny black looks like there about half dead when you find them very slow moving easy to kill but to get rid of another issue. I see them when i sweep under stove under fride under couches behind couches i have hard wood floors. Never got bit never saw them fly i found a few upside down there little legs same size there tiny bodies i believe they were dead or playing dead i believe they were dead. Make long story short we had same bugs at place we had before when we sweep was when we pretty much see them n around dust.never was bit though thank the Lord jesus. Now just yesterday i was introduced to stink bugs never heard of them before yesterday.
They try get in houses in the fall to hybernate. So now i have a bigger promblem to deal with. The little black bugs never bother me but just seeing them makes me sick feeling like get out of my house n imnnot a dirty person so it makes you feel like you house isnt clean. The stink bugs are big so u can acually see them on walls ceilings right away n believe me if theres something on my walls ceilings that dont belong there i see it. Thank god i dont have clutter or lots of pics on walls!! GOD BLESS EVERYONE DEALING WITH BUG PROMBLEMS ITS THE WORST N FIRST TIME EXPERIENCING THE HUGE STINGK BUGS. PLEASE GOD HELP ME TRU THIS IM LOOSING IT......!!!!!!
July 29, 2020
0

found this helpful
I don't have any medical or scientific proof but I believe they come from certain trees and the leaves that stay piled up for years and years around the house or of the moisture from certain kinds of wood near field or wooded area I think it has to do with the location somewhere near water and a lot of woods that gets moisture and cheap material that people build buildings out of and or where the roof is not properly made and water runs right down the side of the house certain plants and animals especially field mice or birds Carry thru the fields into your home or stray cats and then these mites live in your home and all the places behind the Walls that you don't realize it 4 periods of time and in anything cotton or that will hold dust then when they start biting are you a small problem with fleas with your animals and you begin to fog your house when sprayy chemicals it just gets them stirred up and if you don't get everything completely out of the house or get every area you just running them back and forth and that takes a longer so many different kinds cuz one minute you think it's this kind and then the next minute you see this kind and then they seem to only like high sugar or some kind of low immune people so they really no way to completely get rid of them but you can keep them from biting and sticking around with different oils and different dieting . as far as less sugar or fat fattening sweets snacks as eucalyptus oil or tea tree oil on your skin will garlic just something that they do not like they seem to adapt to any weather and get worse at night crawl on your skin in and out of your mouth out of your throat and people they don't bother think you're crazy or say you're on some kind of drugs and you need to get help the ones they haven't experienced it don't know it but you have to seal all your cracks get rid of all old dusty furniture or pillows my opinion is once you fog you should leave something for them to run to like a mattress or a couch then burn the couch that will be like a trap for them.
it will take some time and cooperation from family and friends because the hardest part is getting someone to believe that they're really there and you can live with them for very long time before you realize it it's already too late vinegar seems to calm them down and keeping some kind of oil burning and lemon extract vanilla extract and keeping the leaves and trees out for your house and I don't recommend vacuuming or running the dryer because it just keeps them stirred up in your house should find some way to make an exhaust system to keep air circulating and less things for them to collect on. you have to time them out other than that you just stir them up and there go from place to place and i believe also that they are attracted to panic or fear or if you're diabetic or have to test your blood sugar they are attracted to blood and carbon dioxide breathing but I don't know I have been fighting them again after I finally just moved from the last spot then was seems to be that same kind of tree in same field it's not just bird mice that's like the first ones then you got the mites for bird mites it's just like dust im thinking of bringing a cement truck and just cement the whole place or going to the mental hospital cuz I can't take it just be patient and don't let them get you in a panicanyting chemical will probably not work but everything naturally will get you or them away I feel for you and wish you the best
Add your voice! Click below to answer. ThriftyFun is powered by your wisdom!
Advertisement
Published by ThriftyFun.
© 1997-2020 by Cumuli, Inc. All Rights Reserved.
https://www.thriftyfun.com/Getting-Rid-of-Little-Black-Biting-Bugs-1.html