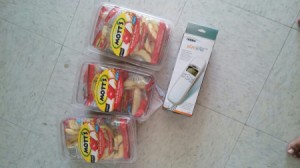 I am big on giving and living frugal. I truly find things of need a treasure when people give it to me. The other day, a friend mailed me 4 stamps. Another purchased me 3 packages of apples. I sent a picture to a friend and she saw I needed something in my kitchen to help with storage. It was sent by surprise.
My friend was kind enough to get me a house phone. My phone battery is bad. I am not able to get one yet.
You see the image I have here. These are the gift ideas I will be focused on with the candy and cards. I am reading so many stories of people having a cold or a headache. Last month I had the flu. It almost killed me.
I have a CVS discount card. I signed up online and send coupons to my card. I saved 27$ today.I went to Rite Aid and saved $12. There is nothing better than having a pill in your purse when pain strikes.
I have never had a certain pain woman have. But oh, my friend sure does. I sure thought of her today while in the store. If at all possible, during your next trip in the health section, pick up an item to gift to someone in need. It could truly be a blessing.
These are the kinds of items pantry centers could use as well. I hope you find this useful.