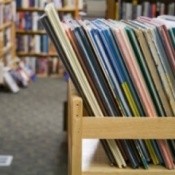 I have to share this idea about recycling and gift giving. It was such a unique idea, that I have added it to my list of things to do.
One Christmas, the neighbor came over with gifts for the children. She handed each of them an envelope with their name on it. Loving the idea, that it wasn't some loud, obnoxious gift used to drive parents crazy later. Very curious, the children opened the envelopes one by one. Inside was a $20 with a note. On the note, the criteria and purpose of the $20 was written. The note said the following:
Set a date to spend a day with me
We will go to a used bookstore, so you can spend all of this money
Afterwards is lunch and ice cream on me
With each book purchased, you will be able to return it for future books at any time
How great is that? One little small gift, teaches so many lessons to our future generation.
The gift of "time" spent with people you love
Used books are just as great as new ones
Gift of reading and knowledge
Ability to recycle your used book for more books
How to manage wants and money
The memories that will last a lifetime
I later heard that the neighbor got so much joy out of watching the children run around trying to decide what they wanted purchase. Lunch afterwards was full of conversation about what they had gotten and what they planned to do when they went back.
I just can't imagine a better way to teach children to read, reuse, and recycle!
Debra Frick
0

found this helpful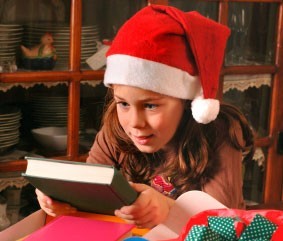 Christmas is a time that sparks the imagination of all who celebrate. As parents we are always looking for things to do the same thing and books can do the trick. Here is an article about shopping in one of my favorite places in the whole wide world. The used, and yes I said used, bookstore.
If you are a bargain hunter, you will absolutely love the bargains that you will get here. In my home town of Colorado Springs, we have no less than six used bookstores. Two of these dedicate themselves to nothing but rare and first edition books. I like to shop them when they are having a 50% off sale to reduce their inventory and I have picked up first edition children's books for a song. But our other bookstores are just as good. Also I shop at yard sales and our library book sales and book store for books too. Books bought at these sales help the library to buy new books and help my community.
Thrift stores will sometimes bundle books so that you can get quite a few for just a little price. Go on a day that they are having a sale and you could save even more. To save even more money, gather up the books you no longer need or have an interest in and take them along with you. Most bookstores will buy some of what you have or give you are store credit. Just don't expect to get one for one, bookstores usually trade at 2 for one, or even 3 for one but you will still see some savings.
Here are ideas of some of the books that could be bought for people on your gift giving list:
The Cook: You will find every kind of cookbook that can be had. Even the oldie's but goodies like "The Joy of Cooking" and the "Better Homes and Gardens Cookbook" that are classics and would make a great gift for the first time cook. If you heard your friend say she would love to learn how to can or freeze her food or she would love to make gingerbread houses this is the place to find those directions for her. For the kid going off to College I would highly recommend the cookbook called "The Campus Survival Cookbook." It tells your Campus King or Queen exactly what utensils for cooking they will need, How to prepare the food and how to cook on a budget. You can also buy kids cookbooks here also.
The Nature Lover: You could get him a book of maps of all the lakes and streams in the area or wildlife guides. Now this can not be bought at the bookstore but for your nature lover you can also contact the Park service and get free maps of trails in your area and what is better than free. These are also great for the hunter or hiker in your life. For the fisherman a book teaching how to tie your own flies would be good too. For the leave no finger print nature lover a book on how to take photo's in the wild could be a real treasure. Also there are books out there on building your own campers or tents or camping gear.
The Backyard Mechanic: Chilton Auto Mechanic Books are a must for the beginner or advanced auto mechanic. Just get the make and model and year of his car and buy him a manual they are very detailed. Year is very important as car details can change a lot from year to year. So make sure you get the correct year book for your backyard mechanic. You will also find do it yourself car manuals out there on everything from auto detailing to painting.
The Poet or Writer: This one is easy. Get them a great new dictionary and a thesaurus. Add a notebook for rough drafts and some new pens and that is quite a gift. For poets, they even have rhyming dictionaries that give rhyming words to help that aspiring poet.
The Handyman: You will find books for tiling, building everything from their own furniture and decks to painting faux finishes. I mean with the "do it yourself" craze right now, there are books on wiring and electrical and every subject in between. Take a couple of these, add a hammer or a couple of paint brushes and you have the perfect gift.
The Crafter: What crafter in the world does not have a library of their own reference materials? Some vintage books on crafting from the 50's, 60's and the 70's could be something that they would just enjoy. Candle making and macrame were big back then and are making a comeback now.
The History Buff: Is there someone on your list that has a love for the Civil War or any of the other ones? There are many books out there that have relevance to these topics. You should be able to find complete histories, re-enactment books, and books on building miniatures from these time frames. Even fiction set in these settings. Most authors go to a lot of trouble researching time periods so even in a fictional setting ,there is a lot to be learned.
The Computer Geek: Buy them a book on how to build a computer or one on a piece of software they are having problem learning. I highly recommend the series of books called "Blank" for Dummies. Their books have so many titles, I think I have seen one for most every popular software and even computer games. They take you step by step in learning how to do anything with computers and they are always coming out with new titles that people learn from then sell to the bookstore.
The Genealogist: Histories of locations of their relatives are a great gift. I found a book all about Lancaster; Penn that helped me find places of interest to research for my own research. It told me where all of the old cemeteries where. This in turn helped me to locate graves of long lost relatives. Travel guides are the best. Most genealogists love to travel to get information for their families. These can be great in deciding where to go and stay while doing research. It does not matter how old these are either as the best travel guides where written in the 50's and 60's when people where interested in the histories of the places they visited. Histories of military service are also good. I found a complete history of the 127th Calvary for a friend researching his families' involvement in this branch of the military.
The Knitter or Crocheter: What can I say here, most of us who do needlework would love to have patterns and because a lot of the fashion now days is geared though the 50's and 60's all old crochet and knit books become new again. Add yarn, some needles or a hook and you have it made.
The Traveler: Here is another place where those old travel guides will come in handy. Even if you know that this person may never even make it to Spain, a book on Spain with good pictures and descriptions can make her or him feel like they are there. A good bottle of wine and a warm afghan could make this a wonderful gift. For the seasoned traveler, my bookstore even sells cassette tapes of "Learn a Language". For those who travel locally, a book on all the KOA campgrounds in the USA or Canada would be a good choice or a Rand McNally Road Atlas, if it was only a couple of years out of date.
Children: Story books are always big hits for little readers but craft books and or cookbooks have their place too. (They have to be able to read to cook) But why not introduce them to some of the older children's classics like the Dog books by Jim Kjelgaard or the Black Beauty series for horse lovers. Books that teach basic school skills are great but even better are books that teach a child how to build something like a kite or a doll house. This teaches problem solving skills and it also teaches self reliance. Books by their favorite authors are always a good pick and sometimes the hardback editions are cheaper than the paperbacks. Just remember to try and get a peek at the titles that they already own, so you don't buy duplicates.
Another idea is to give them a copy of your favorite book. My mother introduced me to Louisa May Alcott when I became a teenager and these classics have remained books that I read over and over. Maybe you know of a book that they treasure, like my copy of the book "Christy" that was read so many times, it was falling apart. Get them a new copy or a hardback edition so they can continue to enjoy the book. My daughters in high school had to read "To Kill a Mockingbird" and so loved it, I bought each of them a copy. Look around and listen you will get lots of ideas.
Other Ideas: Also, our bookstores do carry used software and some even carry video tapes. If you are like me, even though DVD's are smaller, I still have a VCR to watch my old tapes on. I have been known to buy classic movies and to give them to friends even if they were on video tape if I knew that they just loved them. Plus when you buy a special edition video, even if you could find it on DVD it would not have all the special out takes or interviews that were on the video. If you know some one who would love to have a publishing program for their computer, why not see what the bookstore has? As long as it is not so old that it will not work with their operating system, they probably would be thrilled with even an old program. I have a friend that always wanted Corel Paint shop and I found an older copy of it and gave it to her. She was thrilled as you could still update it off of the Internet.