I just took in a chihuahua that is about 2 to 3 yrs old because the owner was moving. He is a male and he won't eat or go to the bathroom. I have had him only 1 day. My other dogs, a mini Italian Greyhound and a Dobi/Rot mix have excepted him with no problem. If you hold him he's fine, he will just lie in your lap. If you put him down, he goes under the table. Please help me.
Cheryl from Kissimmee, FL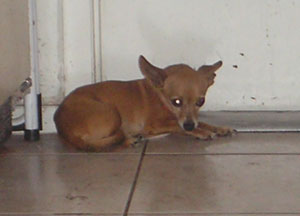 Answers:
Helping Chihuahua Adjust to New Home
Hi, your lil' guy will come around, he's frightened in his new surroundings. I would give him some time...believe me when he gets hungry, he'll eat. Before you know it, he'll be tearing up the house. (03/05/2008)

Helping Chihuahua Adjust to New Home
He is adorable. I think if you had a little doggie crate, with something soft and cuddly, afghan, baby blanket, or even an old sweat shirt, he would feel more secure and like he had his own place. I would probably sit and hold him too. It will take a few days, but with love, patience and attention he will know you love him and even if he misses his people a few days, he will love you. Good luck. (03/05/2008)

By Ima
Helping Chihuahua Adjust to New Home
Here is a good web page that covers transitioning adult dogs:
http://www.hawaiidogfoundation.org/Adoptions/about_rehoming.htm
The behavior he's exhibiting is quite typical. Talk to him (and yourself) often so he gets used to your voice, be warm without overbearing, cuddle him if he lets you, and give him a treat and lots of calming love whenever he comes to you.
Schedule a well-check visit at the vet for next week (be sure the owner gives you all his info, or at least the contact info to his previous vet). While you are at the vet's, schedule a neuter for ASAP if he's not already "fixed."
You might consider putting his crate under the table (leave it open so he can come and go freely). This way, he'll have his own "safe haven" when he needs it. You can also try feeding him in his crate. Good luck! (03/05/2008)
Helping Chihuahua Adjust to New Home
Bless his heart, he's depressed. He's in a new environment so it will take some time to fully adjust. Dogs are den animals; they need their own sanctuary to feel safe and protected. Perhaps you could designate a special spot with a dog bed, toys, & a water bowl, in a quiet spot in your living/family room (wherever you & your other dogs spend the most time) and dedicate it as a "den" area for the chihuahua.
That way he'll still be part of the group but he can get used to his new environment at his own pace. (03/05/2008)
By Denise
Helping Chihuahua Adjust to New Home
I agree with all the above and would only add to place an item you have worn already unwashed and keep it with the dog like an old tee shirt, socks or slipper you don't mind parting with. Your new addition to the family will soon be content and knows your scent and will feel safe. Adjustment is difficult on animals as much as it is for some people and a little time with lots of tlc will do the trick. (03/05/2008)
Helping Chihuahua Adjust to New Home
A strange place, people and animals surround the new comer and adjustment will take time. In the meantime, provide a warm cozy bedding down area where the little fella feels safe when not on your lap. Place a piece of clothing you've already worn or an old slipper in it and the dog will associate it with you and soon will be doing fine.
Talk to the dog frequently as this will help remove a lot of fearfulness. Having the dog's toys inside and food dish nearby also will give the dog its own spot to go to when he chooses. (03/05/2008)
By Myrna
Helping Chihuahua Adjust to New Home
He is slowly coming out of his shell. He sleeps and follows my daughter where ever she is or goes. He mopes and waits by the window until she comes home from school. What's funny is my husband goes to kiss my daughter good bye in the morning while she is sleeping and the dog growls at my husband. The dog is protecting my daughter. Thanks for all your help, he is coming around. (03/06/2008)

By Cheryl
Helping Chihuahua Adjust to New Home
Don't allow him to growl at anyone, ok? He's testing his boundaries and you don't want this to progress into fear aggression. When he growls, tell him NO in a firm voice. It's very important that you let him know this is not going to be tolerated. (03/06/2008)
Helping Chihuahua Adjust to New Home
He's probably scared and it will take some time. You might get a piece of clothing from the previous owner to place in the dog's bed or sleeping area. A lot of attention will help too. I wouldn't wait too long before taking him to the vet if he is not eating or going to the bathroom. This can lead to serious problems. You might try hand feeding him. Try baby food. (03/06/2008)

By Linda
Helping Chihuahua Adjust to New Home
He needs a shell to come out of, a crate his size with the door off, so he can hole up when he feels like sleeping with peace of mind. Put food nearby so he smells it, and he'll soon nibble. You could temporarily buy super-appetizing canned food and mix with dry, gradually switching over. (03/06/2008)
Helping Chihuahua Adjust to New Home
I dog sit, so I see a lot of this. All of the advice is great. Dogs do need a place where they feel safe and is all there own, our doggie has a dog carrier with comfy blankies in it and the door remains open so she can come and go as she pleases. Most dogs (when their owners leave) stop eating, a husky that I care for usually goes two and a half to three days without eating. Even treats won't entice her, but the more time I spend with her, talking to her, which I pretty much talk to her like a human being, she will come around. She just wants to be sure I am not leaving her as well. If her owners have been gone two or three weeks though, she again becomes despondent so watch out for that. Good luck, your new baby will be fine! (03/07/2008)

By Debra.
Helping Chihuahua Adjust to New Home
I have a puppy mill rescue and it took a very long time for her to relax and come to me when I called her. Just give him lots of love and he'll come around. Do take him to the vet to make sure he's up to date on shots and that he's well. (03/07/2008)

By Linda Jones
Helping Chihuahua Adjust to New Home
But cuddling him too much when he is in such a state will teach him the wrong message. He needs to become part of the pack and be rewarded for "good" behavior. Good luck! (03/10/2008)

By Beth
Helping Chihuahua Adjust to New Home
He isn't going to the bathroom because he isn't eating. I raise and train a lot of dogs so I see this ALL the time. When I left for college my German Shepherd Husky Mix stopped eating for 2 days and then wouldn't eat when people were watching him. When I come home though, he is fine. Just relax. Don't pick him up all the time. Give him a few days and he should be ok. It's separation anxiety, most dogs do it because their family has left them and they NEED a pack! He will find his place among yours. Remember to take him out whenever you have time to spare. Also walk him for 30 min to an hour. He will catch the drift that he needs to go. We did this when I received my Yorkie/ Pomeranian Mix. It will all fall into place. (03/11/2008)

By Tiff