2 Tbsp. white glue

Mix, cinnamon, cloves and nutmeg together. Add applesauce and glue. Work mixture with hands until smooth. Roll out to 1/4 inch thickness and cut with cookie cutters. Use a straw to make a hole for ribbon. Place on wire rack and air dry for several days, making sure to turn occasionally
(10/29/2005)


By Mckaysatt
Homemade Christmas Ornaments
Here is the instructions for this orange and cloves ornament. It's a little slow to make but it's easy and you can do it whilst watching TV
http://www.craftbits.com/viewProject.do?projectID=293 (10/31/2005)

By
Homemade Christmas Ornaments
oh this one is really nice too

http://www.craftbits.com/viewProject.do?projectID=435
(10/31/2005)

By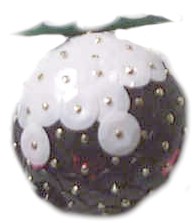 Homemade Christmas Ornaments
I like to let our foster children make ornaments of their own by just picking up pine cones and letting them dry/cure -- then just use odds and ends to dress them up (glue sequins, buttons, pieces of other old broken ornaments, etc.. spray with paint, "snow", silly string, etc...). Just use your imagination -- then twist a pipe cleaner or a small piece of ribbon or wire to hang them -- (11/04/2005)

By brflemmons
Homemade Christmas Ornaments
I was given the idea to paint walnuts red, put white polka dots on it. Then get green felt to make little leaves for the top it and add string for hanging. There, you have made strawberries. The texture of the walnut make it really like a strawberry. They are real cute on the tree. (11/07/2005)
By Leigh
Homemade Christmas Ornaments
I recently did a craft I found in a magazine where you take a cinnamon stick approximitly 3 in long and you put a small wooden star on the top (paint it yellow or off white first) and then you take small strips of homespun fabric and tie and knot in it and glue 5 of them down the cinnamon stick, when your all done is resembles a christmas tree. Use jute or any ribbon or yarn to hang it. Here is a similar picture but I cut the fabric shorter and I didn't put mine in a pot I hung it. I have sold many of them though. If you have any more questions e-mail me mom2lindsay @ yahoo.com (remove spaces)
(11/09/2005)

By Autumn
Homemade Christmas Ornaments
HI, You can find the Tooth pick project here

http://www.craftbits.com/viewProject.do?projectID=1128
(11/30/2005)

By
Homemade Christmas Ornaments
I was once given a cute and very easy to make ornament. Use 1/2 walnut shell, yarn and the sewing straight pins with the large ball on the end. You make tiny balls of yarn from the yarn, you might want to split the strands so it's not too thick, glue 3 different color tiny balls of yarn into the shell and put in 2 pins crossed; like you would stick your knitting needles into your yarn ball; add some pretty ribbon or gold string to each side of the shell so you can hang it. It looks like a tiny knitting basket. Good for kids to make if not too young, since you are using straight pins. Val (12/14/2005)

By valery
Homemade Christmas Ornaments
Someone showed me a large plastic ball made of plastic drinking glasses with christmas lights in them, I would love to know how to make one.

By Richard
Homemade Christmas Ornaments
Here's a link

http://www.thatsmyhome.com/sugarplum/lighted-indoor-outdoor-christmas-ball.htm (08/04/2006)

By angelsmom10
Homemade Christmas Ornaments
I like to decorate satin balls with beads and pearl pins, but was having trouble finding them year round and in pretty colors. So once I found suppliers who would deal with little ole' me, I started selling them on eBay. My store is www.TheCraftyElephant.com. I sell all kinds of satin covered ornaments, trims, beads, filigrees and pearl head pins. I want to sell sequins next, but eBay keeps raising their fees. It makes it hard to sell low cost items such as this. My Mother does the crochet tops and uses thread with metallic fibers. Very pretty! (10/27/2006)

By Work4Pnuts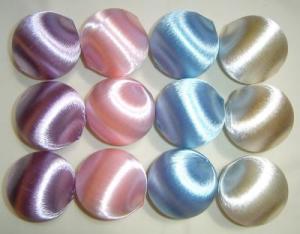 Homemade Christmas Ornaments
Several years ago my mom made the same ornaments that jojo talked about only she used a lot of the styrofoam type balls, put toothpicks all over them an inch or so apart. She then made a circle out of the balls (about the size of a plate) and decreased the number of balls as she continued making circles layered on top of the previous one to form a Christmas tree. She then sprayed the whole thing with fake snow and decorated it with garland and small ornaments. It made the cutest table top decoration. (11/18/2006)

By Tammy
Christmas Decorations
One of the easiest and most beautiful christmas decorations that we have ever made has got to be paper snowflakes. They are easy enough for 4-5 year olds to help with, and they don't even have to follow a set pattern.

Best of all, they only use clean white paper, what could be cheaper? We hang them with red ribbon and they look lovely in the window.

Full instructions at http://www.kids-fun-and-games.com/homemade-christmas-decorations.html (12/22/2006)

By Nicole O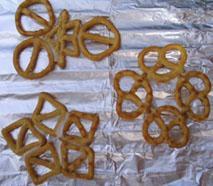 Homemade Christmas Ornaments
My daughter and I made these by painting peanuts and clothes pins. Very inexpensive and easy. (12/22/2006)

By Rhonda R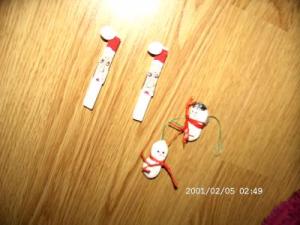 Homemade Christmas Ornaments
So many nice ideas and such cute crafts to make. (12/24/2006)

By imaqt1962
Homemade Christmas Ornaments
Does anyone know how to make the jute ball ornaments that was on Martha Stewart last week? It used a balloon and jute string, watered down Elmer's glue and then when dry you are to insert a small bird or some sort like that. Does anyone know where to find directions for this? (12/26/2006)

By Mommy in MI
Homemade Christmas Ornaments
Martha Stewart- jute string ball and bird ornaments...look here:

http://www.marthastewart.com/page.jhtml?type=contentandid=stv3730008andlayout=martha

Natural woodland ornaments. Show with anne hathaway as guest (01/13/2007)

By Amy
Homemade Christmas Ornaments
I went to a craft show and a woman painting ornaments had a plastic type vise that held the ornament while she painted each and every detail on the ornament. I want to purchase that vise and can't find it on the internet. She couldn't remember the name of the company but bought it with a paint kit. Please help and point me in the right direction. Thank you. (10/08/2007)

By deesper
Homemade Christmas Ornaments
In response to "DEESPER", Plaid Ent. makes a turnstyle that I think is what you are looking for. It is called FolkArt - One Stroke Accessories - Artist Turnstyle

It is a vise that can hold your project and it turns. Check it out at www.plaidonline.com, search Item # 4168.

Hope this helps! (12/04/2007)

By Laura
Homemade Christmas Ornaments
I took foam"paper" in brown and yellow. With the brown I traced each child's foot and with the yellow traced each hand cut them out and glued the hands to look like reindeer antlers. To the foot and added a red pompom to the bottom for the nose, or brown pompom if you want a regular reindeer instead of Rudolph. (12/09/2007)

By lauri
Homemade Christmas Ornaments
Photo ornaments are my favorite. I collect 'junk CD's that you get in the mail throughout the year or you can buy them. I take a small drill bit and drill a hole in the CD then run a ribbon or string through it then take a picture of the child, cut it into a circle and glue it on the CD, have the child decorate with stickers and write in permanent marker on the back the year for memory. They are relatively inexpensive to make and the parents love them. (12/16/2007)

By Shari.
Homemade Christmas Ornaments
I'm looking for ideas using wine corks to make Christmas ornaments. (11/13/2008)

By Becky
Homemade Christmas Ornaments
I make glitter balls. I take regular clear ornament balls and use glitter paint. Drop a couple drops of one color in and swirl around. Continue with other colors or the same color until the ball is completely covered inside.

Set them upside down in a egg carton overnight to dry and then add your top. Put a ribbon through to hang on the tree. The best way to do the ribbon is to tie a square knot in the ribbon first and then a bow. Just so it won't come undone when you hang it on the tree. (12/04/2008)

By LATOSHA
Memory Makers
As a special gift to my aunts and uncles, I took my some of my Mother's recipes and copied them on card stock using my home printer. I scalloped the edges and slid the recipe into a clear magnetic frame. After decorating the edges of the frame with glittery swirls, I allowed them to dry. What a special way to remember a favorite recipe from a favorite loved one! (12/18/2008)

By Gina
Homemade Christmas Ornaments
You can find a few Christmas Ornament projects at the FamilyOrnament.com online community http://www.familyornament.com/Community/Community.aspx. I hope that might help. (01/06/2009)

By Alex K.