Homemade Seasons Greetings House Card
Solutions
Share on ThriftyFunThis page contains the following solutions. Have something to add? Please share your solution!

Make this Christmas card to bring Seasons Greetings from your house to a neighbor's house, and spread some Christmas cheer.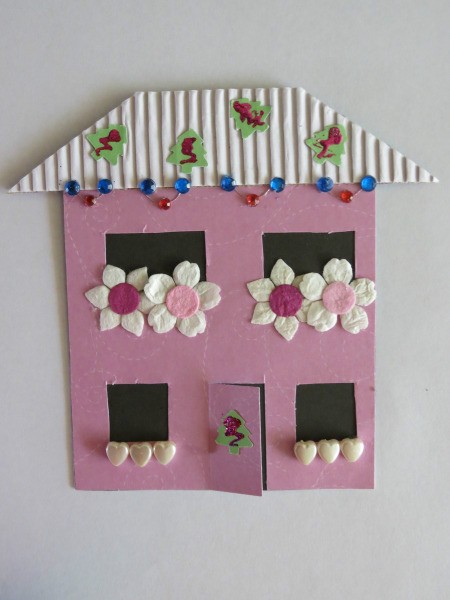 Total Time: 20 minutes
Yield: 1 card
Supplies:
1 pattern of house
tracing paper and pencil
1 in 11.7 x 8.3 (A4) sheet of pink patterned cardstock
1 in 5 x 5 black cardstock
1 in 5 x 3 white corrugated cardstock
1 leftover piece of green cardstock
4 paper flowers
6 pearl heart pony beads
8 small blue flat-sided rhinestone beads
4 small red flat-sided rhinestone beads
silver thread
Foilart Super-tack glue pen
pink craft foil
tree-shaped paper punch
craft glue
scissors
stanley knife (utility knife)
ruler
1 sheet of ordinary white printer paper
see http://www.smokymountaincraftsupplies.com/pony-beads-heartpearl.html for a possible supplier of pony beads
Steps:
Trace and cut the house from the pink patterned card stock.
Score the house length-wise and with the fold at the top, cut off any protruding edges, so that the house will look neat.
Cut out all the windows, and cut open the door and fold it back, so that the door will stand slightly ajar.
Glue the black cardboard to the back of the front of the house, and cut off any protruding edges.
Glue the silver thread to the top of the roof ~ make a wiggly pattern. This will be the "electrical cord" from which the Christmas lights will hang.
Use the corrugated cardboard to add a roof to the front of the house, and cut off any protruding edges.
Glue the rhinestone beads in place to complete the string of Christmas lights.
Glue the paper flowers at the bottom of the top windows.
Use the tree punch and punch out five Christmas trees.
Glue one tree to the door, and four to the roof of the house.
Use Super-tack glue to add some detail to the trees.
Allow the Super-tack glue to dry for about 10 minutes. When the glue is wet, it is blue, but when it is dry it becomes transparent.
Press foil down on the glue. Remember that, of course - the pink side of the foil must be on top.
Rub the foil over the areas where you have added glue with the Super-tack glue pen.
Carefully lift the foil. On the areas where you have added glue with the Super-tack pen, some of the foil will stay behind, thereby highlighting certain areas of the trees.
Use the pearl heart pony beads to add window sills to the bottom windows.
Space and print the following onto the white printer paper:
Seasons Greetings from our house to yours.

Glue the message to the inside of the card.