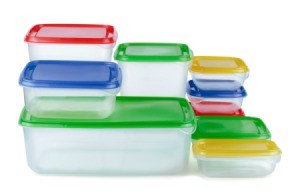 I have plastic storage containers that I have used for food for many, many years. And I am curious if the plastic has been used too much and if it is so old that it is time to replace them with newer ones. I have never heard of an expiration date on plastic containers but I would like to know if there is a 'shelf-life' to plastic storage containers.
Ba Rok
Answers
By Jaclyn (Guest Post)
June 13, 2007
0

found this helpful
Best Answer
They last forever, or longer than you or I will. But if you ever heat them, it is time to throw them away. Most semi-flexible plastic will leach nasty bisphenol - it mimicks sex hormones- when heated or washed with harsh chemicals, even when left in the sun, carfull with the plastic water bottles! I've read about definite effects in lab animals, disrupted hormone levels and whatnot. Most studies connected with the plastic industry say it is harmless, but independant studies say otherwise. Just be careful, and get new ones, or try wax paper, glass containers whenever possible. I know I hate the fact that plastic has entered into the food chain.
By (Guest Post)
June 14, 2007
1

found this helpful
Best Answer
I also heard that scratched containers are not good either. I'd throw out anything old and replace with glass, if at all possible.
If not, I'd personally go with tupperware for those times when it's just impossible to do without.

Holly
Silver Post Medal for All Time! 364 Posts
June 14, 2007
0

found this helpful
If the plastic is cracking, peeling or horribly scratched, pitch it out.
A person from Switzerland once told me that her country had better plastics for food storage than we do. When I pointed out we had Tupperware, she said that the containers they had where she came from were better.
I have no idea what the name is.

June 20, 2016
0

found this helpful
How long do plastic containers last? I bought all my containers a while ago, and want to know if any bacteria has gotten into them. I store vegetables, rice, etc.
in them and wash them with soap and water. Let me know if I need to go out and buy all new containers and how old should they last until?
Answer

this Question