July 22, 2005
0

found this helpful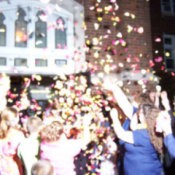 This tip is from my daughter's recent wedding. She wanted something for everyone to throw that would be different than the usual. We looked into several things and found that assorted flower petals from Flowerama were cheap and beautiful.
Not only did they look great as they were thrown into the air, but they filled the air with the most wonderful scent! These flower petals are the "rejects" from the flower shops but they are more than adequate for this. They were cheaper than rice bags, bird seed bags, bubbles, and bells.
By Robin
August 12, 2009
0

found this helpful
Working in weddings for many years, there is a simple answer to this. Most churches are very strict and require you to clean up all that is thrown before leaving the church. Especially if it is a Saturday wedding, all signs of a wedding must be gone by Sunday morning. Rice is not only dangerous to birds and other animals, is very dangerous when stepping on it on sidewalks and in parking lots. It does not crush like bird seed, and will roll under your feet causing bad falls. I can't stress enough to FORGET RICE, BUBBLES & SPARLERS. I haven't seen a church in a long time that allows sparklers on the property. Bubbles will stain the bride's dress. Balloons are pretty, but go straight up and are pricey. Popcorn is OK but a mess and has to be cleaned up because children will eat it from the ground. Confetti is horrible to clean up, but must be swept away, the same with rose petals. My advice is stick with bird seed, it is approved by churches & Banguet Halls to be left on the ground. It crushes when you step on it, not cause people to fall. It is dirt cheap, easy to tie in net squares, and feeds animals. It is tradition to toss something at the bride and groom, so be green and use bird seed.
Read More Comments
July 6, 2009
0

found this helpful
When you're making flowers using paper sculpting or paper quilling and find that you have extra petals, hold onto them and use them as confetti. They're much easier to sweep up.
By Angela L. from Sault Ste Marie, ON
I need some ideas for something for the guests to throw at our wedding as we leave the church. I do not want to use bubbles, rice, or petals, something original and inexpensive. There will be about 300 guests and our colors are black and white with red accents. Thanks again, we have only 4 weeks to the wedding!
Melissa from Topeka
June 1, 2015
0

found this helpful
Money always work ;>) as does bird seed, flower seeds, or anything else birds won't choke over and is environmentally friendly... congratulations!