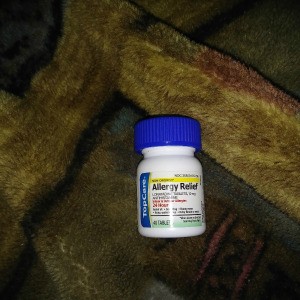 Bruno, my 80 pound Rottie mix was getting open sores from biting and itching, especially around his back and tail. The vet always said it was fleas.
We would get the topical Advantage and in a few days he was scratching again. So it was not only fleas.
I read that Claritin was good for dogs. I can't afford expensive Claritin, so I bought the generic, which was cheap at the Dollar General. I tried giving him the 10 mg generic of Claritin which is Loratadine. It is the 24 hour allergy pill and is around $3.00 or so at the Dollar General.
From the moment I gave him the pill, in a small piece of bread, I knew it was
going to work. In just a little while, he completely stopped the manic itching and after around a month, his hair is growing back nicely. All I can say is that his allergies must have been airborne, rather than just fleas.
Another observation is that the more regularly I gave him the pill, his immune system must have strengthened, because now he only needs them intermittently.
I had to share this with my ThriftyFun family :)