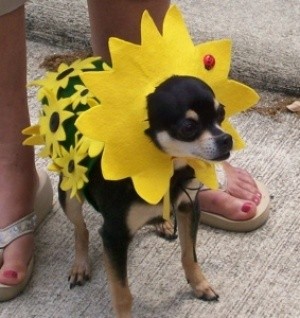 Note: I am a sewer, not professional but you should have some machine sewing experience to make this costume.
Materials:
two 9 by 12 inch pieces of dark green felt
One 9 by 12 inch piece of yellow felt
Iron on interfacing
18 inches of yellow ribbon and dark green ribbon
12-20 brown or/and black flat buttons
3/4 inch by 3 1/2 inch piece of sew on dark Velcro
small lady bug button (optional)
Threads
Instructions
Our dog is only 6 1/2 pounds so you will have to adjust the pattern for your size dog. Measure around the widest part of the body and also the length of the back area. Cut your felt to wrap all around the stomach/back area, you will need to sew on an additional length (second piece of felt) to make it go all the way around. You will need a dart on the top center and two darts at the top back end of the felt, this gives it a better fit.
Next attach the Velcro strips to the ends (this part is on the under side or belly area). Cut the green ribbon in half and attach near the neck area to keep the felt in place on your dogs back. Once you get this, the rest is much easier, I promise!
Iron on interfacing to the yellow felt, covering it completely. Measure around your dogs head with a string in front of the ears. Now find a dish, cup or something round that is about 1/4 inch smaller around than the string to use as a circle pattern for the opening in the flower. Trace this circle in the middle of the felt then cut a straight line from an edge to this circle, cut out the circle.
Next fold your piece in half and cut around the edges "petals" about 2 inches from the center circle. Unfold and tweak if necessary. Sew a straight stitch about 1/3 inch from the inside edge then clip 1/4 inch cuts all around to allow for a snug fit around the head. Cut the yellow ribbon in half and attach one end to the corner edges to be tied and kept on the dogs head.
Using your leftover yellow, cut different size flowers, then pin them all over the back side of the green felt, place a button on top and sew by hand or a simple zigzag by machine, this will hold the flower and the button on. If you have a lady bug, she looks good on one of the face flower petals. Hopefully the photos will help but if you have questions let me know and I will try to help.
By NoRulesArt from Sunny Florida
I am trying to find a lizard (gecko) costume pattern for a small dog (XX-Small). Our local community is having a Gecko Fest and I would love to dress my 4# Chihuahua "Dixie" up as a gecko. Any suggestions?
By Pam Kennedy from St.Petersburg, FL
Answer

this Question

...

Petey is 4 months old. He is a Boxer/Bulldog/Shepard mix. My best friend Todd gave him to me in August of this year. He likes to eat, play, eat, sleep, eat, play and some more.
I never enjoyed playing with dolls when I was little, but I get a real kick out of dressing my dogs for Halloween. This year I made a special costume for Petey because he is as big as a horse! I saw something similar to this online, but thought I could make one like it much cheaper, and I did. He didn't seem to mind it a bit either.
The adjustable velcro belt that runs around his middle will allow him to wear it even when he's full grown or to switch it out with one of my other dogs. Everyone thought it was such a funny costume and suited him perfectly!
By Donna from San Diego, CA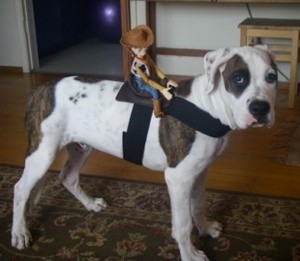 November 23, 2005
0

found this helpful
Here's a picture of my Son's dog Sadie dressed up for Halloween. She loves to dress up and last year she was a devil. We call her our doggone cowgirl.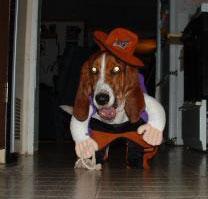 By Shelly from Whitehorse, YT Canada