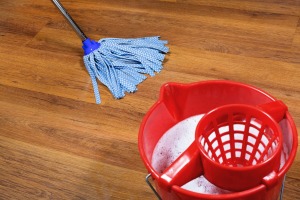 I have a laminated flooring that was installed about 5 years ago. My problem is that when I clean the floor with the suggested cleaning liquid by the manufacturer, or now the new Clorox or Swifter cleaners that I have also tried, the floor retains a dull film that I can't remove back to my shiny floor. Has anyone else experienced this problem and found a remedy for it? Could it possibly be a hard water problem?
Ruth from Jackson, MI
Answers
By Kelly (Guest Post)
January 12, 2005
2

found this helpful
Try washing your floors with warm water and about a cup of vinegar (I use an ice cream pail 3/4 full of water and just pour some vinegar in). This is all my mom and I have ever used to wash floors and our floors both look great. My mom's lino. is 15 years old at least and although it is starting to wear at the seams it is still shiny.
By Mary (Guest Post)
January 12, 2005
1

found this helpful
I haven't tried it myself, but a co-worker said she adds vinegar (sorry, I don't know how much) to her water and that it eliminated the problem for her.
By MAMAB (Guest Post)
March 10, 2008
1

found this helpful
I use 1 cup vinegar per 1 gallon of water. But it has not taken away the dull look. Please someone help. My laminated floor is only a year old. I did not know I could not use oil soap.

March 29, 2009
0

found this helpful
Do you use white vinegar for the cleaning or the browner types of vinegar? Or does it make any difference what kind you use?

May 24, 2016
0

found this helpful
My floor film was so bad I was ready to replace the floor but I called Bruce's Floor Cleaner and they told me they don't tell it but the film can be removed with 1 cup water in a gallon of warm water Scrub with white damp cloth to remove film. The thing was I was using Bruce's floor cleaner (dry thoroughly) which was what I had to do to remove. Cleaned it 3 times but if you look under Bono Floor cleaner for a Laminate flooring you also will find they also sell a polish for a Laminate flooring.
My opinion I don't believe we need to purchase a floor cleaner and just use the vinegar and water solution and the Bono polish. Best for you to Google and get your own opinions. I do know somewhere in here they are recommending vinegar and water for a cleaner. I will do more research before I do this but right now I am leaning toward doing that.

May 15, 2017
0

found this helpful
Mix eqaul parts hot water and vinegar. This works the best.

April 16, 2018
0

found this helpful
I use a drywall pole that has that they use for the sandpaper for drywall ( Lowes) that just sticks to the bottom but instead I use a ShamWow. I spray some water and vineger and use the ShamWow and it cleans it and the floor drys quickly leaving a shine. Works great on tile too!

April 16, 2018
0

found this helpful
I buy the cheap ShaWows they sell at the dollar store

August 8, 2018
0

found this helpful
My previous laminate was easy to clean plain water no streaks and a high shine. Replaced the whole house with the same quality but not as high a sheen. The floor looks great until the light hits it and you can see every streak and footprint.
Wish I bought the exact flooring I had previously. My flooring is a week old every one loves it but I see the problem with the finish!

August 20, 2018
0

found this helpful
My laminate floor was also dull and showed every footprint and smudge. I regularly clean with vinegar and water solution but I wanted the shine back. I finally used the Bona laminate cleaner and followed with the Bona laminate floor polish. I am astounded! The floor is shiny, clean and doesn't feel sticky. It is a little slippery for my dog, but I am very impressed with the results. It made my 20 year old laminate look like new.
Read More

Answers

I have laminate wood flooring and it always looks dull. I use Bruce cleaner. What will make it shine?
By suan from Blue Springs, MO

Answers

(Guest)
Gold Post Medal for All Time! 846 Posts
January 18, 2011
0

found this helpful
Laminate floors by nature simply are not shiny. You need to contact your (and/or other) laminate flooring manufacturers to answer this question because if you use anything other than what they recommend not only could your warranty be null and void but you risk ruining the floors.

January 17, 2017
0

found this helpful
I saw on YouTube that Bona Floor Polish is excellent. It can be used on wood laminate floors, ceramic tile, and other floor types.
Answer

this Question