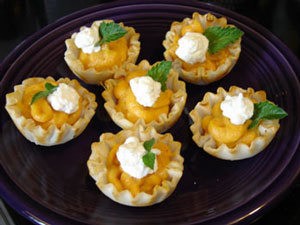 These no bake mini pumpkin tarts are a delicious treat to whip up for your next holiday party.
Ingredients:
15 pack of mini phyllo shells (I used Athens brand)
2/3 cup of canned pumpkin
1 cup whipped cream (or whip your own cream)
1/3 of a box (a little over 1 oz) French vanilla pudding mix
pumpkin pie spice
mint for garnish
Directions:
Take your mini phyllo shells out of the freezer 15 minutes before you put pumpkin in them.
Add 2/3 cup pumpkin and 2/3 cup whipped cream together, whisk until smooth.
Add 1 oz pudding mix to pumpkin and whisk together until smooth.
Put about a teaspoon in each phyllo shell, you can also put the pumpkin in a plastic bag and cut a little bit off the corner and squeeze the contents out into the shells.
Add a little of whipped cream on top (I did the whipped cream by putting some in a plastic bag with the corner cut off, this way you are able to put a tiny dollop).
Sprinkle a little pumpkin pie spice on top and stick a small mint leaf on top next to the whipped cream (optional).
WARNING: The mint looks wonderful but you may find it a bit overpowering for this appetizer.
Comments
By Jennifer,CA (Guest Post)
October 11, 2005
0

found this helpful
These look great! Thanks for the photo!!!!
By (Guest Post)
October 27, 2005
0

found this helpful
This is a wonderful dessert. Thanks for the idea, Bette, Maryland""
By Sandie (Guest Post)
November 18, 2005
0

found this helpful
These look delicious! I would like to try these for Thanksgiving. The only thing I am wondering about is the phyllo shells...do you bake them?
They look toasty in the picture but it doesn't mention baking them. I have never worked with these before, so I am not familiar with them.
November 19, 2005
0

found this helpful
From Stella:
The phyllo shells I used come like that. You don't need to bake them but if you were to make your own shells, you could buy phyllo dough cut it into squares and place them in a mini muffin tin and bake them at 350 for about 10 minutes until lightly browned. You might want to brush a little butter on the shells before baking.
If you buy the premade phyllo shells, they might be a little richer if you brushed a little butter on them, too and put them in the oven for a few minutes.
Read More Comments