February 18, 2016
1

found this helpful
This is a guide about making recycled paper mini trees. Use leftover, wrapping paper, scrapbook paper, or other decorative paper to make cute mini tree decorations for the holidays.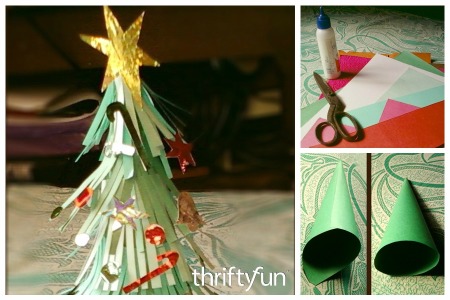 For those of us who sew and buy the large cone shaped spools of black and white thread, keep the empty spools. They make great tabletop Christmas trees for the holiday season. A glue gun and a little imagination goes a long way!
I've wound wild grape vine around the form, then glued green feathers or live holly leaves on top. Split acorn shells work well too as do dried split peas and silver cake decorating balls. This costs next to nothing, just a bit of time and imagination. This would be a great craft idea for kids too.
By Mlina from Amherstburg, ON
Does anyone remember making Christmas trees out of old telephone books?

Kat
By guest (Guest Post)
December 10, 2007
0

found this helpful
Boy, I sure do! I haven't thought about that in years. Only, I don't think we used phone books - too many pages where I grew up. We used magazines, but I am sure it is the same process.
Happy Holidays!
By guest (Guest Post)
December 11, 2007
0

found this helpful
So how is it done? Does anyone know how to do it, or does anyone have a picture of it?
thanks!
December 11, 2007
0

found this helpful
I thought we had instructions here on ThriftyFun but haven't been able to find them. Here are some instructions but they don't have a picture of a finished one:
December 11, 2007
0

found this helpful
I remember making them from Reader's Digest Magazines. Back then I only liked the jokes anyway. Here is a website with instructions to do it
http://www.rd.c -christmas-tree/
although I recollect also folding up the bottom to make the "tree stand" and then painting it brown or black. But the solid gold looks nice too.
Like the other responder, our telephone books were too large for such a craft.
By guest (Guest Post)
December 11, 2007
0

found this helpful
I am sure I remember making a different variation of this in grade school. We did use a magazine, but we cut out the shape of pine tree branches - like a flat half of a tree. Then when you folded it back on itself it fanned out and looked like a tree (with no trunk of course, or it would fall over LOL). I remember it was spray painted gold as well.
Tina - Oshawa, ON
December 11, 2007
0

found this helpful
For Mia, who wanted to know how this was done: you simply fold the pages, including the covers, in half on the diagonal(top left corner to bottom right corner). When completed the front and back covers were taped together and it formed a cone shape. Then we would spray paint them green, then add glitter, those little lick-and-stick stars, etc.... Always a little gold star on top. These were made with the old Reader's Digests which had square pages made of thick paper and cardboard covers. I don't think any of today's magazines would work. If you know of one that would please post it. I'd love to make one of these again!
Spray a tomato cage gold for Christmas. Turn it big side down, tie the legs together with wire or a twist-tie at the top, and there's a quick and easy tabletop tree.

By blindquilter from Front Royal, VA