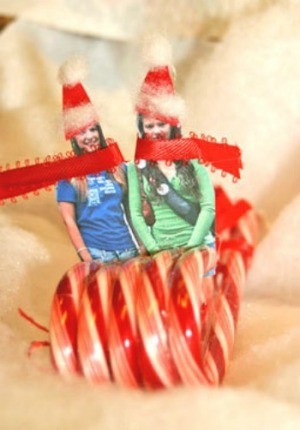 This would make a nice, inexpensive craft for kids in the higher elementary grades to make at a party. Ask them to bring a photo that they are allowed to cut, or let them take digital photos at the party and print out on card stock with your computer. Also makes a great grandparent gift!
Time to make: about 30 minutes.
Cost: About 30 cents for candy canes.
Materials:
5 candy canes, real or plastic
red or green narrow ribbon
Tacky glue, tape
Photo of you, your family, your pet, etc. You may print one out on card stock from your computer.
bits of cotton
red construction paper
optional: plastic wrap, treats, ribbon
Instructions:
Using invisible tape, assemble candy canes to resemble sleigh as shown.
Cover tape with ribbon and tie in bows.
Cut out the people and/or pets from the photo in such a way that it will look like they are sitting on the sleigh.
Cut out tiny triangles from red paper and add cotton to resemble Santa's hat. Place on heads of the people with tacky glue.
Cut sections of ribbon for scarves. Place around necks of people and pets. Arrange tails of the ribbon out to the side so it will look like the sleigh is in motion.
You may add a little bag of treats to sit on the back of the sleigh: Cut out a square of plastic wrap. Add candies. Tie with ribbon and attach to sleigh with tape.
By Cindy Bailey from Waynesburg, PA
Here is an easy craft to make for teachers, co-workers or friends.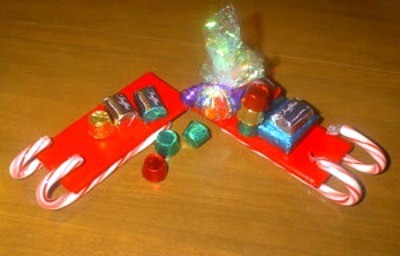 Materials
candy canes (2 for each sleigh)
any flat candy bar, Hershey's chocolate bar works best (1 for each sleigh)
various miniature candy, individually wrapped is preferable. This is a great way to use up the clearance halloween candy.
hot glue gun, with glue
assorted scraps of wrapping paper, tissue papers/cellophane and ribbons
tape
The first thing you need to do is to make the sleigh: Plug in your glue gun in a safe area; clean kitchen counter works well (high up from kids). Wrap your Hershey's chocolate bar with paper. To assemble sleigh, you want to make a line of glue on the bottom of the wrapped bar, on the long side but still underneath. Before the glue cools, press candy cane onto it, being sure the hook is over the candy bar (see photo). Do the same with the other side. Now you may unplug hot glue gun.
Wrap the miniature candy one at a time, or in bundles. You can see in the photo I also took a square of cellophane and placed some kissables in and pulled up the sides, and tied with a ribbon. This works well with loose candy (gumdrops, M&M's). The Christmas candy is usually already wrapped festively so you don't need to wrap them if you don't want to (great for kids too).
Once wrapped, "presents" can be taped on (tape loop) in any way you wish. Use your imagination! You could add a "rope" to pull the sleigh. My husband suggested a miniature chocolate foil Santa in the front. These make great gifts, and fun to make at family gatherings! Kids make them while the parents snack on the extra candy;-)
By starchild from Lamoille County, VT