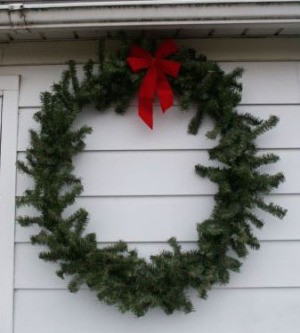 Here is a photo of a large wreath I made for our back porch. I used a big hula hoop then attached branches from our old artificial Christmas tree. I went around one direction using the branches from the bottom 2 sections of the tree and alternated them.
I attached them with duck tape I tore into 1 inch by 7 inch wide strips. I then went back around the other direction with the branches from the upper parts of the tree to cover the duck tape and wire prongs. I poofed it out as I went and then added the bow.
I do plan to get a much larger bow when the after Christmas sales hit, but I think it turned out nice for basically free:) well other then replacing my kids' hoola hoop!
By Melanie mom2_5 from IL (Originally published 12/14/2005)
Comments
December 15, 2005
0

found this helpful
Top Comment
Great idea on using your kid's hula hoop. Also, others might keep this project in mind, next year, when checking out those close-out Summer sales, buy those hula hoops when they're dirt cheap. Another note on this same idea, could also wrap or decorate the hula hoop in silver & pink garland tinsel and decorate with chicks, decorative plastic eggs & bunnies, with a big pink, lavender or yellow bow for Easter, or use your imagination for other holidays.
December 26, 2005
0

found this helpful
Top Comment
I did almost the same thing... One day I was junking and was given this huge wreath form for free. I brought it home, and that fall I used our old christmas tree to make us a wreath. I just wired the branches on, starting with the largest lower ones.
It is so much bigger and fuller than anything I've seen at a store. I got a string of white lights and a gigantic red bow at the "after-Christmas sale" that year. So far it has lasted 8 years with no problems.
December 14, 2005
0

found this helpful
That's really cool. It would be difficult to find such a large wreath in the retail market at any price. Thanks for sharing.
December 15, 2005
0

found this helpful
I love your wreath and the bow is just right. Keep up the good work.
Ziggee
Read More Comments