Making a Costume Jewelry Christmas Tree
Solutions
Share on ThriftyFunThis guide contains the following solutions. Have something to add? Please share your solution!
I make costume jewelry Christmas trees as gifts for family. This one on black background was given to me 30 years ago and made by my 86 year old aunt. It is one of the most loved things in my home.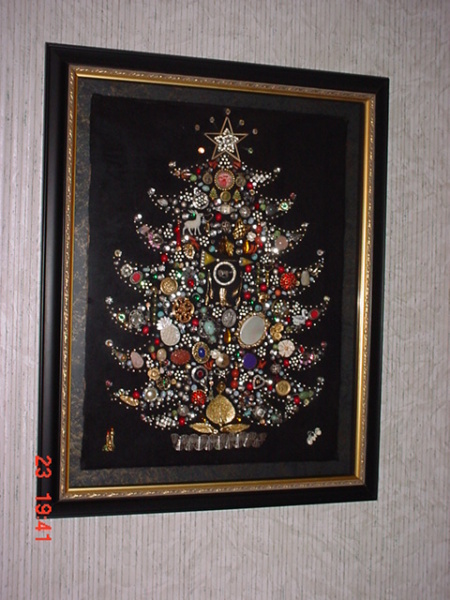 Supplies:
Old family pieces are nice or just collect them at yard sales. They are getting harder to find.
jewelry tool set ($8.00)
pair of tweezers ($3.00)
good strong craft glue ($3.00)
one felt or black cotton velvet scrap
one shadow box frame ($10.00)
several glass beads several sizes ($10.00)
odd pieces of jewelry
Steps:
Choose the size based on the amount of jewelry you have. I have made some small enough to fit in a 3x3 inch box lid for the tree. Others are 5x7 inches and 16x20 inches. That is up to you.
Find a nice piece of cardboard for the back, then glue the fabric to the board with spray glue. Let that dry good.
Start with the top of the tree down about 1 1/2 inches for a header space. Then poke straight pins in measuring same space on each side as you come down the tree. Be sure you have a space at the bottom as well, about 1 1/2 inches.
I line up several large pieces down the center and lay all of the large pieces out before I glue any. I step back and look at it sometimes for several hours. Then glue them once you like the look.
Then go around the edge with small pieces and fill in with small stones or what ever you have. No two are the same. I have made over 30 and hate to part with any of them. Most have been for gifts to relatives using family items they sent me.
Dust the item with a piece of tap rolled around your finger.
Then add the frame.
Do not use super glue, it off gasses really badly once the glass is in place and will turn gold black.
You can also use buttons and let the kids make them.
Questions
Ask a QuestionHere are the questions asked by community members. Read on to see the answers provided by the ThriftyFun community or ask a new question.
Is this a Christmas tree kit? I got it at a sale a long time ago. No one seems to know what I have, but I just came across your site! Maybe you have the answer. Thanks!
By Suzanne from Lafontaine, IN
Answers
April 12, 2011
2

found this helpful
I have known people in the past that made those trees out of old costume jewelry. I have always wanted to make one but never seem to have enough of the right kind jewelry to use.
Read More Answers
Can I buy a Christmas jewelry tree kit?
By Kim from Canada
Answers
December 15, 2009
0

found this helpful
I have not seen a kit for making the tree, but I am in the process of making one. I bought a green floral cone at the craft store and covered it in dark green velvet from an old pillow. I have been adding sparkly old jewelry, from thrift stores and family, as well as the flat back craft stones. The base will be a wooden block, sprayed gold, and encrusted with more craft stones. I also bought some of the small clear lights with a battery pack at the Dollar Tree. This will, I hope, be a beautiful heirloom project, with very little expense involved.
Take a large piece of thin ply board. On the backside, draw a large tree. Drill holes here and there, evenly spaced as you would like them to insert tiny colored lights through. On the front side I glued a large piece of black velvet and make holes where the lights will be placed so they can pop through okay. Where the tree is, glue jewelry: pins, bracelets, pretty buttons, break apart necklaces and bracelets. Use good glue (I can't remember what kind I used but it has to be effective on the jewelry and fabric). Use bracelets as the trunk and base. Be creative. Find a star to use at the top. When I make mine, I always put something to the outside of the tree like a dragon fly, butterfly, bird or something shiny. I will try to get a picture posted later.
You can take a large frame. Paint it if it isn't pretty.
Here are some pics of my tree I made about 30 years ago and still use.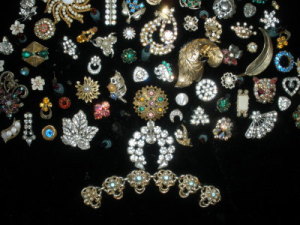 More pics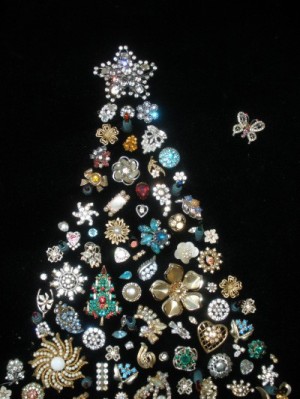 December 21, 2009
0

found this helpful
Last one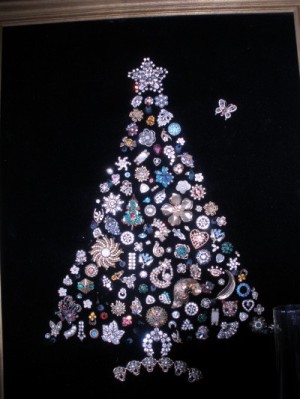 Read More Answers
How do I make a Christmas tree out of jewelry?
By Carol from Bay City, WI
Answers
July 27, 2010
0

found this helpful
I haven't a clue as to how to make an actual tree structure out of the jewelry. I did however purchase a cheap fake Christmas tree at a craft store and simply strung some necklaces about it and adorned it with earrings ( the ones with the hook backings ), I've kept the tree up just as it is year around and I find it works wonderfully just as a jewelry stand. :)
July 29, 2010
0

found this helpful
I made two several years ago like the one pictured. It has some special pieces on it like little gingerbread men and some small leaves from the craft store amidst all the beads. These special pieces really made it meaningful to me. The girl scout pin is a great idea, nursing pin or caduceus etc would be neat.
Read More Answers
February 4, 2015
0

found this helpful
My friend loaned me a magazine with instructions to make a Christmas jewelry tree and pictures. I lent it to a friend who has mislaid it and can't find it. I don't know the name, but it was a few years old. Can you help with the name of the issue? I would like to purchase it if I can.
By Susann S.
Read More Answers
November 7, 2014
0

found this helpful
I have collected the costume jewelry, frame. I am ready to organize the jewelry on the black material. How do I make a tree shape? How do I sew on the jewelry? I have many signed pieces and do not want to cut them or glue them onto the fabric. Thanks for your help.
By Lee B.
Read More Answers
October 27, 2012
0

found this helpful
I am looking for information on making a vintage jewelry Christmas lighted picture frames.
By Rita from Maggie Valley area
Answer

this Question

...
Related Content