These are some Christmas angels I make. There is no real pattern to them, no count, so they're each a little different.
Each type of thread is different, each hook # yields different results. I make the head, neck, and bodice, stuff it, then the torso, attach and stuff, then the arms, and make the wig last.
There was a sculptor (whose name escapes me) who, when asked how he accomplished his figures, shrugged and said "I visualize an animal in the marble, and then I take off everything that isn't part of the animal." LOL Crocheting isn't rocket science, and I just stitch it in the shape of an angel, I guess.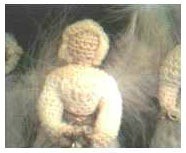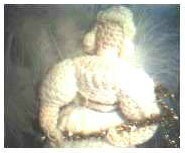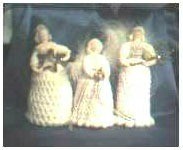 By Doggy