This Santa makes a cute tree ornament, or just make a few to sit in little niches.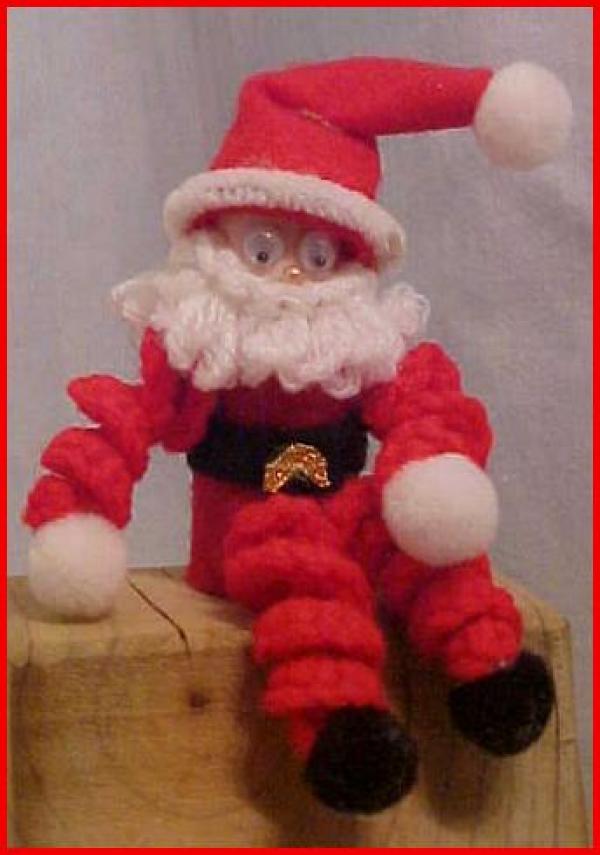 This pattern was originally made using a miniature salt box. Remember when you could buy them to throw in the picnic basket or a lunch box? Then they stopped making them, so I started using a 2 inch piece of broom handle to make them.
Approximate Time: about 3 hours
Supplies:
2 inch piece cut from a broom handle
red and black felt (scraps will do)
piece of rick-rack or silver foil
3 white 1/2 inch pompoms
2 black 1/2 inch pompoms
2 - 5mm wiggly eyes
4mm red bead for nose
pink or flesh acrylic paint
4 inches of small rick-rack or white chenille stem to trim the hat
crochet hook, size C
about 15 yards of red sport yarn for arms and legs
about 4 yards white sport yarn for beard
hot glue gun
Optional: curly white doll hair for beard
Instructions:
Cut a 2 inch piece from the broom handle.
Cut a rectangle from red felt 1 1/2 inches by 3 1/2 inches.
Trim it so the edges just butt up to each other. Do not overlap.
Position the bottom edge at the bottom of the handle.
Glue in place using hot glue.
Paint the remaining top of the broom handle with pink or flesh acrylic paint. Set aside.
Trace the pattern of the hat on the red felt and cut out.
Sew along the edge as indicated.
Cut a piece of white baby rick-rack or white chenille stem long enough (about 4 inches) to encircle the edge of the hat, and glue to the hat.
Cut a piece of black felt 3/8 inch by 3 1/2 inches for Santa's belt.
Glue around his middle (about 1 inch from the bottom).
Glue buckle in center front.
Glue eyes and bead for nose in place, and glue the hat in place.
Fold the hat down, using photo for a guide and use a bit of hot glue to hold it in place.
Glue a pompom to the tip of the hat.
Make the arms, legs, and beard next, using a "C" hook.
Make two arms:
With red yarn, Ch 15.
Make 3 HDC in each ch.
Fasten off.
Twist to form a curl.
Make the legs:
With red yarn, Ch 20.
3 HDC in each ch.
Fasten off.
Twist to form a curl.
Make beard:
With white yarn, Ch 20.
Turn, and make 1 sc loop st in each chain.
Fasten off.
Hot glue the beard around Santa's head just below his nose in the front, and at the top of his coat in the back.
To make loop stitch, put hook through chain as for sc. Then wrap the yarn around your middle finger and pull it out to about 1/2 inch before picking up stitch with hook leaving 1 loop.
Repeat in each st of the chain.
Another option for the beard: If you are not familiar with the loop stitch, you can use white curly doll hair for the beard.
Glue arms and legs in proper position, as shown in photo.
Glue white pompoms to arms and black pompoms to legs.
If you want to hang him on the tree, add a loop of heavy thread to his hat.
By Harlean from Hot Springs, AR
Comments
December 28, 2011
0

found this helpful
Hi, this is my project, and I just wanted to add another way to make this little guy if you do not crochet. substitute the loop stitched beard with a little white curly doll hair, and for the arms and legs, take half a red chenille stem for each arm and each leg. Wrap them around a pencil and then bend them into curved shape for an arm or a leg. Glue one end to the body of Santa and glue the pom pom to the other end. Just as cute as the crochet version.
Harlean from Arkansas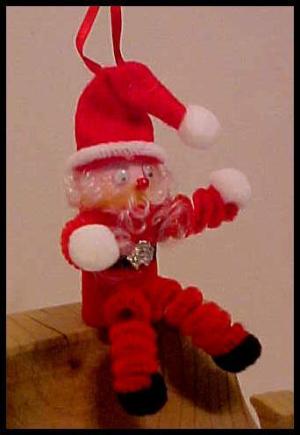 December 29, 2011
0

found this helpful
Harlean, this is darling! I can see lots of elves made the same way, too.