Making a Miniature Christmas Topiary Tree
Solutions
Share on ThriftyFunThis page contains the following solutions. Have something to add? Please share your solution!
Make this miniature tree for Christmas this year. This tree is ideal for a small living space or for an office, and requires just a few basic supplies. The tree is easy enough to make, but don't be fooled by that. It might be a small tree, but this tree packs a huge punch as far as cuteness is concerned.
Total Time: 40 minutes
Yield: one tree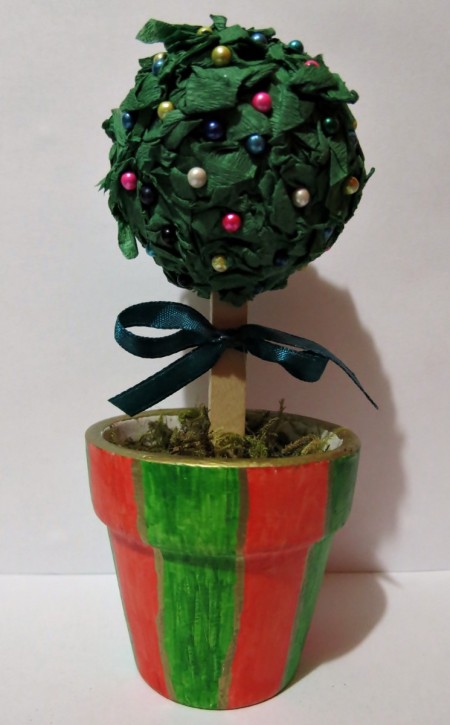 Supplies:
7cm x 6cm sized white terracotta pot
round polystyrene ball with a diameter of 55mm
4.4 inch ice cream stick
sheet of dark green crepe paper
dark green satin ribbon
sewing pins with colored heads
potting soil
small packet of moss
red and green felt-tip pens
Artline golden calligraphy pen
polystyrene glue
quick-drying craft glue (such as Bostik Clear)
clear drying matt spray varnish
pencil
Steps:
Push one end of the ice cream stick into the polystyrene ball to make a hole.
Remove the ice cream stick from the hole and add polystyrene glue to the hole. Push the ice cream stick into the hole again and allow the glue to dry.
Use the pencil to divide the pot into ten sections. To create a more interesting effect, do not use a ruler ~ rather draw freehand lines.
Color the first section with the green felt-tip pen. Make sure to also color the top and bottom edges, so that the pot will have a neat finish.
Color the next adjacent section with the red felt-tip pen.
Alternate between green and red sections until the whole pot has been colored.
Use the golden calligraphy pen to highlight the pencil lines between the different sections. Also color the top edge of the pot with the golden pen.
Spray the pot with the varnish and allow to dry thoroughly.
Cut 2" x 1.4" sized rectangles from the crepe paper.
Take a rectangle and crumple it up. Use a pin to affix it to the polystyrene ball.
Continue adding crumpled pieces of crepe paper to the ball until the whole ball has been covered. Alternate the colors of the pins used, so that it would look as if the tree has been covered with strings of Christmas lights.
Tie the ribbon around the ice cream stick, make a bow and neatly cut the ends shorter. Add a drop of craft glue to the knot so that it won't come undone.
Fill the pot halfway with the potting soil.
Push the bottom part of the ice cream stick into the potting soil. Check that the tree is standing upright and then press down the soil firmly around the stick, so that the tree will remain standing upright in the pot.
Fill the rest of the pot with moss to cover the potting soil.
Make this miniature Christmas topiary tree to decorate your Christmas table this year.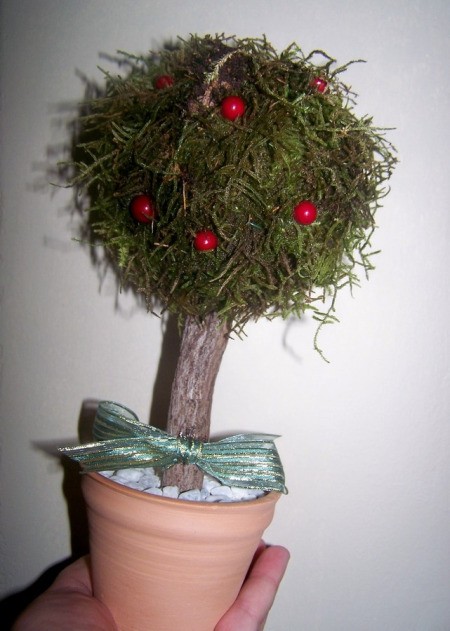 Read More...