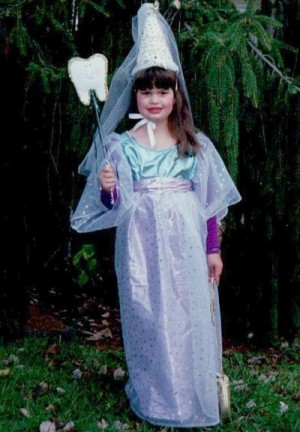 I made this costume for my daughter when she was in kindergarten. I always try to create costumes with great ideas and little money.
The main dress was purchased as small pieces of shiny fabric from Walmart, depending on the size of your child. Just figure it out in your head or ask for help. This one used about a yard of each fabric and a 1/4 yard for the sash of a contrasting color.
The skirt had two layers of fabric - one shiny and a see through one with shiny stars on top - gathered by loose hand stitch with no pattern and attached to bodice which I also loosely cut with a curve for the neckline. I hand stitched the edges of the bodice by turning the raw edge under along the neckline and then attached it loosely to the skirt. The back of the neck I left open and used a piece of ribbon for the tie. Machine sewing is much easier but I didn't have one.
I put a sash which tied in back from a contrasting fabric. It was just cut out not even stitched. The sleeves of the dress again were of a see through fabric and hand stitched on the bodice of the dress, with just a bit of loose gathering at the shoulder area.
The hat was poster paper shaped like a a cone, stapled. I added strips of fabric with glue to the tip of the hat to hang loosely. This hat would also work for a princess. I used glue to make the letters for the words "Tooth Fairy" and then glittered the glue in silver. I put ribbon , but you could use elastic cord, on the hat to tie under the chin and punched two holes in each side of the paper hat to put the ribbon through.
She carried a wand with a tooth. The tooth was made out of a white foam 8 1/2 x 11 sheet purchased for $1 or less at Michaels. I cut out the tooth in two parts and glued it together along the side of the tooth and inserted and glued a dowel which I purchased at Michaels for about 25 cents. I drew a happy face on the foam with a marker and colored round cheeks with paint - light pink - and glued all around the tooth and glittered the glue.
She carried a gold lamé purse for the teeth she was collecting - after all she was the Tooth Fairy. I found that at a Thrift store but you could stitch one out of a square and put a ribbon as a handle. It was not for the candy, just for show.
She wore a long sleeved top under the costume because it was cold but if you live in a warmer area you would not need it.
You can see how cute the costume turned out. Just put your creativity to work. Over the years, I have spent very little on costumes for my kids but I have been creative. They have always had the cutest costumes and were so happy and proud to wear them.
By Vicki
Comments
October 10, 2010
0

found this helpful
The cutest costume my older daughter ever wore was the year she went as Tinkerbell. A long, green t-shirt cut jaggedly just below hip level, matching pantyhose and flat shoes or slippers.
the sleeves were cut mostly off and those pieces were her bag of "pixie dust." A friend came up with it, wish I had. You get thumbs up for your creativity and handiwork.
October 11, 2010
0

found this helpful
This is adorable! Great job! That's the best idea ever, and the fact that you made it, is fantastic! Bravo!