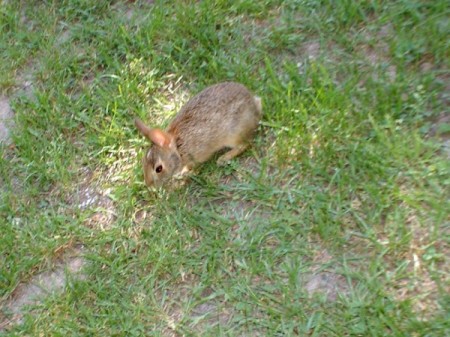 Photo Description
I have a small area on my property shaded with old maple trees. It's my summer hangout. I try to make it more pleasant by growing flowers beneath the trees.
Parts of it are often unsightly because I do a lot of work there too, composting, etc.
Care to guess what's in pic 3? It's not dirt. It's grass! It's lawn clippings that have been piled up for several seasons. They have decomposed to a dark, powdery, humus like substance. I'm growing tomatoes in the pure stuff. Looks like I might have a bumper crop this year.
I spend a lot of evenings in this sanctuary/workshop. While doing so recently, I noticed many more rabbits than usual. I thought 'What the heck, I have more lettuce seed than I'll ever use. I'll plant a patch for the rabbits'. I did just that, in the dappled shade of the smaller maples. Have I had any guests for dinner? Not nary a one! Shows you just how ungrateful those little critters are. I'll know better next year.
Well, there is an ugly side to life, too. A week ago, while sitting in my back lawn and looking across the way, I noticed a neighbor from the next block. He was trespassing on a near neighbor's property. He was headed back to his house. In his hands were a large, dead rabbit, presumably a mother, and a much smaller rabbit, presumably it's baby.
Since then, I have been befriended by a small rabbit. I do believe it to be a baby of the rabbit killed by the neighbor. This little fella seems to like me. Every day, within five minutes of sitting in a lawn chair out back, it appears. I think it's lonely. Each day it comes a little closer, and it comes to dinner! It seems it prefers my personal lettuce patch.
He eats and watches me and eats some more. Then for dessert, he comes near my feet to munch a bit of clover. Life does have an ugly side. That side is wonderfully counterbalanced by a sweet side
Photo Location
NC
Add your voice! Click below to comment. ThriftyFun is powered by your wisdom!
Add your voice! Click below to comment. ThriftyFun is powered by your wisdom!