Opening Presents on Christmas Morning
Solutions
Share on ThriftyFunThis page contains the following solutions. Have something to add? Please share your solution!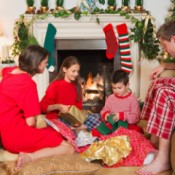 One tradition my husband introduced to my family when we married 42 years ago has become a custom of all of my sibling's families also. I would like to share it with you.
At Christmas, my family used to tear in to our packages all at one time and in 15 minutes all of the excitement and fun was over. No one knew what anyone else got or what they thought of the gifts we gave each other. While my husband's family opened one package at a time youngest through the oldest. Everyone enjoyed seeing reactions and everyone was able to properly thank those who gave them their gifts.
The older grandchildren read the tags and the little ones help pass out the packages. A parent of each family is handed a large trash sack and they keep their trash picked up as we go. My husband and I are the oldies of the family now and we let our youngest grandchildren help us open ours.
We enjoy it as much as they do.
When all of the packages are opened, Presto! no cleanup, no parts to toys lost, and we have enjoyed great family time opening gifts for a couple of hours or more.
A hint I read this year, is to make a picture of the recipient for gift tags and write who it is from on the back. This way if little ones are handing out packages they will know who the gift is for and what child doesn't like to see him or herself in a picture? Take it a step farther and put a picture of the child and one of you if the package is from you.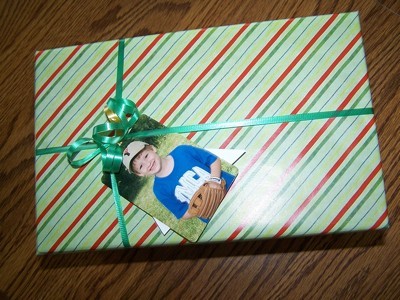 By latrtatr from Loup City, NE
Do you have a frugal story to share with the ThriftyFun community? Submit your essay here: http://www.thriftyfun.com/post_myfrugallife.ldml
Comments
January 8, 2011
1

found this helpful
Top Comment
We also took turns at opening one parcel at a time. This prolonged the excitement and allowed everyone to share anticipation.
December 19, 2014
1

found this helpful
Top Comment
My family has done this for over 40 years. I like the idea of using a photo as a gift card. We also take a picture of the recipient with the gift.
When it comes to opening gifts it can get a little hectic. We found a way around that. When I married my husband, he introduced my family to his way of opening the gifts. His family started with the youngest opening one gift and worked their way up the line to the oldest then started over again.
That way all know what everyone got and each person got, the chance to thank the giver, and the giver was able to see the reaction to their gifts. It also makes the gift time last longer. Our family has adopted this tradition and loved it!
Merry Christmas all.
By Ann Winberg from Loup City, NE
Comments
December 9, 2009
0

found this helpful
Top Comment
I have a disabled daughter that lives with me and we open out presents on Christmas Eve, then on Christmas Day, when we have company, we started the rule of youngest child goes first, when I had my third grandchild. The youngest is now going on 14 and still goes first. I also pass a garbage bag around to each person to put their wrappings in, that way gifts don't get lost in a pile of wrapping paper. My apartment is small and everything more or less gets piled on the floor in front of each person leaving very little floor space. Plus I am getting cranky in my old age. lol
December 20, 2010
0

found this helpful
Top Comment
In our house it was Santa on Christmas Eve and personal gifts on Christmas Day. On the Eve we went to church and Christmas caroling then drove around looking at the lights. When we got home (about the same time our father, a police officer, got home from his evening shift :), we found Santa had been there.
We were allowed to have the "Santa" gifts (anything unwrapped) then take those items and our stockings and go to our rooms. We could stay up as late as we wished as long as we were quiet. Of course we stayed up late playing with our new toys and slept in the next morning so Christmas dinner was almost ready when we came dragging out. I thought my Mom was pretty smart because she was able to cook it without kids underfoot.
After an early Christmas dinner we would line up on the couch and my Dad would distribute the wrapped gifts one by one down the line and allow time for opening and sharing everything before moving on. Most of these gifts were clothes or practical items but there were always a couple of fun surprises.
December 20, 2010
0

found this helpful
Top Comment
We did the same, taking turns opening gifts. When the family got too big, we would have two opening gifts at a time, but never more. (And when Mom was opening a gift, no one else could - otherwise, she loses track of who got what!) I like that idea of starting with the youngest; they are the most impatient. We had the youngest one who could read (even a little) pass out gifts from under the tree - they felt SO important, and it kept them busy the whole time.
Generally, every child should have the same number of gifts, but not necessarily Mom and Dad; and when a child gets old enough to want a really expensive gift, he doesn't also get the same *number* of gifts as the little ones. It's surprising, though, how the little ones will keep track and protest, "but he didn't get as many as I did!" or "Where are the rest of your presents, Mommy? Is that all you got?"
This is for all grandparents that miss the grandchildren on Christmas morning. My husband and I have done this for years. With everyone so busy now, grandparent time is often the last on the list. So, we arrange for an overnight with the grandchildren, sometimes before Christmas and sometimes it works out to be January. It gives the parents a chance to shop for the kids or have a night to themselves.
We pretend that it's Christmas Eve and bake cookies and watch Christmas shows. We hang up our stockings. Then Christmas morning, we have the thrill of watching them open our gifts and those the grandchildren have for us.
Then instead of a regular Christmas Dinner, we have a lunch like Poutine Fries, and mini homemade pizzas with ice cream sundaes with all the toppings. The kids love it, no matter if it's before or after Christmas. We, of course, go right to bed as soon as the parents arrive to pick them up, LOL.
It is so worth it and its allowed us to be there for Christmas morning every year. Hope you like the idea, it's a private special time for us that we hope to continue for many years.
By Gail Vance from Toronto. Ontario, Canada
Comments
December 29, 2009
0

found this helpful
Top Comment
This is a clever idea and should make for happy parents as well as the children having an "extra Christmas". Thanks for sharing a good idea.
December 26, 2012
0

found this helpful
Top Comment
This is one of the best ideas that I have seen on this site! Thank you for sharing!
Opening Presents One At A Time. My brother-in-law's family has a tradition of opening presents that works very well in large family gatherings. Rather than all tear into the wrappings, sit in a circle and each person going round can choose one present to open (until they are all open).
Read More...