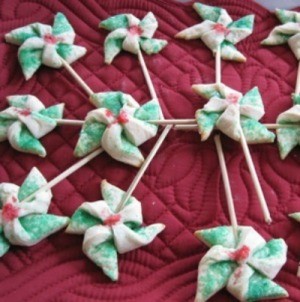 These look so pretty and can be used for Christmas or a New Years' party. It is not as sweet as some cookies.
Ingredients:
3/4 cup butter, softened
8 oz. cream cheese
1 egg, separated
1 tsp. vanilla
2 cups all purpose flour
1 cup powdered sugar
1 Tbsp. baking powder
parchment paper
30 wooden skewers or popsicle sticks
1 cup red sugar
30 green M&Ms (optional)
Directions:
Beat butter, cream cheese, and egg yolk until smooth, reserving the white for later. Stir in flour, powdered sugar, and baking powder. Mix until stiff dough forms. Cover with plastic and refrigerate for an hour or more. Lightly beat egg white and set aside.
Preheat oven to 350 degrees F. On lightly floured board, roll dough, 1/2 at a time into a 15X9 rectangle. With sharp knife (I used pizza cutter) cut the dough diagonally to within 1/2 inch from the center of each square. Sprinkle about 1 tsp. red or green sugar over each square. I used green because that is what I had in the house.
For the center, I used jello. Fold alternate corners of the square to center for pinwheel, overlapping the dough at the center pushing down gently to seal in center. Press one M&M in center or using the handle end of a wooden spoon, dampen and stick the end in sugar to make center (that is what I did)
Servings:
30
Time:
2 Hours Preparation Time
11 Minutes Cooking Time
Source: From Food Network but I tweaked it and added sugar and vanilla
By Elaine from IA
Comments
December 29, 2009
0

found this helpful
Top Comment
Ausjulie, sorry I didn't include the size. I cut out 3" squares but you can make the size you want. The egg white is brushed on so the colored sugar will stick. You could probably use water too if you want or even milk. I would think the milk would make it brown better if that is the look you want. Also I used the long wooden skewers that you can buy in the dollar store and broke them into thirds.
December 28, 2009
0

found this helpful
Looks exciting for kids to try, but what size is each square, before you do diagonal cuts? And when do you use the egg white?