January 4, 2017
4

found this helpful
As far as ants go, and they do, I have my feeder hanging on a
Shepherd's hook. My husband wrapped a piece of double-sided tape around the pole and the ants are not able to cross it.

May 11, 2017
2

found this helpful
Use a little vaseline, in place of the tape, it works great

May 27, 2017
0

found this helpful
My granny put a big glob of Vaseline on the wire holding her feeder no ants can crawl thru it works prefect

June 10, 2017
1

found this helpful
Vaseline isn't good to use around hummers because it can get on their feathers & affect their ability to fly.

July 23, 2017
1

found this helpful
I have kept bees and wasps away from the hummer feeders for years by applying mint extract from the cooking section at the local grocer. I dip a Qtip in the flavoring and dab it around the feeder port's bottoms, when the feeder comes apart for cleaning and on the ports of the feeders as well.
This seems to do the trick and lasts during rains. For the ants and other creepy crawlers, I use the right side up ant moats filled with water.

Catherine
Bronze Feedback Medal for All Time! 131 Feedbacks
July 24, 2017
2

found this helpful
Actually the death rate of honeybees is such that you should be feeding bees more than humingbirds. 80% of the plants we eat depend on pollination by bees to survive. How about multiplying the feeders or hanging fruits for bees and wasps, like pears or apples or other juicy fruits and most of all planting flowers that bees love and of course stop using pesticides. Be informed of the situation of the bees here :
www.theguardian.com/.../honeybee-deaths-too-high-longterm...
and learn to help pollinators here : millionpollinatorgardens.org/
Hummingbird is good for your eyes, bees are good for your health, there is no reason to chose between the two, they can live together and you can help them.
Hope this help the bees !

March 23, 2018
0

found this helpful
There are ways to keeps flying insects from ,including bees from feeders. I have hummers and lessened bee intrusion by providing bees with their own well placed feeding stations.
Bees like a set location for feeders so moving hummer feeders often does help a lot.

March 24, 2018
0

found this helpful
Hi fellow "birder". I sure understand your problem.
I haven't had an ant problem in years (since I put up the ant moats). This will eliminate your ants from ever getting to your
hummingbird feeders, ever again.
As for the bees, your picture looks like mine, before I realized these little feeders (I have four of them) like yours here, they
drip. You need feeders with the port holes facing upwards,
so the bees, wasps, nothing, then can find anything to eat and
then they leave.
I'll take a picture and post it so you can see what I call "flat feeders" which will not allow bees to eat from them so they go
away, and then the hummers can enjoy them again.
After the bees leave, which usually takes about 4 days, because they'll keep checking on the feeders for a few days first, then when they realize there's nothing, they go - then that's when you can hang out your little 4oz feeders again, and your hummers will be happy!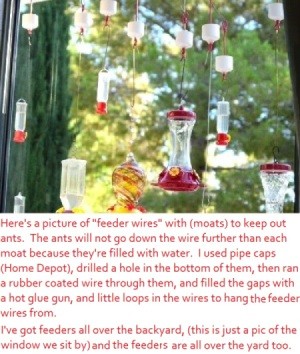 March 24, 2018
1

found this helpful
I hope you get a kick out of this picture!
In "paints on the computer" I'd drawn little Santa hats on our little
guys, as they all sat there and ate at this one particular feeder-and I called them the "Breakfast Club".
It was raining outside that day and I've noticed over the years that when it rains, the hummingbirds seem to be in a very sharing mood towards each other, as usually, they want each feeder to themselves.
This is what I call a "flat feeder" as the port holes for them to drink, faces upwards. Any feeder like this, where the holes aren't on the side of the feeder, won't drip, and the bees cannot get anything to eat, so they leave in less than a week (for good), or
until the next year.
After the bees are gone, (since they can't get any food/nectar), then I put my little feeders back out again, since the hummers love those little 4 ounce'ers so much.
Both pictures I've posted, if you click on the pic, it will enlarge.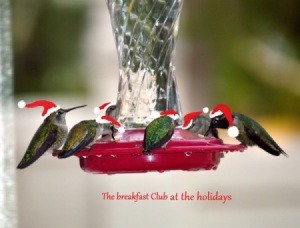 March 24, 2018
1

found this helpful
Here's another with the port holes facing upwards.
These type of feeders will not, and cannot drip.
Bees and wasps cannot get anything out of them which is
why they leave, then the hummers can enjoy again.