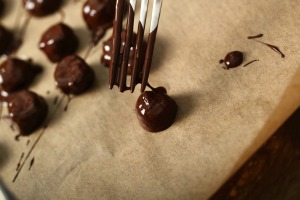 I was wondering if anyone has a quick recipe for some candy that is good. It can be any kind, as there are no allergies. Thank you!

Answers

October 8, 2007
0

found this helpful
I haven't tried to make it myself, but I did eat it and it was delicious. Take a can of condensed milk and cook in a pan. It should become a tan/toffee color and stick together. She then cut it into pieces the size of tootsie rolls. She said that was all there was to it. Good luck.

October 8, 2007
0

found this helpful
Last Christmas I made some "Believe it or Not" Potato Candy. Take a med potato, boil the tater w/ skin. after its done, peel, place on a plate and mix with powdered sugar.Keep mixing and adding powder sugar until it makes a soft dough. Roll out, into a round "pie crust" fill with your favorite filling.
(like making cinnamon rolls, my boys love it with peanut butter.) Then jelly roll it, slice into slices, place into refrigerator for about 1 hour. Enjoy! Makes one pound. Great for the holidays.

Myrna
Bronze Feedback Medal for All Time! 168 Feedbacks
October 8, 2007
0

found this helpful
Easy Fudge
1 tub of cake frosting (chocolate)or(vanilla)
1 tub of peanut butter (smooth)or(crunchy)
In bowl, empty cake frosting and fill tub with equal amount of peanut butter. Empty into the bowl and mix
both ingredients together by hand until blended. Pour into pan and let sit in frig. Cut into fudge squares and serve.
NOTE: I really cannot tell that much difference in flavor of peanut butter mixed with chocolate frosting or peanut butter mixed in vanilla frosting.

joan pecsek
Bronze Request Medal for All Time! 66 Requests
October 8, 2007
0

found this helpful
1 bag(about 12 ounces)white chocolate chips
1 cup marshmallow fluff
1 cup quartered gum drops in various colors
1 cup salted peanuts
Line an 8x8 inch pan with a piece of heavy duty aluminum foil large enough to hang over the sides. Grease heavily with butter or margarine. Set aside.
Put chips and fluff in a large saucepan and cook over low-medium heat, stirring constantly, until melted and smooth. Remove from heat and immediately stir in gum drops and nuts. Immediately pour into prepared pan. Let set overnight.
Next day, grab by foil to remove from pan. Cut into whatever size you like.
Note: the easiest way to slice gum drops is to grease the knife with PAM, margarine, etc....

October 9, 2007
0

found this helpful
If you like candy with nuts, melt white chocolate, milk chocolate, or dark chocolate candy bark. Stir in peanuts or cashews or a mix of nuts that you prefer. Spoon onto waxed paper. Allow to set up. This can be frozen for later use also.

October 10, 2007
0

found this helpful
My mom sent me the above link for Oreo Cookie Balls. She says they are quick and easy. And my dad (a big candy guru LOL) loves them!
Good luck!
By marie (Guest Post)
October 10, 2007
0

found this helpful
Paula Deen's peppermint bark is SO EASY! Melt 1 pound of white chocolate and add 1 cup of coarsely crushed peppermint candies (starlight mints or candy canes). Add 1/2 - 1 teaspoon of peppermint extract (if desired).Spray a large cookie sheet or jelly roll pan with non-stick cooking spray & spread out evenly. Put the pan in the fridge until it is set, then break up into chunks & enjoy!
By (Guest Post)
October 10, 2007
0

found this helpful
Almost just like one of the others, take a pkg of almond bark, I use chocolate, a small can of crispy chow mein noodles, and a can of cashews. Melt almond bark in a double boiler or very low heat, when melted mix in the noodles and cashews.
Drop by spoonfuls on waxed paper, let set up, and enjoy. My family calls these Chocolate Haystacks.. yum. I make them every holiday.
Read More

Answers