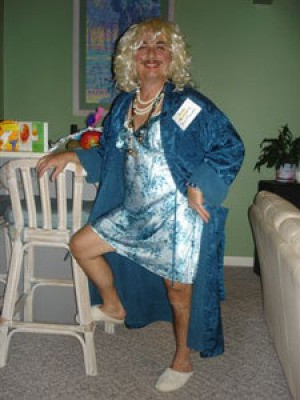 Halloween is fast approaching! Here are some easy and inexpensive Halloween costumes for adults and children alike, using sweat suits and stuff you have laying around the house. Our family has dressed in these costumes over the years with great success, winning contests and receiving many compliments!
Skeleton Costume
Using a black sweat suit (or only the top if you prefer) cut "bones" from white fabric to which you've attached iron on adhesive. Paint your face white and then, using an eyeliner pen and black Halloween makeup, create a skeleton like face as scary or not as you prefer.
Bat Costume
Use a black hooded sweatshirt. Cut an umbrella apart (purchase several from the dollar store). Pin umbrella to sleeve and side of sweatshirt using ZIG-ZAG stitch, secure the umbrella to make wings. Use black felt to make "bat ears" (triangles) and sew to hood. Decorate your face using white paint and a bit of red "blood" for a vampire look.
Devil
Decorate a red sweatshirt with glitter paint and boa for a more elaborate look or just leave plain or write "the devil makes you do it" to the front/back of shirt. Add devil horns, tail and pitchfork. For a sexy look, use a skirt and red fishnets.
Pussy Cat
I used a black costume but you could use all white of you prefer. Sew a boa around the neck. Create "paws" using gloves (add pink felt "pads" if you desire or fake nails glued on for "claws"). Using an old headband, glue felt "ears" to top (Pointy). Add a tail made of an old sock and a wire or use the leftover boa. Paint the face to resemble a cat. Pair with a stuffed mouse to complete the look (we used a rubber band to secure the mouse to the child's wrist).
Dalmatian (Dog)
Use white sweat suit painted with black spots. Create "paws" using gloves (add pink felt "pads" if you desire). Make a tail using an old sock. Using an old headband, glue felt "ears" to top (floppy). Paint face to resemble a puppy.
One daughter went as a ShihTzu (little pony tail at forehead, dressed in brown, with a dog collar) Cute!
Spaghetti and Meatballs
Dress in a red sweat suit. Add "hanks" of yarn or an old mop strings for spaghetti. Add large brown pompoms for meatballs. Top head with an old colander. Carry a jar of Parmesan cheese.
Bubble Bath
Paint an old oblong box to resemble a bath tub (you could cut the bottom out of an old tub to resemble a wash basin). Dress in pink or skin color. Add white balloons (blown up) as bubbles. Top head with shower cap. Carry a bar of soap and a scrub brush.
Ima Floozy
Dress your husband up in a wig and nightgown or an old cocktail dress. Make up face and don't forget to add the beauty mark!
This one REALLY scared our young daughter. She refused to kiss her dad goodbye!
Ready for bed! (ADULT)
Find your old flannel PJs or ratty bathrobe. Put curlers in your hair. Rub face cream on your face. Carry your old teddy bear. Complain to everyone at the party that you can't understand why your love life is so pathetic. This is really a fun one if your husband can't attend with you.
Pair of Dice
Paint a box white. Add black circles cut from construction paper or painted onto resemble a pair of dice, cut holes in side for arms. Wear a black shirt. Paint face to resemble a mime, if desired.
Scarecrow
Dress in old flannel shirts and jeans. Add a rope belt. Use yarn, fake or real straw (itch advisory) to cuffs. Add a straw hat to which you've secured a fake crow. Paint freckles on your face. Carry a pitchfork or corn shocks.
Chicka Chicka Boom Boom (suitable for book character)
This requires a green sweatshirt and brown pants. Using a sponge cut in the shape of leaves, paint leaves on shirt front and arms. You can paint legs to resemble trunk or leave plain. Sew magnetic letters on the shirt front. Our daughter wore this to school for "Book Character Day" and was very well received. Use this costume if you are an adult. You could do this as a tree only and hang a few fake coconuts on you. Wife could go as Hula Girl.
Fairy
This is cute if you a little "plus sized". Tiny Fairy wings and halo. Add a skirt made of chiffon, if you want. Painted face.
For the "Blue Fairy", use a blue suit and blue makeup. Have your husband dress up as Pinocchio. Container of glitter (fairy dust) to sprinkle liberally as you grant wishes and a magic wand, of course!
Super Hero
With the right face painting, you can turn into Spiderman or the Hulk, paired with a sweat suit of the right color combo, trimmed with some felt scraps and a glue gun.
Pirate
Black pants cut ragged on bottom. Grey sweatshirt cut ragged on bottom. Red fabrics scrap for belt. Bandanna for head covering. Large gold hoop earring. Tooth black. Eye patch (purchased or made from black felt scrap). Mardi Gras necklaces as fake jewels (carry in an old shoebox to fake as a treasure chest. Toy sword and toy parrot (secure to shoulder). Practice saying "Arrrrrgghhhhggg Matey, give me all yer candy" or "I'll make you walk the plank". Walk with a swagger
Face painting
Scan the web for pictures of painted faces to give you a template of how to apply the Halloween makeup. Makeup is MUCH SAFER than a Halloween mask. And more comfortable too!
Face painting photo galleries websites
Or make your own Halloween face paint (I prefer to use commercially available products purchased AFTER the holiday, however)
1 tsp. cornstarch
1/2 tsp. water
1/2 tsp. cold cream (supposedly this keeps the food coloring from permanently coloring the skin)
1 to 2 drops food coloring
In a small bowl, combine water and cornstarch. Mix in cold cream. Add food coloring.
By Diana from Prospect, KY
Editor's Note: If you have an easy and inexpensive Halloween costume idea, share it below.