How do I get rid of facial hair in a natural way?

Chinnu

Answers:
Removing Facial Hair Naturally
If it's a few stray hairs, just pluck them with tweezers, after a while they don't grow back. Which is why you don't want to over pluck your eye brows. (08/17/2007)
By pam munro
Removing Facial Hair Naturally
This is a wax I use, clean your face, put corn starch on affected areas if needed, 2 cups sugar, 1/4 cup lemon juice, 1/4 cup water. Heat and stir constantly till dark brown. With Popsicle stick apply over area while hot, take piece of muslin that fits spot and rub over area. Pull off very fast in a reverse motion. This lasts me 3 weeks and makes new incoming hair finer. I keep in fridge and reheat when needed. (08/17/2007)

By Sandra S.
Removing Facial Hair Naturally
This will sound really weird, but shaving works really well. It also exfoliates your skin and makes your face glow. I didn't believe it when my mother-in-law told me about it, but then I decided to try it once, just for the hell of it. My skin is so smooth and clear of any blemishes. Just don't tell your husband.(08/17/2007)

By Beth
Removing Facial Hair Naturally
I actually prefer to bleach mine. My skin is too sensitive (and my hair too stubborn) to shave well. I use the Jolen brand, which is as natural as you can get for a hair bleach. (08/21/2007)
By Courtney
Removing Facial Hair Naturally
Tweeze or wax. Don't shave. I am a licensed aesthetician specializing in hair removal. Shaving cuts the hair off in the middle and blunts it, causing it to feel like a whisker. Your hair grows in three different phases. When a hair is falling out naturally, another is growing right behind it pushing it out. So, by tweezing or waxing regularly, you will be removing hair from the follicle and will eventually have little or no hair growth in that area just as pamphyila said.
Any hair that grows back will be softer and lighter. Another form of hair removal is called threading, in which cotton thread is rolled along the hair and the hair is pulled out. This is an old technique and is becoming more popular in our country recently. It is however, very expensive to have done in the salon/spa setting. (08/22/2007)

By Sharon
Removing Facial Hair Naturally
Everyone here should try threading. It is way better than waxing, bleaching, or shaving (of course). What they do is that they remove the hair with thread, pulling a bunch of little hairs off your face. It's kind of like tweezing, but it's much faster and you only have to do it once/month. I only pay 6 dollars to thread my entire face, including eyebrows. (11/28/2008)
By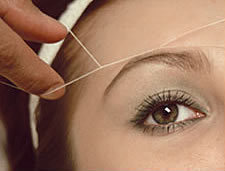 Removing Facial Hair Naturally
Wax Recipe
Ingredients:
2 cups sugar
1/4 cup water
1/4 cup lemon juice
Method:
Pour the sugar, water and lemon juice in a saucepan, and heat it over a low flame. Keep stirring the mixture until all the sugar has melted, and you have a thick brown liquid. Let it cool slightly.

Waxing Technique:

Test the temperature before applying the wax to your skin. It should be hot, but not scalding, or you can burn yourself. Once the wax has cooled slightly, test it on your finger. Blow on it to cool it with your breath and apply it to your skin with a butter knife, in the direction of hair growth.
Place a clean cotton cloth strip on the wax and yank it against the direction of hair growth. Wipe the area clean with a cold cloth after you've finished waxing.
You could also apply ice to the waxed area, to close and tighten pores. You may notice that your skin has turned red, or that you have tiny bumps on the skin immediately after waxing. This is a normal reaction, and the redness and bumps should disappear within an hour. Applying a moisturizer or soothing lotion will help.

If you can still see sugar particles in the wax, the hair will probably not come out and you would need to re-cook the wax.
(02/22/2009)

By Corrine