Does anybody know how to remove scratches from eye glasses?

Upulgamage

Answers:
DO NOT USE ARMOUR ETCH FOR GLASS LENSES
With all these reviews you read here about using Armour Etch to get rid of scratches on eyeglasses, take heed. I ruined my glasses and made them worse by using it. Now I have to go get a new pair. It left a foggy part on my glasses then I decided to do the whole lens. It was removing something from the glasses and scratching them more than they were. So please take my advice and don't use for eyeglasses. (08/23/2008)
By Kelly B.
Repairing Scratched Eyeglasses
Here is what finally took the anti-glare coating off my eyeglasses. It doesn't get easier than this. Buy a can of Mess Master. It is marketed by a company called Design Master. Spray it on both sides of the lenses. It will not harm plastic or glass lenses. It did not harm my metal frames. It will immediately raise the coating. Clean with a soft cloth. Wear gloves and use it outside, it stinks. Very fast and clean, amazing, and wonderful. Wish I had used it first. (09/04/2008)

By gail
Repairing Scratched Eyeglasses
I tried with using toothpaste on my anti reflective (AR) prescription lenses, takes quite a long time to clear the AR coating though. But it really worked. (09/04/2008)

By Pyarn
Repairing Scratched Eyeglasses
My very old can of BRASSO (Price tag 48 cents) did a fast, perfect job of removing the cloudy, scratched AR coating from my hi index lenses. Thanks for the great tip. (09/07/2008)
By Codman
Repairing Scratched Eyeglasses
If the scratches are not too severe you can polish the lenses with RainX. It will fill in most minor scratches and also repel dirt and moisture. It will also keep glasses from fogging up in climate changes. (09/10/2008)

By Moish
Repairing Scratched Eyeglasses
Ditto on avoiding Armour Etch: it did not, repeat not, help remove scratches from my hi-index plastic eyeglass lenses at all. Only made them cloudy, more scratched and impossible to see through. I don't know if this means any anti-glare coating they may once have had is long gone, and the scratches are on the actual lenses themselves, or if this means there are a lot of stockholders in Armour Etch online, but I know from my experience I'll never buy this again.
Armour Etch: fine for etching glass as a hobby, terrible for repairing scratched eyeglass lenses. (09/16/2008)

By goryboy
Repairing Scratched Eyeglasses
I tried the Armour Etch and it did just what I read here. It took the scratches right off. I am so happy because I have had these glasses for the past two years just sitting in a drawer. They were too cloudy to wear at all. This product worked like a charm. I got it at Micheal's for $10.99. (10/03/2008)

By Joyce G
Repairing Scratched Eyeglasses
I got regular Crest toothpaste, and scrubbed with a tooth brush about 3 minutes and rinsed off, and repeated about 12 times (front and back), until all the AR coating was gone. No scratches, they were better than new. After bringing them to Walmart, and seeing my warranty had run out, they said it would be $244 for new ones. I will never buy AR coating again. What a scam. Not only are my glasses clear, they are minty fresh-ha. (11/19/2008)
By Mike R.
Repairing Scratched Eyeglasses
Mine were both scratched and cloudy. I used Mothers Carnuba cleaner wax (bottle, not paste) and several soft cloths. It's not only safe for clear coats (you can use the rest to polish the car) but it worked pretty well on my 10 year old lenses. (11/25/2008)

By Adhell
Repairing Scratched Eyeglasses
I had coating problems with my last pair so I tried to get them to give me lens with no coating. As I remember it was set up that way and then there was some "oh but they all have this coating" bad news when I went to pick these up.
I couldn't find the Armour Etch but I did find the Whinks at Wal Mart and thanks to Mr Greenman I gave it a try. We tried it on one lens of an old pair first and it worked great. The picture shows the contrast on the old pair. Then we did the new ones. It's a sobering thing to do this when you depend on the glasses and I wouldn't have even thought of trying it without about 2 dozen of you saying it worked.
It worked. We approached it cautiously concerned the Whinks would hurt the lens, so we ended up getting most of it the first time with 1 to 4 Whinks to water the first time then we added another shot of Whinks and left both lenses another 5 minutes. There are some scratches but the AR crap is off. Thanks a lot and $200 + saved. (11/29/2008)

By Don M.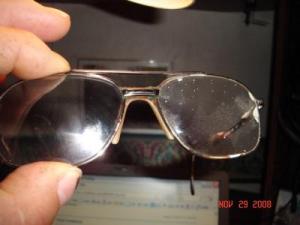 Repairing Scratched Eyeglasses
I was trying the toothpaste remedy, which was working, but very slowly. Since I use a baking soda paste to whiten my teeth and it doesn't scratch the enamel, I decided to try a baking soda paste on the plastic lenses. The paste worked faster and just as well as the toothpaste option. (12/02/2008)
By LJ
Repairing Scratched Eyeglasses
For those out there with scratched Anti-reflective coating on their PLASTIC eye glasses, the best solution to use is Armour Etch found at craft stores. Don't waste your time trying other things, this product really works.

Just put a thick coating on the lenses (one side at a time). Wait 5 minutes and rinse, no need to rub or scrub. Wish I could tell the world about how well this product works to remove the AR coating on plastic eye glass lenses. I also was skeptical about using it, but don't be as long as you have plastic lenses. Don't use on glass lenses, this product is used to etch glass, but does not effect plastic.

I can see again! (12/08/2008)

By Rainbow
Repairing Scratched Eyeglasses
Was I heartsick when I got a bad scratch right in the middle of the lens from a bad hit with a truck side view mirror so, I took the best of this blog and placed my old electric toothbrush in a bit of Dutch cleanser and pressed the button and did one quadrant to each lens like you do your mouth. Rinsed in a dish of cold water. Took a lens cloth and buffed 30 seconds each side of the lens and wa lah! The scratch is gone and the glasses are sparkling. Plastic lens and glass lens. Cost: 5 cents. (12/19/2008)

By wong_josie
Repairing Scratched Eyeglasses
Although I have't tried anything yet it seems to me that the ideas that have a grit material or Armour Etch would work well if you want to remove a coating. (Like a scratch protector or anti glare.) My dad's an optical engineer and I'm an engineer too, what these products do is remove that film, so you're getting to the original layer of the eyeglasses. If you don't have the film I would try the products that are more like a wax to fill in the holes. (12/30/2008)

By Loretta
Repairing Scratched Eyeglasses
I had a more unusual result which might explain some others peoples variable result. I too had scratches in the surface finish (only a little in the lens itself). I tried Armour Etch and was initially very pleased, it seemed to be working well. However, it took many goes at 5min+ each time and ultimately I still had some scratched coating left. But I remembered that I had speced both anti-reflective and anti-scratch coatings, so I reasoned that maybe one coating responded to the Armour Etch and the other didn't.

Next I tried the toothpaste trick that some have found useful. That worked for the remaining coating but left a strong fog. Examining them under a microscope (I work with small devices) I realized that the fog was more like a calcium deposit. I am sure there is a suitable solvent for that, but I managed to get it off with about 30 minutes of vigorous polishing. So, now I have clean, clear glasses.

So, if you've had less than perfect results with Armour Etch, especially if you think all is lost, try toothpaste as well. And then, if you have a very mat filmy deposit, buff like crazy. It took a lot of work, but it did work for me. Just remember to use the cleanest, softest cloth otherwise you might be adding to the scratches and they will be on the plastic of the lens itself.

I would also add that my lenses are high index and therefore harder. Softer plastic lenses may be scratched by toothpaste. Also, I don't think that anyone has pointed out that old spectacles, or very weak prescriptions, might be made of glass and then Armour Etch will ruin them. (01/17/2009)

By Jon
Repairing Scratched Eyeglasses
After searching around for methods mentioned in this thread, I decided to swing past the store I purchased them from. 400$ worth of lens is on its way under warranty. I'll have a spare set after I take the coating off the old lens. If your glasses have warranty, definitely use it. (02/04/2009)

By Cody
Repairing Scratched Eyeglasses
I just wanted to thank everyone for the suggestion of using Armour Etch to repair scratched eyeglasses. Our new puppy got a hold of my glasses and dragged them on the floor. One of the lens was scratched right in the middle and it was very annoying. I read all the posts and I was happy there was a solution to my problem. I purchased the Armour Etch at Michael's, but it took me a few days to get up the nerve to try it. My glasses have transition lens and I was afraid that the Armour Etch would take away their ability to become sunglasses. I decided to use the Armour Etch on the outside of the lens only and it worked great. It took off the scratches and the glasses look like new. It didn't affect the transition lens either. They still work. Thank you again. (03/22/2009)

By Millie