EllenB
Gold Post Medal for All Time! 858 Posts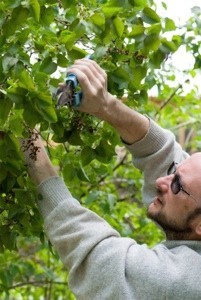 Without maintenance, most flowering shrubs eventually get overgrown and leggy or they start to lose their flower power. As tempting as it is to yank them out and start over - don't do it! Many can be revitalized with a couple of cost saving pruning techniques.
Two Basic Techniques: Renewal and Rejuvenation
Renewal Pruning (Thinning)
In renewal pruning, the shrub is pruned (thinned) gradually over the course of three years. This is done in late winter or early spring before new growth begins. Each season, only one-third of the oldest and thickest mature stems are removed at ground level. This method helps maintain the original height and shape of the plant over time, while stimulating its root system to send up replacements. Any water spouts that develop are also cut back to different lengths and encouraged to develop into strong new branches. This type of pruning doesn't work very well on "twiggy" shrubs with multiple stems. It also won't restore a shrub to its natural form so it isn't a good solution for shrubs that are extremely overgrown. Use this technique to boost your shrub's flower power and to keep them vigorous and fresh.
Three Year Schedule
Year 1: Remove (thin) 1/3 of old branches at ground level.

Year 2: Use "thinning" technique to remove another 1/3 of old branches and cut back new growth as necessary to maintain desired form.

Year 3: Use thinning technique to remove remaining old branches and to cut back new growth to maintain desired form.
Shrubs and flowering shrubs that respond well to renewal pruning:
Barberry (Berberis)
Beautyberry (Callicarpa americana)
Bottlebrush buckeye (Aesculus parviflora)
Deutizia (Deutzia gracilus)
Flowering almond (Prunus triloba)
Flowering dogwood (Cornus florida)
Flowering quince (Chaenomeles speciosa)
Forsythia (Forsythia xintermedia)
Kerria (Kerria japonica)
Lilac (Syringa)
Mockorange (Philadelphus coronaries)
Privet (Ligustrum vulgare)
Rose of Sharon (Hibiscus syriacus)
Spirea (Spiraea)
Staghorn sumac (Rhus typhina)
Weigela (Weigela florida)
Rejuvenation Pruning
Rejuvenation pruning is quick and easy, but it's a far more drastic approach than renewal pruning. It involves cutting back the entire top of the plant to within a few inches of ground level. Done in the early spring (before growth starts) the shrub comes back from the roots, giving it a more compact shape and maximum potential for blooms. As new growth continues to emerge over the next few seasons, it should be thinned to create only a few sturdy stems, or until the plant takes on the desired form.
This technique is usually done when a shrubs start to look gangly (every 3-5 years). It works very well on multi-stemmed, twiggy-type shrubs, or shrubs that have been neglected for a few years.
Shrubs and flowering shrubs that can withstand being completely cut back to the ground (rejuvenation pruned).
Barberry (Berberis)
Bluebeard (Caryopteris xclandonensis)
Bush Cinquefoil (Potentilla fruticosa)
Crape myrtle (Lagerstroemia indica)
Flowering quince (Chaenomeles speciosa)
Forsythia (Forsythia xintermedia)
Glossay abelia (Abelia xgrandiflora)
Heavenly bamboo (Nandina domestica)
Hills of Snow (Hydrangea arborescens 'Grandiflora')
Honeysuckle (Lonicera)
Lilac (Syringa)
Mockorange (Philadelphus coronaries)
Ninebark (Physocarpus opulifolius)
Oakleaf Hydrangea (Hydrangea quercifolia)
Orange-eye butterfly bush (Buddleia davidii)
Privet (Ligustrum vulgare)
Redtwig dogwood (cornus alba 'Sibirica')
Rose of Sharon (Hibiscus syriacus)
Russian almond (Prunus tenella)
Shrub roses (Rosa)
Spirea (Spiraea)
Pruning Tools
Stems smaller than 1/4 inch in diameter can be pruned using a hand shears. Use a good, sharp pair of long-handled loppers on stems up to 1 inch in diameter. If you cut each stem 12-24 inches above the ground and remove it, you'll give yourself more room to lop off the remaining bit of stem at ground level. For stems larger than 1 inch in diameter, use a pruning saw for a clean cut.
Other things to keep in mind:
Rejuvenation pruning (cutting back to the ground) can have a major impact on the size and look of the plant. Spring flowering shrubs will not bloom the year of rejuvenation. If your shrub is acting as a privacy screen or you can't live without at least some flowers, you may want to gradually reduce old branches by 1/3 over several seasons instead (renewal pruning).
Where rock, landscape fabric, or heavy mulch is used around shrubs to inhibit weeds, rejuvenation pruning should be done carefully. These shrubs are sometimes prone to less vigorous root growth and may not come back as strong from a severe pruning. The mulch can also interfere with new growth. Renewal pruning may be a better option.
Extremely overgrown shrubs having a large, woody base may not respond well to rejuvenation pruning (cutting back to ground level). The same is true for shrubs with a lot of dead branches. In general, if more than 1/3 of the shrub's branches are dead or without healthy foliage, the shrub will probably not respond.
Tree-like shrubs (those with a few main trunks and several branches), like several Viburnum and Euonymus species, should not be cut back to the ground.
Comments