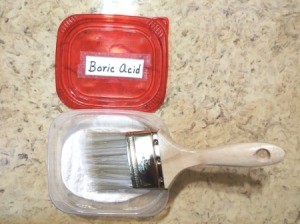 If you see ants in your kitchen, it's really pointless to kill them. If you kill 10, they won't be missed by the nest which may contain thousands. You can use these 10+ ants to your advantage.
Providing the ants are crawling (Funny, a thought just occurred to me. Why do we say ants crawl? I'm sure they walk. Correct me if I'm wrong). Ahem, anyway, providing the ants are crawling in an area of you kitchen where it would be safe to dust them with boric acid, do so. Between the kitchen faucet and the back splash is where I get the most.
If you kill 10, then you've just killed 10. But if you reach under the sink where you have stored a half cup of boric acid (properly labeled), and a cheap dollar tree brush (properly labeled), dip the brush in the acid and lightly tap the brush over the ants, then you've done a lot more.
Dusting the ants will disorient them. They will go back to the nest, taking the deadly (to them), boric acid with them.* They die and are fed to the young. You know the story. Eventually the queen gets her share.
A one time dusting of a few ants will not wipe out the colony. But, if this procedure is repeated a few times, you can wipe out the colony. It shouldn't take more than three days. It occurred to me years ago to do this. It has proven to be the most effective way I know to keep the kitchen free of ants.
Boric acid is cheap. I clean up any residue with a damp paper towel and toss it. I re-apply it when and where I see a need.
*From Wikipedia: 'Boric acid is only poisonous if taken internally or inhaled in large quantities'.