Saving Money on Stocking Stuffers
Solutions
Share on ThriftyFunThis page contains the following solutions. Have something to add? Please share your solution!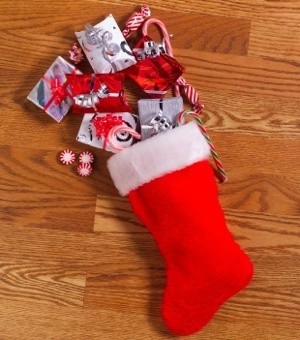 We all love stockings. Up until just a few years ago, my mom would still give me one and it had always been my favourite gift to open. Stockings don't have to cost anything and are supposed to be filled with small trinkets and goodies, not things like $50 gift cards and iPods! Remember when we used to get clementines in there? What happened with that? :)
I don't have kids so I don't have to fight with anyone regarding the contents of a stocking, but sometimes parents have to put their foot down. too many kids are spoiled rotten these days, it's awful. Here are some things you can get for free, but plan early for some of these:
If you happen to go to trade shows or conventions, you can always get free things there. Have a look around. I usually go to a Health Show every year and get a free goodie bag with things in it.
Go to freebie sites, start collecting early and keep a box set aside for them. There are SO MANY free things to be had out there from big companies. A few years ago I kept a box with all the freebies I got just to see how full it would get. Over the course of a several months it was filled with things like books, cards, samples of makeup or soap, shampoos, cleaning products, amazing.
Craft Shows. Right around the holidays there are a lot of craft shows. Some crafters give out free samples of things that you can keep and set aside. (like soap pieces for example)
If you are planning to spend money on some holiday gifts, look for items that you get something free with purchase. This time of year that's easy! Use the free gift for a stocking.
Best Buy gives you a gift card if you trade in an old cellphone. So dig out that dinosaur phone of yours and bring it in!
Cash in credit card points or airmiles for free gift cards, magazine subscriptions, video rentals or movie tickets. They often don't cost a lot of points.
My drugstore often has deals where if you purchase a certain amount of goods at the store, you can get a free gift card of some sort. It is usually movie tickets or coffee cards. I rarely go in and spend $40 in one shot, so sometimes I wait till I need something big or lots of things then make a big trip so I can get the freebie.
Make some cool Rock Candy! Most people have sugar and food colouring in their pantry, so follow this recipe: http://candy.about.com/od/hardcandyrecipes/r/rock_candy.htm
Go to a department store and ask for samples of perfume and make up. Maybe get a free makeup application while you are there :)
PETA (People for the Ethical Treatment of Animals) has a lot of free stuff to give away like stickers and booklets. Check out their website for all the freebies. http://www.peta.org/
Print out some free Baking and Cooking E-books here: http://www.preparedpantry.com/baking-guides.htm or some other independent books can be found here that are free: http://www.ebook88.com/shelf.html or do a search for free ebooks online.
Make Compilation CDs with the recipient's favourite music or a new band that they may not have heard of yet. Myspace.com has tons of free indie music that can be downloaded from upcoming artists!
I don't recommend eating at fast food places, but sometimes they will give away free trinkets for children, even crayons and a colouring sheet or book. I've seen people just come in and not buy anything and ask for a free toy for their child.
Make candy or caramel apples! Most of us have sugar and apples at home or this time of year you can probably still get some for free from farmers. http://www.allfreecrafts.com/halloween/candy-apples.shtml You can use recycled and washed chopsticks to put in the apple.
Make a free printable calendar for kids that they can colour in: http://familycrafts.about.com/od/calendars/a/2010calendars.htm
Have a swap or exchange with friends of items that you no longer want or things that you want to re-gift. This can include clothing, gadgets, handmade crafts, bath and body items (un-used), kids' toys, etc.
Good luck and happy holidays everyone!

Source: Edited from one of my blog posts:
By Lisa from Halifax, NS
Christmas stocking stuffers can be purchased all througout the year and saved for Christmas Eve. I keep a bag under my bed of "treasures" I find throughout the year. When the Christmas season comes, I already have most of the stocking stuffers and don't need to spend money on those at a time when money is already getting tighter than usual.
Buy school supplies and give them as stocking stuffers. My kids never get tired of getting pencils, crayons, markers, and these are always on sale around back to school season.
You can find some items extra, extra cheap like spiral notebooks!
Read More...
Stocking Stuffers At The Dollar Store. Having five kids, I tend to get stressed about stocking stuffers. I even had my husband do it one year and he was so frustrated because he could not find many "little" items under five dollars. And that can add up quick! So my solution was "Dollar Tree".
Read More...
The day after Halloween, get as much candy you can for half price. Get only the ones that are not Halloween looking and then freeze the candy. Watch as your kids scream with delight on Christmas morning when they see their stockings!
Sometimes it's the little things that cost the most; stocking stuffers fall into this category. Rather than spend a fortune on small but expensive gifts, be creative and find some great savings on tiny tidbits. It makes it more fun for everyone.
Read More...
Things get expensive during the holiday season, and the kids get over run with toys and candy. Instead of stuffing our stockings with traditional toys and candy, Santa Clause stocks up on the essentials...
Read More...
I wanted to purchase my husband some smaller gifts for his stocking on our first Christmas together, but quickly didn't see the point of useless little gadgets/knick knacks that would ultimately end up sitting in storage somewhere...
Read More...
Sample sizes and travel sizes of shampoo, lotion and the like are good stocking stuffers for little ones. They love the little sizes! By Linda
Archives
ThriftyFun is one of the longest running frugal living communities on the Internet. These are archives of older discussions.
In July and August, when school supplies are on sale for very little money, I purchase a bunch of small crayon boxes, glue sticks, pencils, sharpeners, tablets, etc. I give each grandchild a supply for starting school and keep some for stocking stuffers at Christmas. By Christmas, they have used, lost or broken most of what was given to them at the beginning of school. When they go back to school from Christmas break, they have all new supplies for the second half of the year.

By EIW from Lancaster, PA

Answers:
Back to School Sales for Stocking Stuffers
Those sales items could also be sent to needy children around the world through outreach programs like "Operation Christmas Child," administered by Evangelist Billy Graham's son, Franklin. Much as your own kids and grandkids appreciate them, needier children appreciate them even more. And, these items may be the only Christmas these children receive. I'm sure you could find plenty of info on such programs via a simple online search.

If you'd rather keep your giving local, you might ask your child's teacher or principal to whom you could give a "shoebox Christmas" type package. Keep it anonymous if you prefer. (11/02/2009)

As everyone knows its Back to School time and stores are selling crayons, pencils etc at extremely cheap prices. Think ahead to Christmas as I saw Crayola crayons for .20 at Walmart and would be a great stocking stuffer or gift.

By Carol from Massachusetts

Answers:
Back to School Sales for Stocking Stuffers
GREAT idea! I will definitely be doing this. Thanks. (08/28/2007)

By Christine
Back to School Sales for Stocking Stuffers
This is something I do as well. I find that a box of crayons or some cute pencils are very much appreciated by grade school children. Last year my daughter gave boxes of Crayola crayons I'd gotten for .25 a box (24 count) as Christmas gifts for her classmates. School glue (RoseArt brand) is .15 at Wal-Mart now so that's good too to pick up for whenever your child needs it again or if the teacher asks if someone could send some. I believe in helping out the teachers because they buy many things for the classroom with their own money.

I have a plastic bin I keep in a hall closet with school supplies. It's very handy to just go to that box when something is needed and I always get the supplies on special.

Kids do seem to like art supplies and colored pencils, markers and such are all on sale right now and definitely make nice stocking stuffers. (08/28/2007)

Back to School Sales for Stocking Stuffers
what a wonderful idea. I sure wish I had thought of this when mine were little and in school but an idea to keep for the grandbabies when the time comes for them to go to school (08/28/2007)

By suzanne