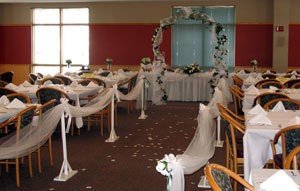 I had a friend that wanted to save money by skipping a fancy church wedding, so I made her reception hall into a makeshift church and altar. We saved a lot of money by doing so. The big plus is that the guests could sit and enjoy the wedding and not have to get up and leave to go to the party, it was all in the same room.

By Tracy from MI


Is a wedding reception at the church dining hall tacky?
By Vida from Des Moines
Answers
December 22, 2009
0

found this helpful
I've been to wedding receptions at the church, and I never thought to pass judgment on the location. I believe true friends will be happy for your union and enjoy celebrating with you no matter where you choose.
Best of luck. I hope your wedding and reception are beautiful, and you have a long, happy marriage!
December 22, 2009
0

found this helpful
There isn't anything wrong with having the reception any place you want it. People shouldn't be judgmental. Actually if you get married at the church it would be much more convenient to have the reception there. It used to be that was the only place that people had their receptions.
December 22, 2009
0

found this helpful
If it helps you feel better, my wedding reception was in a school cafeteria. No one cared. :)
December 23, 2009
0

found this helpful
No, it's not tacky at all. I had my wedding in the sanctuary, immediately followed by the reception in the dining hall, and then took pictures afterward. I purposely planned it that way because I was tired of all the wasted time and "hurry up and wait" at many weddings.
So many weddings are messed up by the endless picture-taking between the ceremony and reception. Of course, taking pictures before the ceremony is another option, but I didn't want early-arriving guests to see me in my gown! Best wishes!
December 25, 2009
0

found this helpful
We were married at the Junior Achievement Center (Dad was on the Board of Directors) and walked across the covered driveway to the big meeting room. Everyone said how wonderful it was not to worry about rain, parking, driving, re-parking, etc. Everyone got right down to partying and a good time was had by all.
December 26, 2009
0

found this helpful
I think it's nice because people will appreciate not having to drive to another place.
December 26, 2009
0

found this helpful
Years ago, that used to be the "norm". I don't know how things ever really got away from that or maybe that's just the way things were done down here in the south, but we always had the reception in the social hall at the church after the wedding. It's cheaper, way more convenient and easier on the ones involved!
Best wishes for a beautiful wedding and a happy life together!
December 26, 2009
0

found this helpful
It's a great idea and not tacky at all. What IS tacky is when cash only "gifts" are requested, or a new trend that I've read about, where the couple have a private dinner while their guests wait...now that's tacky!
December 27, 2009
0

found this helpful
Not at all. I did it 6 years ago. I think people probably would have asked why I didn't have it there if I hadn't. It's a great idea for many reasons. You save money, people don't have to leave and travel elsewhere, no worries for parking at an additional location, don't have to worry with the how the food is set up elsewhere, etc. Great idea! Use the extra money to start a savings account for your new family. Good Luck and Congratulations!
Answer

this Question

...
My partner and I are planning to get married in October. We are having a small wedding. Our guest list is 35-45 people. We are looking for a nice and inexpensive place to hold our reception. If any one can help please get back to me.
Also if anyone knows of someone that makes cakes I would like to have them make our cake instead of a bakery.
By Gary
Answers
February 24, 2013
0

found this helpful
First off, Congratulations! Now, to answer your question. You didn't say where you were so this is going to be a general answer.
Often times, you can find a room at the local library that you can reserve or check out. Sometimes a local place like we have here in Salem called The Mill where you can sometimes rent rooms. If the place you live is warm, October isn't too cold to have it in a park. If it is, there are often non-denominational venue that rent out to Bar Mitzvas, Anniversary parties, and the like.
A lot of times, a nicer hotel might run a special in the off season and you can go there. Other options are do you have a friend who has a nice big backyard and might do it in their home?
I would google wedding venues like I did and see where that gets you.
Have a lovely ceremony and please let us share a photo?
Sandi/Poor But Proud
February 25, 2013
0

found this helpful
Hello & Congratulations! I would suggest trying church's for the rental of their basements & tell them someone is willing to clean up afterward & put tables & chairs back.
Or you could have it at a friends or relatives house or outside in a yard or State Park - depending on how you plan to have it & the weather conditions. Nights of Columbos or Italian -American Clubs or Elks Lodges & the like also rent out space. I don't know about the price; but you have nothing to loose by enquiring. Good Luck & God Bless Your Union. : )
Answer

this Question

...
I have been searching for 3 weeks for a wedding/reception venue for my daughter. We have almost given up. She would like an outdoor wedding, maybe a garden or historic setting. Perhaps, something like the Liriodendrun in Bel Air or Brookeside Gardens in Mont. CT. But, we want it cheaper! Any ideas? Is there anyone who knows of scenic property that we could rent? Thanks for any suggestions.
By Robin Moore from Baltimore, MD
Answers
July 27, 2010
0

found this helpful
Have you looked into renting a cabin or gazebo in a state park? Here in PA we can rent a cabin in one of our state parks for less than $100.
July 30, 2010
0

found this helpful
Is it a small wedding? If so maybe you have a friend who has a gazebo or who would allow one to be built on their property in exchange for allowing a wedding on the property. Good luck.
Answer

this Question

...