December 2, 2015
1

found this helpful
Georgie,
Times have changed. In today's economy, it's not easy for two or more to make it on one income. Having to live so close to the edge can take its toll on a person's mental well being. I understand. Other than that, I'd say you've got it made.
"Nothing goes to waste."
It shouldn't. So, you're not part of the new, Buy, Waste, Throw Away Society. Good for you.
'We are cooking from scratch with some of the foods we receive. I have learned to make biscuits, crust, muffins, cakes."
Years ago, most all women did this every day. Now, you can feel like a strong, dependable person, rather than the newbies who can't make cornbread without opening a box of sugary cornbread mix.
" My husband is the cook and I am the baker."
Some women don't want a man in the kitcken. I'm inclined to think 'The couple who cook together, stay together'. I'll bet you two are still sweethearts.
"Since we are eating less, we both have started an exercise program."
Well, if you're not guiding a plow harnessed to a mule all day, as some women did a hundred years ago, you gotta do something. Great. You'll live longer.
"We are learning how to eat one meatless meal per week."
You poor thang! Like most, you have been brainwashed into thinking it's normal to eat meat at every meal. It's not! Want to save more money and live longer, too?...Eat meat once a week. Human's craving for that much meat is not natural. It is learned.
Having to live close is hard, at least at times. I hope you find employment, soon....and with the added income, I hope you can still live as wisely as you are now.
You have my best wishes.
PS
Would love to have your husband's recipe for bread pudding. Maybe you can post it, someday. Good luck.
Doug
December 5, 2015
1

found this helpful
Thanks Doug. We are living through some tough times, but when you have a husband who works with you, all things are possible.
My husband is making a bread pudding in the next coming weeks. As soon as he starts, I will post. That treat will be for you. Again, thanks for responding.
December 6, 2015
0

found this helpful
"We are learning how to eat one meatless meal per week." I spent YEARS trying to convince my mother that she doesn't need meat at every single meal. Finally, as she approached her late 70's she agreed. I got her down to meat once a day, then to 3 times a week. I think it is a generational thing, as my friends say their parents wouldn't think of not eating meat every day at every meal. So, going from meat 3 meals x 7 to meat at one meal/3 x week is an accomplishment.
December 22, 2015
0

found this helpful
Well written response. I couldn't say it better myself.
December 3, 2015
2

found this helpful
I noticed you buy pancake mix, make muffins, etc. I'd like to share a recipe for biscuit mix with you that I'd used for about 30 years now. It's exactly the same as Bisquick and works the same. Much cheaper than buying the stuff and lasts a long time. I usually whip it up in one of those great big Tupperware bowls if you have one. Maybe others will like it too.
BISCUIT MIX
12 cups flour; 6 tbls baking powder; 3 tbsp salt; 4½ tbsp sugar; 1½ cups shortening. Sift flour, then measure it and sift again with the baking powder, salt and sugar. Sift the mixture twice. Add shortening, cut in (I just use my hand mixer - its quicker), place in covered container.
BAKING POWDER BISCUITS
2 cups biscuit mix; cups milk. Bake 450 about 12 minutes.
RICH BISCUITS
2 cups biscuit mix; 1 egg; ½ cup milk. Beat the egg and add to the milk. Add liquid to mix, stir until thoroughly blended. Roll and cut. Bake 450 about 12 minutes.
GRIDDLE CAKES
2 cups biscuit mix; 2 eggs; 1 cups milk. Beat eggs well and add to milk. Add to dry ingredients, beat until thoroughly mixed.
MUFFINS
2 cups biscuit mix; 3 tbsp sugar; 1 egg; 1 cup milk. Beat eggs slightly, add milk, then sugar, then combine with biscuit mixture, mixing until liquid ingredients are just blended into dry. Half fill greased muffin tins and bake 400 for about 20 minutes.
CINNAMON BUNS
To make cinnamon buns, use the rich biscuit mixture. Roll dough to inch thickness, spread with melted butter, sprinkle with sugar and cinnamon. Roll up as for jelly roll. This roll can be wrapped in wax paper and stored in refrigerator for several hours. Cut when ready to bake in 1 inch slices. Bake 450 for 12 minutes.
December 5, 2015
0

found this helpful
Thank you. I love your ideas. I will have to post some of my homemade biscuits. I recently found a brand new dough cutter at the thrift shop and I have biscuit cutter I found at Bed Bath and Beyond for $3.00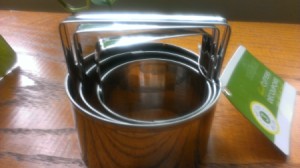 December 9, 2015
0

found this helpful
Georgie
I don't want to get far from your story, and I'm waiting for the next chapter. But, since we're on the subject, here's a tip for you. The best biscuits are made with buttermilk, but that's not my tip. Since you bought biscuit cutters, maybe you can find another use for them. I say that because, if your dough is stiff enough to allow you to use a cutter, it's probably too stiff for good biscuits. Keep your dough almost wet and form your biscuits very delicately in your floured hands. Here is a picture of biscuits I made. I posted this picture on ThriftyFun. I formed them with my hands.
Doug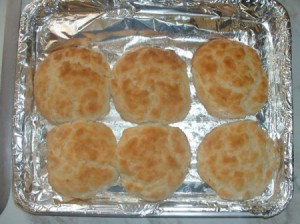 December 10, 2015
0

found this helpful
The biscuit cutter helps them rise higher. This is necessary in my altitude.
The trick is to make a very wet dough, then cover with flour at the last minute. Fold the soft dough about four times to get layers. Pat gently on the board and cut. Gently pat scraps together and cut.
December 10, 2015
0

found this helpful
This was supposed to go under Saving One Step at a Time, the comment about not using a biscuit cutter.
December 10, 2015
0

found this helpful
I can get my biscuits quite high without a cutter. It's just that here in the South, most prefer a biscuit without a lot of 'innards'. We prefer more soft crust. We do agree on wet dough. The stiffer the dough, the drier the biscuit.
December 11, 2015
0

found this helpful
Yes, the dough must be wet and soft. When I lived in the south, drop biscuits rose fine. Now I live at 8500 feet and nothing wants to rise. The tricks I have to resort to are not even funny sometimes.
Thanks for the tip. As soon as I make some biscuits, I will post them. Your looks beautiful
Thanks for your tip. Will be trying this tip very soon.
Thanks. How do you get them to rise high without the cutter.
January 25, 2016
0

found this helpful
I use a glass to cut my biscuits because I have downsized from a 4 bedroom home (1,600 sq ft) to a 2 bedroom (888 sq ft) condo. Nothing extra to store and works just fine.
February 11, 2018
0

found this helpful
I still don't see how cutting out the biscuits would make them rise higher. I will take your word for it that they do.
But, that is not what I wanted to comment about. I noticed you folded the dough about four times. Few cooks do this but it is an excellent way to get higher, fluffier biscuits. Good for you.
You said 'Pat gently on the board'. Another 'Good for you'. Biscuit dough should never be kneaded or compressed in any way, to do so presses air pockets out of the dough, air that would help the biscuits rise and be light.
I've never eaten one of your biscuits, and still, I wouldn't hesitate to recommend them to anyone!
December 6, 2015
0

found this helpful
One of our favorite things to make with old bread is French toast. I also make homemade stuffing and you can find lots of homemade "shake and bake" recipes on the internet; I usually make a few batches and store them in old jars in my cupboard, so I have them when I need them. For meatless meals, try spaghetti with red sauce, homemade macaroni and cheese, homemade pizza, sweet potato pancakes, veggie chili, peanut butter with honey sandwiches (you can add sliced banana and raisins), omelets or quiches. We do eat meat, but have cut way down on our portions.