I saw this idea in a book and just had to try it! It turned out to be really easy and they are just too cute. Here's how I made them: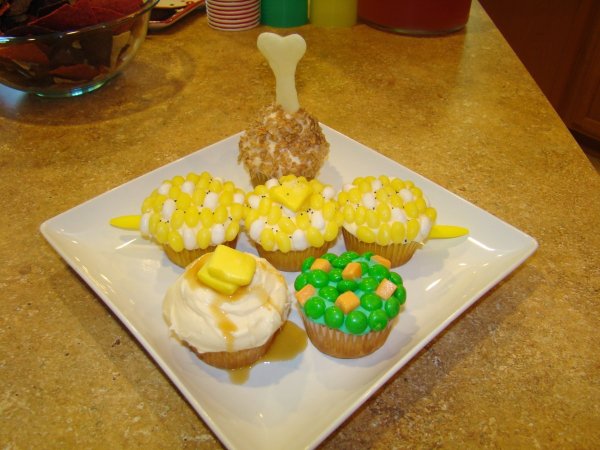 Ingredients:
6 cupcakes
1 can of white frosting (I used homemade cream cheese frosting)
1/2 cup yellow Jelly Belly beans**
1/4 cup white Jelly Belly beans
2 corn cob holders
1/4 cup corn flakes or frosted flakes
1 large marshmallow
1 cup white candy melts (or baking white baking chocolate)
1 Ziploc sandwich bag
1 package Starbursts
1 bag Skittles
green food coloring
caramel syrup
black and white sugar sprinkles
**Note: Try to find more than one color of yellow jellybean. (For example, I used some that were a more transparent yellow, some were a creamy yellow, and some were yellow with white specks.)
Directions:
First bake a batch of your favorite cupcakes, according to package instructions.
Take a moment while they bake to prepare the various candies and toppings that you will be using:
Divide out Starbursts, you will need orange and yellow.
Divide out Skittles, you will need green.
Crush your corn flakes in a small bowl.
Corn Cob:
Put a smooth layer of frosting on 3 cupcakes. Begin making rows of jelly beans across the top of each cupcake. I mostly used yellow jellybeans and occasionally used a white one. Work your way across all three cupcakes, matching up the rows as best you can, so that when the cupcakes are lined up they have the appearance of a corn cob.
Once all of your jellybeans are on the cupcakes, put them together on a plate. Poke the corn cob holders into the side of the two end cupcakes. Now sprinkle a little of the black and white sugar sprinkles onto the cupcakes, this gives the appearance of salt and pepper.
Unwrap a yellow Starburst and either soften it in your hand or microwave it in 10 second increments to soften it slightly. Using your fingers, flatten it out some and smooth out the edges until it looks like a pat of butter that has begun to melt. You can stretch it a little bit so that it conforms to the curve of the cupcake too. (The more you soften it and mold it in your hands, the more realistic it will look.) Place it on top of the middle cupcake.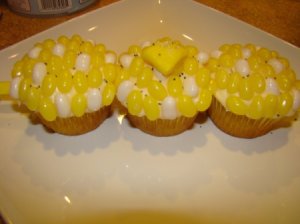 Mixed Veggies:
Take 2 orange Starbursts and cut them into 1/4s. Using your fingers, smooth out the cut edges so they look more like little carrot pieces. You may need to soften them in your hand or in the microwave first.
I recommend taking a small amount of frosting and tinting it green so that it doesn't stand out under the candies. Now frost your cupcake and arrange the green Skittles and the orange Starburst pieces onto the cupcake. I recommend putting the Skittles on with the "S" side down.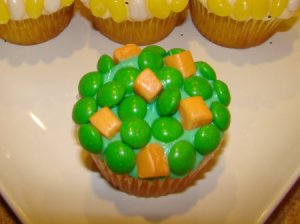 Chicken leg:
Draw out a simple bone shape on a piece of paper. It is best to make one that is about 4 inches long so that it can stick it into your cupcake. The top should be bone shaped, while the bottom should resemble a pencil (with a pointy end) to make it easier to poke into the cupcake. Lay a piece of wax paper over your drawing.
Melt your white chocolate in the microwave, according to package directions. Pour it into your Ziploc baggie and snip a tiny bit off of the bottom corner.
Trace your bone shape with the chocolate and then fill it in. I recommend sliding your wax paper over and tracing the bone a few times in case one breaks later. Once you are done, put the wax paper into the fridge so the bones can harden.
Now prepare the cupcake. Start by putting a thin layer of frosting onto the cupcake. Take your large marshmallow and cut it in half. Place it onto the cupcake, you can secure it with a toothpick if you want (just warn people so they don't bite into it). Then begin to build up frosting around the marshmallow. This will give the cupcake some height. Once you have covered the marshmallow and achieved a good shape, gently pat the corn flakes onto the frosting to make your "breading".
Once your chocolate bone is completely hardened, poke it into the top of the cupcake. Be gentle, so as not to break it when you are pushing it in.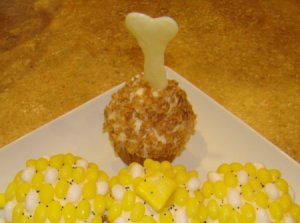 Mashed Potatoes:
Frost your cupcake, using a little extra so that you can build up the "potatoes". Once you feel that they look like a helping of mashed potatoes, pour some of the caramel syrup onto them for the gravy.
Soften two yellow Starburst into a pat of butter (like you did for the corn cob). Set them on top of each other and them put the on to the cupcake.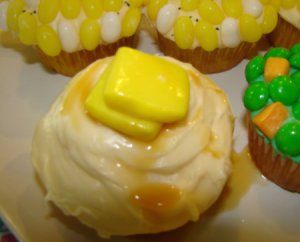 Arrange all of the cupcakes onto a plate and enjoy!