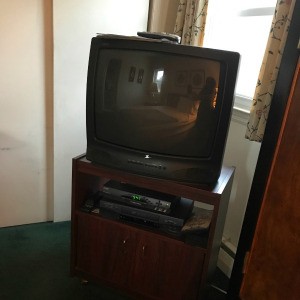 A few months ago, our cable TV stopped working. We had to wait a few weeks for an appointment, as we work full-time and weekend appointments book quickly. My husband loves TV, and was pretty upset. I didn't care too much, since I hardly watch TV, or so I thought.
During the weeks we had no TV, I became acutely aware of what a thief the TV was. It was a thief of time. I would turn it on to keep me company as I was preparing meals and watched longer than I intended to. Practically every show, even the news, had some kind of "cliff-hanger" before commercials. It was also a thief of time because I was working more slowly than if I weren't watching TV, or were just listening to music. It made me want to watch more TV, with advertisements for forthcoming shows.
It was a thief of money. There were advertisements for food, local events, services, clothing, and anything else I could think of. Many of the products advertised were unknown to me until the commercial aired. These commercials wanted to make me feel like a "have-not" if I didn't acquire them. Many commercials advertised sale prices, and limited time or supplies, so I had to act fast if I wanted that great deal.
It was a thief of intelligence. During the weeks I had no TV, I was forced to read more and indulge in hobbies that I thought I had no time for. I had the perfect excuse before; I work full-time. Those little snips of TV cost me an hour a day or more!
It was a thief of health. Without the TV, I had more time to exercise. My appetite was less because I wasn't bombarded with endless ads for food. I got to sleep at a reasonable hour. There is scientific proof that watching a TV or computer screen interferes with sleep.
When the cable was finally fixed, I was a different person. I now watch the traffic and weather in the morning and the news at night.
Frugal people guard their resources. Time is precious. Don't waste it!