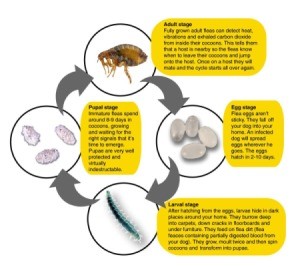 8 weeks ago I my scalp started itching. When I combed my hair out over the bathroom basin these black things come out. I assumed they were lice, so over the following 2 weeks I spent a lot of money on different products. However I still had them. I went to a lice specialist who had one of those special head covers, but she couldn't find anything.
So I came home thinking OK, perhaps they've gone, but just 3 hours later the itching started again. I do have a dog, but she has had so many baths and treatments for fleas. I did take her to the vet to have her checked out. He confirmed she didn't have fleas.
Anyway the more research I did online the more I've become convinced they are no lice but fleas as I recognised all 4 images from the life cycle of fleas image I found online. I have tried cider vinegar, tea tree oils, medicated shampoos, salt you name it I've tried it. I shower twice a day washing my hair and putting lots of conditioner on to comb though my hair with a nit comb. Yet the little so and sos are still with me. For the 1st hour after my shower my head feels fine, then it starts to itch and I find little black dots all around my neck and chest area. So I go upstairs and wash them away with a flannel, whilst at the same time combing my hair over the wash basin where more come out, sometimes long straight things. Embarrassingly once when I was showering one came from my crotch area too.
When I go to bed I'm no longer putting a duvet or sheet over me so I can see what the back sheet looks like in the morning. It's usually got white specks all the sheet, which I'm presuming are eggs. Once in a while I'm woken by something biting my legs and when I look there is one of this white spots under my leg or foot.
This is us seriously wearing me down mentally and reduces me to tears on a regular basis. I don't know what else to do hence why I'm asking if amybody has a solution as I'm seriously thinking the only way to get rid of them is to cut all my hair off as I am desperate, but as a woman that would be drastic measures.