Tomatoes Started Indoors Not Flowering?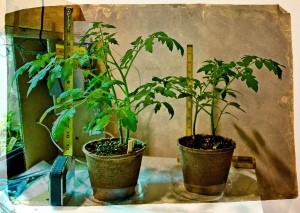 This is the first time to start seeds indoors. Everything seemed to be going fine. I started 3 types of peppers on about 2/17. I discovered they are very slow, but seem to be on time for 5/15 outdoor planting if the weather holds up. I also started tomatoes. These are the Campari variety that I get from Kroger/Meijer's etc. I was told and I watched a video on planting from a cutting of a tomato. I put starter seed in a Jiffy Pot, cut a 1/4" slice of the tomato in the pot and then covered it with starter soil. The seeds sprouted to the point that I had to thin them. They have grown well and I have thinned them down to 4 plants total. I had to transfer them to larger Jiffy Pots, two to a pot. My question/issue is that they were about 12" high on 4/9, today they are 20" tall and spindly. There are no flowers and not all that many branches, but I know that doesn't matter for planting. Color is very light green, but not translucent, yet.
Any help would be appreciated in this matter. I do great outdoors when I buy and plant.
Thank you.
Add your voice! Click below to answer. ThriftyFun is powered by your wisdom!
April 23, 2020
1

found this helpful
First off tomatoes need a lot of sun in order to grow correctly and start to flower. Normally it takes around 3 months for the plant to grow up in order to flower. Your plants look a bit small to start to flower so soon. Give them time and get them in bigger pots if you want them to flower and give you food.
April 23, 2020
0

found this helpful
Thanks, I've been feeding them at a 25% of the normal strength of Miracle Grow. They were 12" on 4/9 and today the 23rd they are 20" tall. I forgot to put this in, they are grown from a slice of tomato, Campari, that I get at either Krogers or Meijer's. It's a 1/4" slice that I put in seed starting mix in a Jiffy Pot.
Thinned as I went along and then transplanted to the quart, I think, sized Jiffy Pots. Keep them most but not wet. Water from the bottom. They are getting 15 hours of grow light (T5 bulb) everyday. Does the method of the slice make any difference or even the variety?
April 24, 2020
1

found this helpful
I have grown tomatoes in an organic garden for years. I have never once added Miracle Grow to my plants to promote growth or even grow the tomatoes. I personally don't like the taste of any food that has had some sort of fertilizer added to the soil. Plus over adding this product can hurt the plant and not enhance the growth like you want. Tomaotes are a very large plant and need a lot of room to grow. They have tons of vines that come out and need to be proper up to support the vines or stems that are growing.
April 23, 2020
1

found this helpful
There is nothing like natural full sun light! This is natures boost to growing. If these have to be in a pot, make sure it's larger, and these plants need circular air , and very bright sun, and a little help with outdoor pollination helps!
April 24, 2020
0

found this helpful
I think yours are doing pretty well. I planted some seeds a month or so later but they are very small and sickly.
Full sun and plenty of water is a good solution.
Add your voice! Click below to answer. ThriftyFun is powered by your wisdom!
Advertisement
Published by ThriftyFun.
© 1997-2020 by Cumuli, Inc. All Rights Reserved.
https://www.thriftyfun.com/Tomatoes-Started-Indoors-Not-Flowering.html