When I clean out my aquarium, I save the dirty aquarium water to water my plants. The water is full of free fish emulsion which houseplants just love! It's free vitamins and minerals for the plants. Saves on having to buy additives.
By Adrienne from Cleveland, OH

Answers:
Use Aquarium Water For Plants
Doesn't it smell funky? (07/11/2007)

By Hope
Use Aquarium Water For Plants
If you change your water on a regular basis, it really doesn't smell bad at all, sort of like a woodland lake. I would be careful about using water if it is being medicated, say for some sort of bacterial or fungal infection.

We have three tanks, a 20 gallon, a 37 gallon and a 50 gallon, so they take a lot of water. We do about a 10% water change every week or, at worst, two. We water all our houseplants then take buckets out to the flowerbeds or the younger shrubs and trees. They all seem to love the extra boost in nutrients
(07/11/2007)

By Jess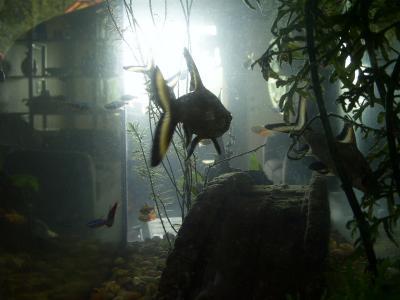 Use Aquarium Water For Plants
There is never a funky smell to our tank water! In fact after watering the plants with fish water, one of our very stubborn Christmas cacti bloomed for the very first time! Nothin' like good ole fish manure! (07/12/2007)

Use Aquarium Water For Plants
Plants LOVE IT, especially house plants. We have a turtle in a 20 gallon tank of rocks/wood/water, OUTSIDE. The algae and turtle waste needs twice a week changing, and that water is DARK GREEN from residual pet food the plants seem to love as well.

Yes, yes, yes, by all means, don't waste it since plants CHEER UP AND ALMOST SPEAK with it.
God bless you for your recycling and not wasting. : ) (07/12/2007)

By lynda
Use Aquarium Water For Plants
I use the water from my 10 gal fishtank to water my houseplants and I use water from my fish pond to water the plants outside. My rose bushes love it, they have more buds this year than I have ever seen before! (04/26/2009)
Use Aquarium Water For Plants
I have an aquarium in which goldfish live. I add a tablespoon of aquarium salt each time I change some of the water. This salt will KILL plants. (04/26/2009)

By Maya Lee
Use Aquarium Water For Plants
I also go a step further, and run a drain hose from my garden pond to my veggie garden when I change the water. I had great tomatoes last year! (04/26/2009)

By Cheryl
Use Aquarium Water For Plants
Is this safe for plants that yield veggies and fruits that you are going to eat? (04/27/2009)

By Valerie