I was just playing around with ingredients for an upcoming holiday party I'm having where half the guests are vegan and a few are gluten free. I am pretty sure this recipe qualifies. The strange thing is, this tastes super buttery and naughty! My husband and I ate this entire batch in one night. Give it a try, you won't be disappointed.
Total Time: 25 minutes
Yield: 16 cookies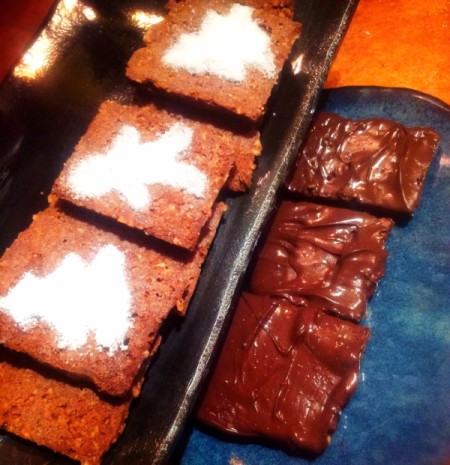 Ingredients:
1/4 cup oat flour* (I just pulsed dry oatmeal in my food processor)
1/2 cup peanut butter**
1 Tbsp molasses
1 tsp cinnamon
3/4 tsp ground ginger
1/4 maple syrup
1/4 cup chocolate chips (optional)
1/8 cup sprinkling or powered sugar (optional)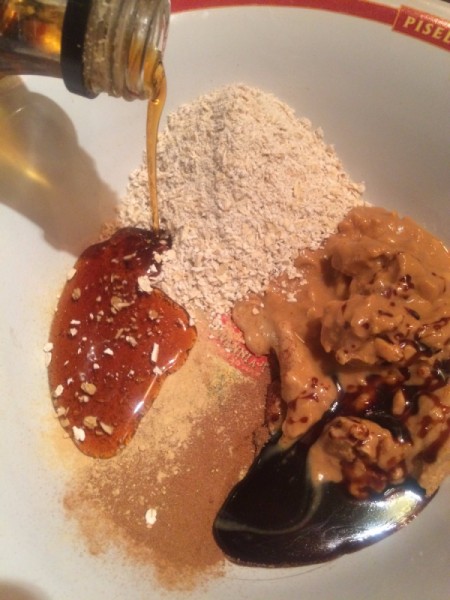 *Oats are technically gluten free but can be contaminated in the processing facilities. Be sure to purchase oats that are certified to be gluten free to be sure.

**Any nut butter can be used to substitute the peanut butter. To hide the peanut flavour, I added a touch more molasses. You'd never know a nut was in this.
Steps:
Preheat oven to 350 F (I used my toaster oven). Mix all the ingredients in a bowl.
If you want circle cookies, just spoon dough on to baking sheet. I opted for squares so I spread the dough out onto the sheet in a big square. You could use a pencil to draw under some wax paper to help guide you in laying out the square, if needed. Bake for 8 minutes.
Remove from oven while still rather soft and make slices with a pizza cutter or knife. Return to oven for about 5 minutes. Your total bake time will be between 13-15 minutes.
Remove from oven and let cool for a bit before you handle them. Either serve as is, sprinkle with sugar, or coat with chocolate.
To coat with chocolate, just microwave chocolate chips at 30 second increments in a microwave safe bowl, stirring each time, until fully melted. Drop cooled cookies in to coat one side. Let dry, chocolate side up, for 10 minutes. I made sugar dusted and chocolate. Both so good!

*If you are trying to keep it truly vegan, vegan chocolate chips seem to be available at all grocery stores now, in the baking section.
Comments
December 24, 2015
0

found this helpful
I applaud your effort, and I do find this recipe intriguing enough to try with an all-purpose GF flour and see how that works, howevr; as a thirty+ year food allergic survivor, I do not play around with my health on the say-so of so-called "experts." I am the expert on my health and that says, NO wheat, rye, barley, spelt and no OATS either. Frankly, as a peer counselor for those new to allergen free living, I teach all my people to ignore such pushes to their carefully-crafted new way of living. Why invite trouble? Just on the basis of the oats, I would give this a thumbs down. For those with highly sensitive systems, this is hardly gluten free.
That said, thank you for trying to improve our lives.
December 24, 2015
0

found this helpful
My nephew is on a gluten free diet so I have done a little research on this before but I checked online to make sure. From what I understand, oats are gluten free (they contain a different protien, avenin) but are often manufactured and processed in facilities with wheat and other grains, making them suspect for someone on a strict gluten free diet. Here is a good link that I found:
www.cureceliacdisease.org/.../do-oats-contain-gluten
Be sure to let us know how your GF flour version turns out.
December 24, 2015
0

found this helpful
I've not only read that oats are gluten free (and like Jess said, you've got to be careful due to the facilities they come from) but I've been told by my gluten-free friends that pulsed oats works for them. I use Bob's Red Mill. Perhaps my gluten free friends aren't so sensitive to it? No idea, but thanks for looking out!
December 24, 2015
0

found this helpful
One-fourth what for the maple syrup? Cup?
Read More Comments