I'm getting married in April 07 and the wedding is inside. I need centerpiece recommendations for a sit down dinner (25 tables). Very limited budget. HELP!

Jlynn from Atlanta, GA
Answers:
Wedding Centerpiece Ideas
I am looking for the same thing my wedding colors are the same too. It is just so hard to find exactly what you want. Hope you find it.
(11/16/2006)
By Tawny
Wedding Centerpiece Ideas
I planned my sister's wedding. and for the center pieces I got glass balls, and put red marbles on the bottom and water with floating candle in it. around it I sprinkled roses. It looked very red and very romantic. 30 tables under $100! (12/07/2006)

By Fatma
Wedding Centerpiece Ideas
Yes I am getting married on June 2007 and I am in desperate advice of a centerpiece. My mother and I bought a bunch of the Votive candles that are already in the glass holder that stand no more that 4 inches high at Micheal's. We have yet to come up with a centerpiece idea. We just knew we wanted candles because they are so romantic. My wedding color is Sage and White! Please any comments would be greatly appreciated! (12/10/2006)
By Christina
Wedding Centerpiece Ideas
Let me clue you in on my secret. Dollar store flowers!! If you can find a good dollars store with a collection of silk flowers, just go pick out what you need. Then you buy styrofoam craft balls and some cheap glass vases (make sure the vase has a wide opening at the top and the base is not too narrow to prevent tipping). I included a pic of the type of vase that works best.

Fill the vases with colored water (whatever fits your theme).

Take the styrofoam balls and poke your flowers into them (in a strategic arrangement). The ball is going to sit on top of the vase, so be sure to mark off where is sits down into the vase.

Now, you will want to wait until the night before the wedding to fill the vases with water. But once you have filled them, put some glue around the rim of the vase and fasten your flower ball to it. This will hold the flowers in place, and prevent spilling of the water if they get knocked over.
All total you will spend $5 per arrangement if you shop right. (12/15/2006)
By Amanda From Michigan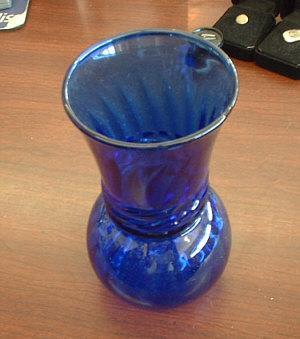 Wedding Centerpiece Ideas
I got married last year. My centerpiece was a beta fish vase with a peace flower and a red beta fish. We had red marbles and neutral stone in the bottom of the vase. Then I got 4 small votives and placed them around vase. The vase was sitting on a mirrored plate. When the candles were lit, it reflected the water and was gorgeous. (01/09/2007)
By AJ
Black and White Centerpieces
Please please please! Anyone have any ideas quickly? I am having a surprise 50th birthday party for my mom in a week and need centerpiece ideas. I've been searching and can not find anything I like. I only have 7 tables but time is starting to run out on me! It will be at a place and I have votive candles but I need a main piece. I want something black, white, and cream. I need to stay fairly cheap but I don't want it to look cheap or tacky! I also wanted to stay away from flowers. Any ideas anyone? (09/07/2007)

By Amber
Wedding Centerpiece Ideas
Hi! I'm getting married next June, and I'm looking for glass bowls to put my floating candles in. I've been to Michael's and Joann's and they're at least 5 or 6 dollars each. Does anyone know where I could get them cheaper? Thanks!(11/06/2007)
By Jenny Lee
Wedding Centerpiece Ideas
Anything with candles is the cheapest way to go. Or if you want flowers, silk ones at Hobby Lobby or your local craft store. (11/07/2007)

By Melissa
Wedding Centerpiece Ideas
IKEA is the best place to find reasonable vases. I went last week and got 10 glass vases for $15, and they are large. They also have 100 tealight candles for $2.99, and other things. It's a great place to get quality decorative items, much cheaper than Michael's, Hobby Lobby, or Garden Ridge. (12/15/2007)

By A. Hunter
Wedding Centerpiece Ideas
We are having an orange, apple green and brown. We are planting wheat grass in terra cotta planters with ribbon around them! 1.50 for planter. 3.00 for potting soil, 2.00 for wheat grass seed. 5.00 for ribbon.
Candle decorations are various glass jars and pillars, with fabric and ribbon wrapped around them(in orange brown and green) . And flowers. With a thank you poem for our guest on a tag with each guest family name on it. Using the same fabric for candles to make runners for table. Gluing ribbon on cut edges
(06/14/2008)

By Ginny
Wedding Centerpiece Ideas
I knew two teachers that got married and instead of a limo, they used school bus, it was actually really cute! AND their whole wedding party fit in it! They covered the signs on the side with personal signs with their names! (11/06/2008)

By Lauren